After having a very nice run, investors should anticipate defensive stocks to correct – efficiently - in the coming days and weeks. As indicated in an article late last month, I believe most biotech stocks have been setting up for a significant correction this month. In this article, I have briefly outlined a few simple strategies from which I believe like-minded biotech investors will likely benefit.
(Click charts to expand)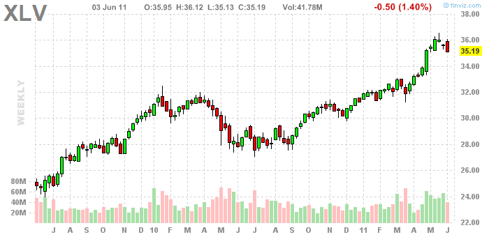 HEALTHCARE'S IMPRESSIVE RUN
In the past year, many healthcare stocks have nearly run straight up without a meaningful correction. Reference the Healthcare Select Sector SPDR (NYSEARCA:
XLV
) weekly chart above.
As of the close on Friday, June 3, 2011:
73% (267/366) optionable healthcare stocks are trading above their 200-day moving averages (MA).
66% (242/366) optionable healthcare stocks are sitting on a gain year-to-date (YTD).
Bottom Line: Following an outstanding performance, healthcare stocks are now due for a correction.
BIOTECH SEASONALITY
In general, biotech stocks tend to pullback during the summer. According to the folks at The Stock Trader's Almanac, June and July rank as some of the worst performing months for biotech stocks. Notably, biotech stocks tend to perform best during the fall and winter months.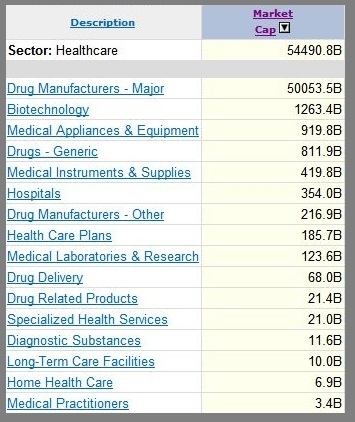 STRATEGY
Rather than single out a specific company, the simple strategies featured in this article are aimed at the biotech industry, which represents a big slice of the healthcare pie. As shown in the table above, biotech ranks a distant second to big pharma.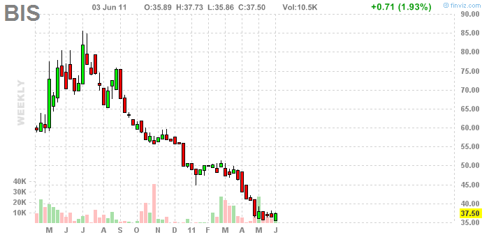 #1 ProShares UltraShort Nasdaq Biotech (NASDAQ:BIS)
One way to play a biotech correction is to purchase shares of BIS - an ETF short Nasdaq Biotech that is inversely related to iShares Nasdaq Biotechnology (NASDAQ:IBB). As shares of IBB fall, BIS shares typically, but not always, rise.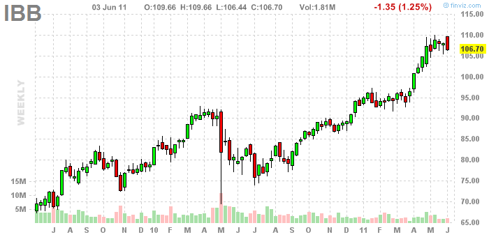 #2 iShares Nasdaq Biotechnology (IBB)
Another way to play the healthcare correction is to purchase put options or puts on one of the optionable [long] biotech ETFs. By purchasing puts, investors can secure a short biotech position, leverage investment capital, and potentially generate more meaningful returns.
Other optionable biotech ETFs include:
Biotech HOLDRs (NYSEARCA:BBH),
First Trust NYSE Arca Biotech Index (NYSEARCA:FBT)
SPDR S&P Biotech (NYSEARCA:XBI).
See also weekly charts below.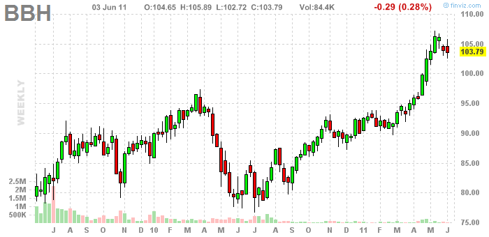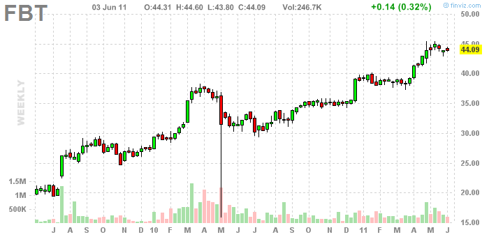 CONCLUSION
In June 2011, investors should expect most biotech stocks to correct by -10% to -20% or more. Purchasing shares of ETFs and put options are two relatively simple ways that investors, who have limited resources like me, can obtain decent exposure to a short biotech position.
Disclosure:
I am short IBB via put options