Abercrombie & Fitch (NYSE:ANF) posted 3Q earnings of $0.42 a share, topping $0.41 expectations, and revenues of $911 million marginally missed expectations. Its $0.42 earnings per share was down from $0.52 for the same quarter last year. Comparable store sales were down 8% y/y.
We covered ANF a few months ago and at the time we noted that ANF was exiting the logo business. But we stated,
The big issue with Abercrombie is that it's not necessarily targeting a different customer, thus taking a big risk given the number of brands fighting for teen retail dollars.
Shares are now down 33% over the last three months.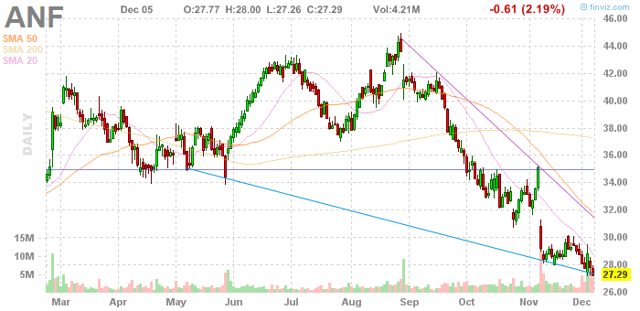 Trading at 4.4x forward EV/EBITDA, it looks a bit intriguing. American Eagle (NYSE:AEO), Buckle (NYSE:BKE), Express (NYSE:EXPR) and the like trade at 5.5x and above. In reality, a 3.5x to 5.5x forward EV/EBITDA multiple is typical for ANF over the last couple years. What's more is that there are issues there in the apparel space. It's becoming clear that these are industry-wide issues that don't have an easy fix. Debt isn't a huge issue, but it's there at $350 million.
The company has noted that it remains a very challenging environment, with that pressure expected to continue through 4Q. Guidance for fiscal 4Q EPS was dropped to $1.10 to $1.23, versus previous consensus of $1.33. One of the things ANF thinks can pull it out of its funk is expanding international reach. But recall the 8% fall in comps - that was driven by a 15% fall in international comps. Mall traffic will remain weak and of that teen traffic, they'll continue to stick to the likes of Zara, H&M and Forever 21. We're still negative on ANF.
Disclosure: The author has no positions in any stocks mentioned, and no plans to initiate any positions within the next 72 hours.
The author wrote this article themselves, and it expresses their own opinions. The author is not receiving compensation for it (other than from Seeking Alpha). The author has no business relationship with any company whose stock is mentioned in this article.