Before the market opens Tuesday, AutoZone (NYSE:AZO) is expected to report revenue and earnings for the first quarter of its 2015 fiscal year. After posting a decent, but certainly not great 2014, shares of the automotive parts retailer have done well, as evidenced by its current stock price, which is 29% above its 52-week low and hovering just off all-time highs. In light of these results, investors might consider taking a stake in AZO, but will further upside be hard to come by?
Analysts have high expectations
For the quarter, analysts expect AutoZone to report revenue of $2.21 billion. Should these forecasts come to fruition, it will represent an almost 6% increase over the $2.09 billion management reported the same quarter last year. Historically speaking, sales growth has been driven largely by the business's comparable store sales, which jumped, in aggregate, by about 20% over the past five years. AutoZone's store count has made up the rest of the increase, with the number of locations in operation rising almost 17% from 4,627 in 2010 to 5,391 by the end of its 2014 fiscal year. Both of these metrics have been instrumental in AutoZone's revenue rising 29% from $7.36 billion to $9.48 billion.
Earnings Preview
| | | |
| --- | --- | --- |
| | Last Year's | Forecasted |
| Revenue (billions) | $2.09 | $2.21 |
| Earnings per Share | $6.29 | $7.16 |
Based on this data, it's not out of the question to expect the same trend to continue. However, investors should also keep in mind that the past is not always indicative of the future. Take, for instance, the business's comparable store sales during its last two years. In 2013, comparable store sales were flat, while 2014's comparable store sales stood at just 2.8%. This stands in stark contrast to the 2010-2012 fiscal years, when comparable store sales averaged 5.2%. While it's possible management could create a resurgence in sales metrics this quarter, it's likely investors will see a larger portion of the business's sales growth come from an increase in store count, which has been far more consistent in recent years.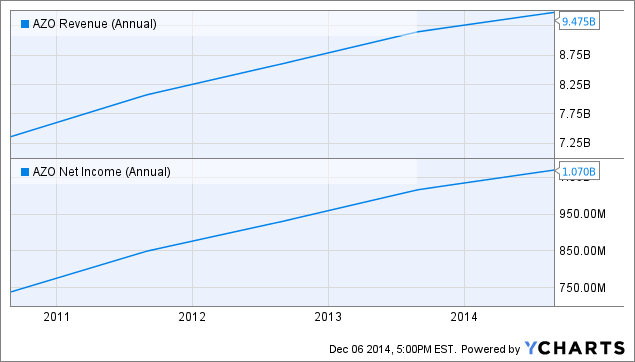 From a profit standpoint, analysts expect AutoZone to do considerably better than on the sales front. For the quarter, Wall Street believes the company will report earnings per share of $7.16, which would represent a nearly 14% jump over the $6.29 seen during the same quarter a year earlier. Looking at how AutoZone has done over the past five years, any such increase would be driven by its increase in sales and, potentially, by a slight increase in margins. But an even larger contributor to its bottom line improvement is likely to be a decline in the number of shares outstanding. As the business has grown, management has done well in returning value to shareholders via share buybacks, which have resulted in total share count falling 31% over the past five years.
But investors might want to pay attention to its price
In recent years, AutoZone's performance has been pretty good, especially when it comes to net income, which soared 45% from $738.31 million in 2010 to $1.07 billion in its latest fiscal year. However, just because a company generates strong results doesn't mean that it makes for an attractive investment. Right now, investors value shares of the retailer at 18.6 times earnings and 16.6 times 2015's forecasted earnings. While this doesn't look like an outrageous multiple, the company's stock appears to be, at the very least, fairly valued using this metric.
Current Multiples
| | | | | |
| --- | --- | --- | --- | --- |
| | P/E | Forward P/E | P/FCF per Share | P/B |
| AutoZone | 18.6 | 16.6 | 20.9 | N/A |
Looking at free cash flow, shares are slightly more expensive. Using 2014's numbers, AutoZone shares trade at 20.9 times free cash flow, which illustrates the same point that shares don't appear ridiculously priced, but also aren't a bargain by any means. Another way to measure the value of a company is to utilize its price/book ratio but, with $807.67 million in treasury stock (which can always be sold to generate cash for the business) and a retained deficit of $1.53 billion, AutoZone's book value per share is negative. For this reason alone, it wouldn't be logical to base the company's value on this measure.
Takeaway
Right now, investors seem to hold a pretty high opinion of AutoZone and for a pretty good reason. In recent years, the company's sales and, especially, profits have done pretty well and the general consensus is that matters will only continue to improve. For this reason, it makes sense that investors would place a high price on AutoZone's stock, but it's also important to keep in mind that paying too much for even a great company can be an issue in the long run. With shares of the retailer trading at a pretty high valuation, it might not be wise to place too much money into AZO. While it's not trading at a completely unreasonable price, shares don't appear to be in bargain territory.
Disclosure: The author has no positions in any stocks mentioned, and no plans to initiate any positions within the next 72 hours.
The author wrote this article themselves, and it expresses their own opinions. The author is not receiving compensation for it (other than from Seeking Alpha). The author has no business relationship with any company whose stock is mentioned in this article.