PRA Health Sciences's (NASDAQ:PRAH) quiet period, as required by SEC rules, is set to expire Monday, 12.8; on Tuesday, 12.8, PRAH's underwriters could likely boost the share price by issuing positive reports.
PRAH is a contract research organization (CRO) with 75 international offices across 6 continents manned by 10,000 + employees.
PRAH's powerful syndicate includes: Jefferies, Citibank, KKR, UBS, Credit Suisse and Wells Fargo Securities as joint managers, with Baird and William Blair as co-managers.
PRAH's IPO commenced trading on Nov. 14th at $19.50 and has stayed in a trading range of $20.39 to $22.50 since Nov. 19th-well-positioned for at least a temporary boost.
A Handful of Competitors For This Powerful Global CRO
PRAH is one of the largest CROs in the industry by revenue. They manage and supervise all of the protocols necessary for FDA Phase 1 to Phase 4 trials on behalf of their clients on an outsource basis. Their therapeutic expertise specialties are in pharmaceutical development for treatments targeting oncology, central nervous system, inflammation and infectious diseases.
As a global CRO, they have only a handful of competitors, among them INC Research (NASDAQ: INCR) another recent CRO industry IPO. With over 45 drugs approved by the FDA or other international bodies via the PRAH platform and over 2,300 clinical trials credited under their supervision, PRAH boasts a track record of contributing to over 100 drugs successfully commercialized.
Prior to its recent IPO, PRAH had changed ownership several times: The Carlyle Group (NYSE: CG) sold the company in 2001 to Genstar for $95 million, who then subsequently filed an IPO in 2004. 3 years later, PRAH went private at a $800 million evaluation. KKR then acquired the company for $1.3 billion and has enhanced its global reach in Asia and Eastern Europe through their joint venture with WuXi Apptec of China and its purchase of ClinStar. Vertical integration for pharma included the M&A deals to add CRI Lifetree and ReSearch Pharmaceutical Services into the PRAH family.
Recap of Strong IPO
PRAH had a successful IPO launch. The underwriter syndicate, which included Jefferies, Citibank, KKR, UBS, Credit Suisse and Wells Fargo Securities as the joint syndicate managers, with Baird and William Blair as co-managers, opted to exercise the over subscription allocation of shares for the full offering, netting $330 million + for PRAH.
As KKR still owns a controlling stake, they certainly should be pleased with the stock's current $1.26 billion market cap.
With the stock price in a stable trading range above the IPO price and volume also in a reliable range, pricing appears to have reached equilibrium pursuant to new press releases on December 9.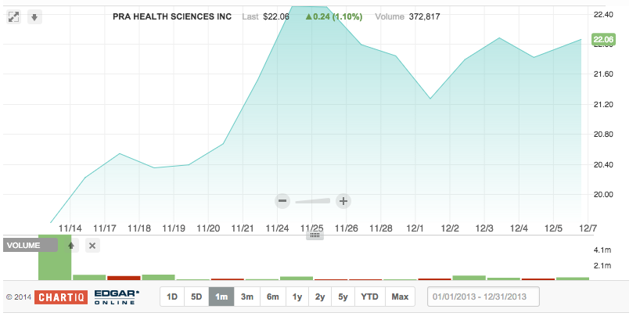 (Nasdaq.com)
Gradually Limiting Debt, Expenses
The Use of Proceeds, which had been earmarked for redemption of $150 million worth of senior notes and paying down $165 million of its Secured Senior Loan Term Facility, is certainly going to help PRAH.
One area of vulnerability is PRAH's $1 billion plus in debt, resulting in a current -0.39 EPS.
With over $1 billion posted in revenues, anything that empowers PRAH to bring down expenses will aid its growth prospects going forward.
Conclusion: Strong Buying Opportunity
White paper studies by a number of academic institutions, including the University of Florida, and our own research, observe a demonstrated price appreciation of between 2% to 5% on average in the days both preceding and following a quiet period expiration when other bullish indicators are already publicly disclosed.
For PRAH, solid revenues, a strong IPO and underwriting group, as well as being in the ever growing industry of biotech, all point to at least a short term appreciation at the expiration of the quiet period.
With the influx of biotech company IPOs in 2014, a pool of cash flush customers for CRO services has been increased dramatically over the past 12 months. The global CRO market was estimated to be $22 billion in 2013 and is calculated to grow at an 8% CAGR over the next 5 years to $32 billion. Roughly 31% of Phase 1 through Phase 4 trials were outsourced in 2013, and this percentage could rise to 43% by 2018.
The vested interest of KKR could continue to bode well for PRAH.
We suggest investors strongly consider a buying opportunity ahead of the likely analyst report releases before-market on December 9th.
We invite readers wishing to join the discussion on IPO quiet period expirations to click the +FOLLOW button above the title of this article, and those looking for the latest updates to click +Get real-time alerts.
Disclosure: The author is long PRAH.
The author wrote this article themselves, and it expresses their own opinions. The author is not receiving compensation for it (other than from Seeking Alpha). The author has no business relationship with any company whose stock is mentioned in this article.