Like many other upstream MLPs, BreitBurn Energy Partners (BBEP) has recently seen its equity price chopped in half. As many already know, the prevailing fear is all about the recent plunge in oil prices. West Texas Intermediate crude has gone from over $100 to about $65 in just a few months. The prevailing fear is that many of these partnerships will be forced to cut distributions due to lower margins. Another fear is that these partnerships will run into debt covenant problems. Most partnerships have revolving credit accounts which require 'target' debt/EBITDA ratios. With sharply lower oil prices, EBITDA ratios could follow suit and drop, thereby putting many upstream MLPs outside of their target debt/EBITDA ratios.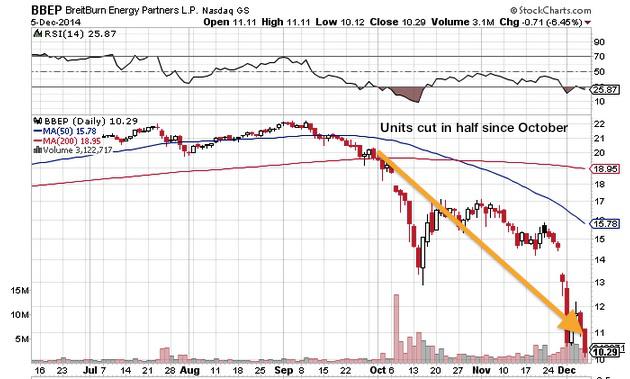 SharpCharts
Upstream MLPs, particularly the more leveraged ones, need to rely on a good hedging policy to see them through volatile price spikes and troughs common with oil and gas. This article will take a look at BreitBurn with a focus on how prepared the partnership is for what looks increasingly like a 2015 of $65-$75 oil prices. In particular, this article will look at BreitBurn's hedging policy vis a vis the others, and will also look at the potential impact of sharply lower oil prices on both cash flow and debt.
Hedging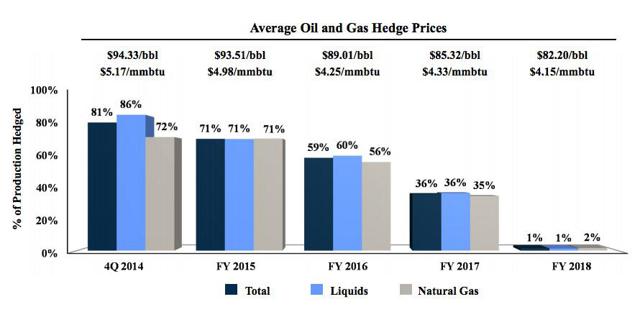 Courtesy of BreitBurn Energy Partners Investor Relations
BreitBurn's hedging policy is quite extensive and has prepared the partnership well for the impact ahead. Before drawing conclusions from the chart above, let's first consider a few things. First, about 51% of BreitBurn's production is oil, and that number is before the acquisition of QR Energy is considered. Natural gas liquids accounts for only 6% of production. Therefore, the 'liquids' category pretty much refers to oil. Oil, while accounting for only 51% of production, probably accounts for between 70%-75% of all revenues. This is because, on a barrel equivalent basis, oil is worth much more than is natural gas even with oil down at $65 per barrel.
Therefore, the key to BreitBurn's hedging policy is oil. And as we can see, oil is quite well hedged in both next year and the year after, at 71% and 60% respectively. Only Memorial Production Partners (NASDAQ:MEMP), which hedges extensively out to 2017, has a more comprehensive oil hedging strategy than BreitBurn does. Even Linn Energy (LINE), once known for its policy of hedging a totality of production, now only has 60% of oil production hedged next year and some 55% in 2016.
Finance
Like many upstream MLPs, BreitBurn aims to keep its overall debt below four times EBITDA. On a trailing twelve-month basis, the partnership earned $450 million in EBITDA. According to the most recently published balance sheet, BreitBurn has $1.87 billion in debt. That gives us a ratio of 4.16 times. However, that balance sheet was published before BreitBurn made an equity offering of some $250 million, all of which went to pay off debt. So, in reality, BreitBurn should now have only $1.6 billion in debt, bringing our ratio down to 3.6 times based on trailing twelve month EBITDA, and 3.33 times based on midpoint guidance of $500 million in EBITDA for 2014. I prefer to go with trailing twelve month average because that counts only that which has already been earned. In any case, BreitBurn is within its target ratio right now.
But what will happen to BreitBurn's EBITDA next year when a good chunk of BreitBurn's oil will go for much less than it does now?
Here's what we know: Most of BreitBurn's oil comes mostly from either the Permian, Postle Field in western Oklahoma, or from southern California. According to research I've done in previous articles, BreitBurn's total operating cost in the Permian is about $24 per barrel. That will adjust as the QR Energy acreage comes online for BreitBurn. Production taxes and LOE should also adjust down with lower oil prices, but let's go with the $24 per barrel example in Texas for now. Chances are, acreage in California has a somewhat similar cost structure. Postle Field's operating costs come in at around $31.75 per barrel.
Realized oil prices for unhedged barrels should drop from around $90 into the low $60s, which equates to an EBITDA margin cut of $30 per barrel. Postle Field EBITDA margins, therefore, would drop from $60 per barrel to about $30. Permian margins would drop from $66 to $36 per barrel, and so on.
Continuing with this 'back of the envelope' example, only 30% of BreitBurn's oil is unhedged in 2015, which means that if oil margins are cut in half, BreitBurn's oil EBITDA would be effected by 15%. And since oil should account for around three fourths of total EBITDA, the total impact of lower oil next year should be somewhere between 10%-12% of EBITDA.
Keep in mind, however, that severance taxes and lease operating expenses should come right down with the price of oil. In addition, BreitBurn should be able to organically grow oil production by about 3%-4%, which will provide an additional boost to cash flow. Together, these two factors could more than make up for lower realized prices next year, and so I don't expect a distribution cut or credit rating complications even if oil prices stay down where they are right here.
Conclusion
For an upstream MLP, BreitBurn is fairly well prepared for this decline in oil prices. The partnership's hedging strategy is now one of the most extensive in the industry, and debt should stay within target metrics next year even if oil prices remain low.
Disclosure: The author is long BBEP, LINE, MEMP.
The author wrote this article themselves, and it expresses their own opinions. The author is not receiving compensation for it (other than from Seeking Alpha). The author has no business relationship with any company whose stock is mentioned in this article.