Investors looking for stability in long-term trends are finding it more difficult to support some concepts with certainty. Recent volatility with energy and commodity prices have shaken up previously held notions regarding the upward trends behind oil and gold prices for example. Whereby both trends are likely to continue along their path of long-term upward momentum, each has faced a reduced prospect in the present. Crude oil prices have fallen more than 30% in the last few months and gold has failed to appreciate since 2012 as inflation has largely been kept in check.
Yet trend-watching investors now should consider the ripe conditions surrounding the growing demand for fresh water. Increased concerns behind climate change have heightened the awareness and need to fortify existing water supply chains. This is especially true in drought-stricken areas with high population counts and modern utility infrastructure. Some of the most pressing regions of late include parts of Brazil, the Western United States, and Australia.
As for the trend itself, investors should recall some of the fundamental facts now driving the demand for increased water infrastructure:
Global population is expected to increase by 30% by 2050.
More developing nations are transitioning to higher standards of living.
Only 2.5% of the world's water supply is fresh and less than 1% is accessible surface water.
Approximately 1 billion people today live without access to clean drinking water.
Global water consumption is expected to increase by 40% over the next two decades.
Alongside these driving points, investors should consider the practical implications of our current water needs. For example, food production requires a significant amount of water input in order to deliver a final product. It is estimated that a hamburger requires 635 gallons of water and a single egg requires 400 gallons of water in order to be made. As developing populations modernize and their correlated standards of living to change, we should expect for increased pressure on fresh water sustainability.
Part of the global awakening to this problem is now underway in the shifting weather trends that have afflicted some highly populated areas. For example, water levels fell below 10% of normal capacity this past year in Sao Paulo, Brazil. Most alarmingly, the sprawling city in Southern Brazil is claimed to be home to some 20 million people. A similar situation is also underway in California where extended drought conditions has managed to spur on increased infrastructure planning. In early November, residents of California passed Proposition 1 which proposed to raise $7.5 billion in order to fund the construction of new water reservoirs and to develop water recycling and treatment plants.
Therein lies the potential for investors as municipalities begin to allocate for water preparedness. Combined with the realities of an aging water infrastructure in several regions of the world (including the United States), the largest benefactors to this long term trend will be the water utility companies. These companies should expect for demand to consistently grow going forward.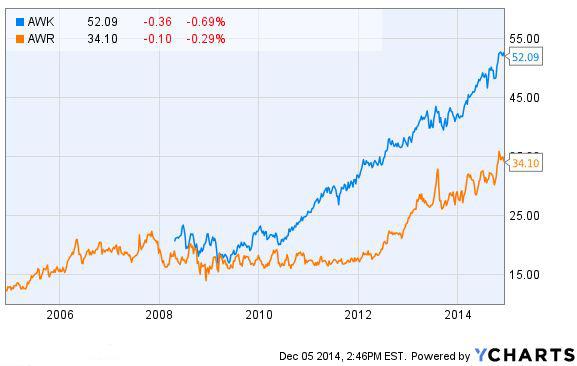 Two domestic public companies that specialize in maintaining water services are American Water Works Company, Inc. (AWK) and American States Water Company (AWR). Shown in the chart above, the two companies have consistently trended higher over the past few years. American Water Works is the larger of the two companies and operates in nearly 1,500 communities across 16 states. The company focuses on water treatment facilities but also specializes in pumping stations, dams, and maintaining more than 47,000 miles of transportation pipes.
Those looking for a more regional specific company might want to consider American States Water Company instead. Considering the ongoing drought in California and their recent proposition to raise funds for water infrastructure, American States may be in line to prosper from the given environment. The company is highly focused on the California region and part of Arizona. It also maintains contracted services to various military installations around the country.
Looking further out, investors wanting global exposure might want to consider a large environmental service company with a global footprint. A company like Veolia Environnement S.A. (VE) seeks to provide such exposure as it is involved in drinking water and wastewater activities around the world. It is worth pointing out, however, that the company also specializes in managing industrial waste, energy, and other utility services.
Last of all, those looking for overall exposure to water management might just want to consider a broad portfolio such as an exchange-traded fund with a heavy water focus. The PowerShares Global Water ETF (PIO) and the Guggenheim S&P Global Water ETF (CGW) are two such investments that capture the concept well. However, it is worth pointing out that both funds currently average a low dividend of approximately 1.4%.
When it comes to water companies, investors should continue to expect a large degree of consistency as the demand for services continues to grow while the population increases. Many of these companies maintain their stability due to the high barriers of entry that are found in the industry. More so, the underlying trend of growing fresh water scarcity will continue to bolster the demand these companies can expect.
Disclosure: The author is long AWR.
The author wrote this article themselves, and it expresses their own opinions. The author is not receiving compensation for it (other than from Seeking Alpha). The author has no business relationship with any company whose stock is mentioned in this article.