Bazaarvoice (NASDAQ:BV) posted fiscal 2Q earnings of $0.05 a share loss (topping expectations for a $0.09 loss) and revenues of $47.3mm (beating $46.7mm consensus). Revenues were up 15% y/y, and its total active clients were up 28%. Although it's still negative - EBITDA went from a $5.5mm loss in the same quarter last year to a $1.8mm loss this quarter. The client adds were also positive, with active clients up to 2,300, versus 1,258 at the end of last quarter.
BV is up 3% this week.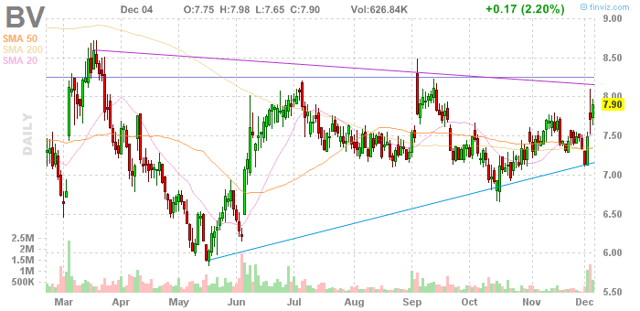 We were early to the BV story, covering the company last year, noting that,
We look at it this way, the online company that can best harness customer data and direct that in targeted marketing, will win the war. This is the foundation that Google (NASDAQ: GOOG) was built on and we like the steps that Bazaarvoice is taking to capture its share of a $100 billion market.
We also covered BV after the fiscal 1Q earnings beat. Despite the positive response, shares are still weak on the year, down 3% YTD. For additional reading and a deeper dive on the quarter, I'll point you to here,
Overall, I'm very pleased with the quarter, and I'm definitely holding long. I see shares moving up to a more respectable 4-5x revenues on an EV basis in the coming year to be more in line with similar SaaS type businesses, given the mid teen top line growth rates. This should be good for about 50% upside (Matthew Dow)
Meanwhile, I'm going to do a deeper dive into the current prospects. Trading at 2.9x forward EV/sales, BV is still an enticing buy. Crude comparison, but Google trades at 5.9x. It won't be for the weak though, with no earnings and no expected earnings in fiscal 2015 and 2016. But it has negligible debt and 67% gross margins. Its dealings with the DOJ are largely over, with BV having signed a consent order earlier this year that concludes its two-year battle with the DOJ. That overhang is gone. Now it's time to focus on gaining more traction in the digital ad space, with its new customer acquisitions suggesting BV is on its way.
Disclosure: The author has no positions in any stocks mentioned, and no plans to initiate any positions within the next 72 hours.
The author wrote this article themselves, and it expresses their own opinions. The author is not receiving compensation for it (other than from Seeking Alpha). The author has no business relationship with any company whose stock is mentioned in this article.