Carbonite (NASDAQ:CARB) saw J2 Global (NASDAQ:JCOM) come knocking again last week. J2 wants to buy all of CARB for $15/share. Shares of CARB are up 23% on the week and trading at a 4% discount to the buyout offer.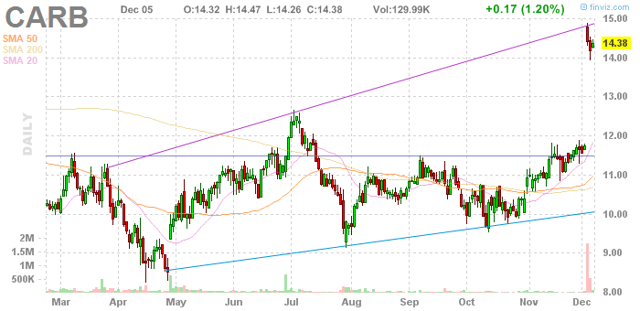 A couple years ago J2 tried buying for $10/share. Shares spiked, but CARB rejected the bid, and even still, shares spiked and kept moving higher - reaching $15.50 over the next year. The activist investor involved with CARB - Discovery Group - also upped its stake to 7.8% on the news. Discovery's initial activist stake of 5.9% was disclosed in February. Shares are up 23% YTD.
We covered CARB after 2Q earnings and initially highlighted CARB earlier this year, noting that CARB was overlooked and making a positive shift from targeting consumers to targeting businesses. We noted,
Carbonite's backup business is a high margin business, yielding gross margins of 66% plus, and can ultimately be a high cash flow generative business."
Its gross margin is up to 68.8%, has no debt, 18% of its market cap covered by cash and positive free cash flow. Trading at 2.6x forward EV/sales CARB still appears attractive.
The biggest near-term risk is that CARB rebuts J2's offer yet again, which I think they may well do. They just recently transitioned their business model and brought in HP's (NYSE:HPQ) Chief Strategy Officer as its new CEO, replacing its co-founder David Friend. The market is still very large and CARB is tackling a much stickier customer base (businesses versus consumers) now. We think there's more upside if CARB rebuffs.
Disclosure: The author has no positions in any stocks mentioned, and no plans to initiate any positions within the next 72 hours.
The author wrote this article themselves, and it expresses their own opinions. The author is not receiving compensation for it (other than from Seeking Alpha). The author has no business relationship with any company whose stock is mentioned in this article.