Novo Nordisk A/S (NYSE:NVO) is a Danish pharmaceutical company that focuses heavily on diabetes care. I recently made a bullish case for Novo Nordisk in an article on Seeking Alpha due to the increasing prevalence of type 2 diabetes. The case for an exponentially expanding market for diabetes care still stands and this article is largely intended as a follow-up to my previous one. I recommend that potential investors read my previous article as well as this one to understand the market potential that Novo Nordisk has.
Novo Nordisk announced its first quarter results recently. Here are some of the highlights from the announcement:
Overall sales increased 15%.
Sales of modern insulins increased 14%.
Victoza sales increased 191%.
Sales in North America increased 16%.
Sales in the Asia and China region increased 34%.
Operating profit increased 24%.
Net profit increased 23%.
I specifically mentioned the company's Victoza product as a growth area for the company due primarily to the convenience factor for diabetic patients in my previous article. The product's 191% annual sales growth only serves to reinforce this conviction. Victoza was introduced to the U.S. market in January of 2010. This product now commands a 39% share of the global market for GLP-1 therapy for type 2 diabetes. That is very impressive market share growth for a product that has only been available for slightly less than two years.
The product still has very strong growth potential. On March 15, 2011, Victoza received approval from the State Food and Drug Administration in China and Novo Nordisk intends to launch the product there during the second half of 2011.
Novo Nordisk controls 51% of the global market for insulin. My previous article made the case for an increasing prevalence of diabetes going forward, particularly in the United States. North America has indeed been the fastest growing market for Novo Nordisk. In the first three months of 2011, 39% of the company's sales came from North America.
images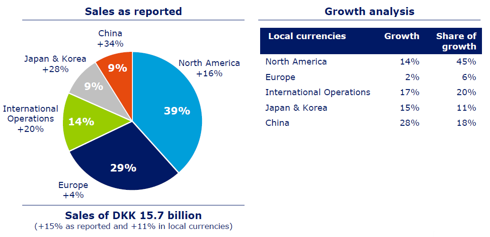 Source: NVO Q1 2011 Earnings Presentation
Novo Nordisk saw overall sales growth of 14% in North America when calculated in local currencies (16% growth in DKK which is the company's reporting currency). This North American growth made up 45% of the company's worldwide growth.
Novo Nordisk still has strong prospects for growth in North America. Currently, the North American market is the only major worldwide region in which the company does not control at least 50% of the diabetes care industry.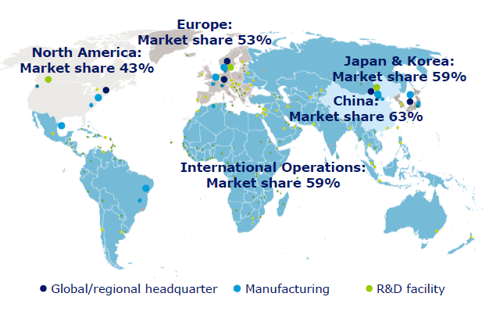 Source: NVO Q1 2011 Earnings Presentation
American consumers tend to have a love of products that make their lives easier or more convenient. For a diabetic patient, Victoza is the most convenient product on the market that they can use to manage their condition. The primary competitor to Victoza is Eli Lilly's (NYSE:LLY) Byetta which has been around for longer than Victoza. Victoza is the better product of the two and should be able to steal some of Byetta's market share. Indeed, there are indications that this is already happening. This is obviously quite good for Novo Nordisk.
William Haynes recently published an article on Seeking Alpha explaining why Victoza is a superior product to Byetta. I will not restate his points here but I will add to them. Victoza is a once-daily drug taken using a pen-like injector. Victoza can be taken at any time of day so it is fairly easy for a patient to work into his or her daily routine. Byetta is more restrictive but it is still superior to older diabetes treatments. Like Victoza, Byetta is taken using a pen-like device that gives the patient a single dose of the drug. Byetta must be taken twice daily, prior to the two main meals of the day. Additionally, at least six hours must elapse between doses. That makes it less convenient for a patient to use than Victoza. If given a choice, I believe that most American diabetics would choose the most convenient medication for their condition. That is Novo Nordisk's Victoza.
Novo Nordisk has gotten cheaper relative to earnings since I published my last article. The share price itself has hardly moved: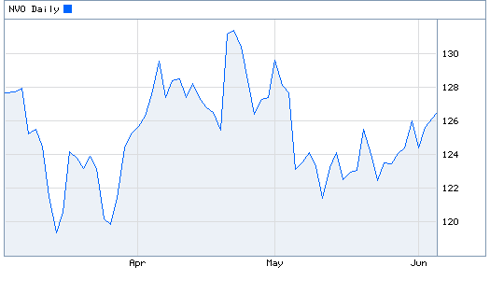 Source: Fidelity Investments
The company has increased its earnings by 23% over the past year. The share price, however, has not responded much. This reduces the P/E ratio of the stock and makes it cheaper on a price to earnings basis. Actually, virtually all of the company's financial numbers improved during both the last quarter and the last year. Regardless of which valuation metric is used, the company is cheaper now than it was when I published my last report.
Novo Nordisk earned DKK 4,073 million ($799.21 million) during the first three months of 2011. This is an increase of 22.5% from the DKK 3,324 million that the company earned during the first quarter of last year. This also represents an increase of 3.2% from the DKK 3,946 million that the company earned during the fourth quarter of 2010. Management expects profit growth of 15% during 2011. Zack's Investment Research has a slightly more optimistic estimate of 16.3% profit growth. Not that the lower management projection of 15% growth is bad by any means!
Zack's rates Novo Nordisk a buy at current levels. The company has trailing EPS of DKK 26.05 ($5.11). This gives the company a trailing P/E ratio of 25.06 at the June 6, 2011 closing price of $128.05. Novo Nordisk has a PEG ratio of 1.67 using management's estimate of 15% earnings growth. The PEG ratio drops a bit to 1.54 when calculated using the growth estimates from Zack's.
All currency conversions were calculated at the June 6, 2011 DKK to USD exchange rate.
Disclosure: I have no positions in any stocks mentioned, but may initiate a long position in NVO over the next 72 hours.