What do you think when you hear the word "healthcare"? Probably expensive trips to the doctor(s) and through the roof drug prices. Have you ever thought about healthcare being an opportunity to make money? In this article, we will go over all the healthcare companies that I like, and will discuss how you could make enough money off of them to pay your health costs and then some.
We will start our journey by looking at the pharmaceuticals. You already know that Pfizer (NYSE:PFE), Merck (NYSE:MRK), and the rest of the huge pharmaceuticals companies make a ton of money off of their high priced blockbuster drugs, but these won't be the companies making you big money. A lot of these companies are actually in a bad situation because the patents are going to expire on the blockbuster drugs that they heavily market. What does that mean? It means the serious money is going to be made in generics, or knock-off brands. Generics are just copycats of the real thing. The best part is they are much cheaper.
Below is a list of pharmaceutical companies that make generics and then two that don't make generics, but definitely earns a place on the list.
Biogen (NASDAQ:BIIB) - Biogen makes the list of pharmaceuticals to own because it has a great business model, product line, and a good pipeline with fourteen products in development. Biogen develops treatments for MS, cancer, autoimmune diseases, and a few neurological disorders.
The cancer business is one of my favorite opportunities and has huge prospects. All the big pharmaceuticals have been buying out small to midsized cancer research companies, and have started pouring tons into research. Biogen could definitely make some money over time, especially with cancer treatments under its belt.
Currently it has a five year EPS growth rate of 20% and a five year sales growth of 10%. The pipeline could definitely offer higher growth, too. Eight of its products in the pipeline are in the 3rd phase! (That is the last phase before it files to get the drug approved.) That is more than half of its pipeline. Even if half got approved, it would still be a nice boost to earnings over time.
We know the fundamentals are great for BIIB, but what about the charts? BIIB is slightly under its 10-day moving average, but is far above its 50-day moving average after it reported great earnings. If you look at a weekly chart of BIIB, you'll see that it's above its 10-week moving average, but pulling back. You would want to see support at that line, or a bounce off of it.
Remember, with the market the way it is you may want to wait on buying. No matter how good a chart looks the stock can still be dragged down by the market; LULU is a perfect example.
BIIB 3 Month Chart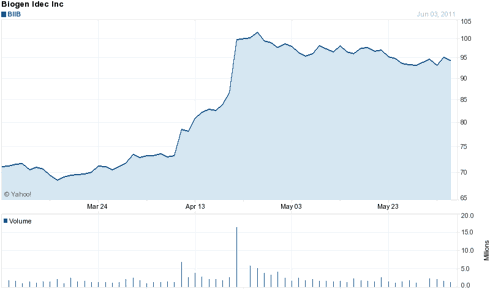 Perrigo (NASDAQ:PRGO) - Perrigo is one of the best examples of a generic brand company. Perrigo makes store brand knock-offs for over-the-counter drugs. Perrigo markets drugs for everything from heartburn to seasonal allergies, anything that can be sold over the counter. It has a very strong customer base too, including names like Wal-Mart (NYSE:WMT) and Target (NYSE:TG). PRGO currently carries a five year EPS growth rate of 40% and a sales growth rate of 16%. Not bad at all. Expect those numbers to grow as more people buy store brands, and as more products come through the pipeline.
Looking at the charts, PRGO sits just under its 10 week moving average. It is also under its 10 and 50 day moving averages. PRGO is another example of the market taking down a good stock.
PRGO 3 Month Chart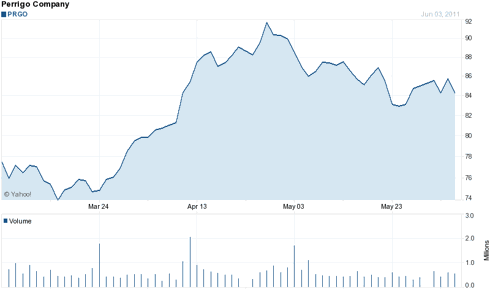 Endo Pharmaceuticals (NASDAQ:ENDP) – Endo Pharmaceuticals is a great company with a good mix of its own drugs and generics. I like the mix that ENDP has a lot. It still makes a good sum of money from its own products, but it has exposure to the booming generic market. Recently ENDP agreed to buy American Medical Systems (NYSEMKT:AMS) for $2.9 billion. The deal would expand ENDP's product line making it less dependent on revenue from its painkillers. It is a great idea! I love seeing a pharmaceutical company that does that. One of my biggest rules is that I will never buy companies with only one or two drugs because of the devastation that could occur if the drug is recalled or loses its market to generics. It is just too big of a risk to take.
ENDP has done very well fundamentally, and it should stay that way. Currently ENDP has a five year EPS growth rate of 22% and a five year sales growth rate of 17%. I expect more upside from its generic business, and we may see better results from the acquisition. ENDP's pipeline is very interesting to with a few drugs awaiting approval, and a decent amount in development.
The charts for ENDP are mixed. Right now ENDP is right at its 10-week. You want to see that bounce off in large volume, but it may not happen if the market continues its downward trend.
ENDP 3 Month Chart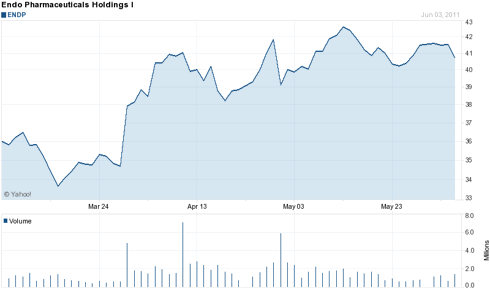 Abbott Laboratories (NYSE:ABT) – Abbott Laboratories may be a big pharmaceutical, but it doesn't face the problems that the others do. I like to consider ABT the "best of both worlds" type of company. It, of course, has the high revenue products like pills, but it also has diagnostic systems, nutritional supplements, eye care products, and a lot more. What could add to all these great markets and make ABT an even better investment? How about a 3.8% yield? That is definitely nice.
Most big pharmaceuticals currently have little to no growth prospects in the way of EPS and sales; this could change, though. We don't want to hope for a turnaround though; we want a company that works now and won't need to invest tons into research. ABT separates from big pharmaceuticals here, too. ABT has a five year EPS growth rate of 13% and a five year sales growth of 10%. On top of that, it has a great pipeline. In my books, ABT fundamentally beats the big pharmaceuticals and I would even go as far to say that it will beat Johnson & Johnson (NYSE:JNJ)
ABT 3 Month Chart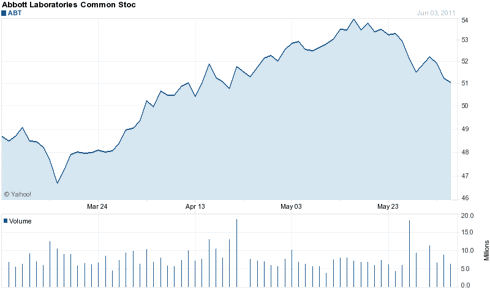 After the pharmaceuticals we move on to a space where tons of money could be made. This is the managed care space. As more baby boomers prepare to retire, they look to the government programs for healthcare. This is where the only company I would recommend comes in.
Amerigroup (AGP) - One of the biggest reasons this is the only one I will recommend in this space is because it has the biggest exposure to Medicaid. As more baby boomers retire from now until 2025, AGP has the biggest prospects to make money. Prospects needs to be the key word though, because in the managed healthcare space, all these baby boomers may be a huge opportunity, but it could also cause problems for the company. So far, though, AGP seems to be managing well and seems prepared for whatever is thrown its way.
After that information you know that AGP's fundamentals are good. Right now, AGP holds a five year EPS growth rate of 34% and a sales growth rate of 13%. These numbers are already high, but it is possible that AGP can beat them. A big reason is because states are starting to hand over their members to managed healthcare companies. Florida signed a bill a little while back doing just that. The most important thing to watch closely is how it manages the new retirees coming into the system. If it can't execute, then you shouldn't own the stock.
The charts for AGP are pretty good. It has found support at its 50-day and 10-week moving averages. The stock recently completed a three weeks tight technical pattern. It has since slipped below the buy point in that pattern.
Managed care has a lot of opportunities. AGP may be the only one I like, but other names will probably make you money too. Names like Healthspring (NYSE:HS), Humana (NYSE:HUM), and even Aetna (NYSE:AET) could work out just fine. Remember to watch to see if they can execute.
AGP 3 Month Chart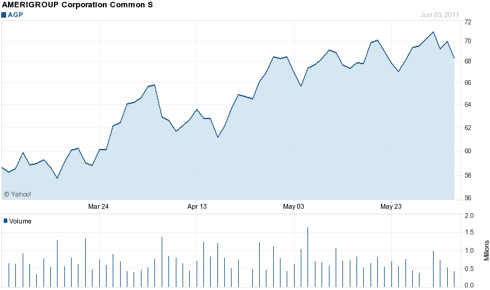 The last sector I want to go over in healthcare are the out of the box thinkers. These are companies that do everything from weight loss to billing management. These companies may not make huge profits from medications or insurance, but they make them somewhere else. These companies are very innovative, and usually have a huge market share.
Accretive Health (AH) – I love what this company has to offer, and so do hospitals. You may not know it, but most hospitals don't make as much money as you would think. Some have to be held up by private funding. Why is this? It is because hospitals have a problem with people coming in getting the treatment, but not paying the bill. If a patient has no insurance, which most people who run out on a bill don't, then the hospital can't even be compensated. Since they can't turn people down, they have to look somewhere else to raise money.
How most hospitals do this is through cost cutting. AH helps them majorly. AH organizes bills, income, and everything else along those lines. How? Through end-to-end managed services. This leaves everything to AH and kicks competitors out the door. After the job is done, AH doesn't stop making money. It has a fee based system where it gets 4% of the revenue of each patient. The hospitals aren't left without results, though. They see revenue increase 400 to 600 basis points, or 4% to 6%.
The prospects for AH are set high. AH has a five year EPS growth rate of 155% and a sales growth rate of 31%. That is pretty amazing. AH has a lot of market left to cover, and there is no sign of any real competition in sight. AH is under its 10-week line right now, but far above its 50-week.
AH 3 Month Chart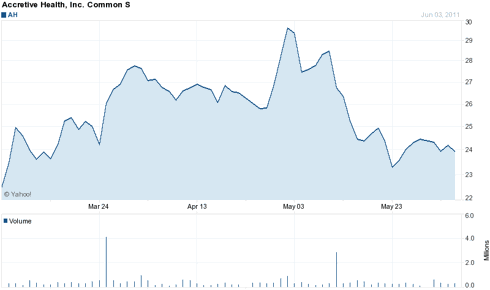 Intuitive Surgical (NASDAQ:ISRG) – Intuitive Surgical has one of the coolest products ever. What ISRG does is develop robots that can perform and improve surgeries. These robots are amazing and work very well. They eliminate the natural human tremor, and can get into small spaces a lot easier than any surgeon could. The company has little competition and a good amount of the market left to take. Its business is fee based, not to mention that it also gains extra revenue from having parts on the robots replaced. The company has a good amount of growth left to go, and with a constant revenue stream to add to that. Currently the stock has a five year growth rate of 45% and a five year sales growth rate of 29%. ISRG sits under its 10-week line, but is far from its 50-day.
ISRG 3 Month Chart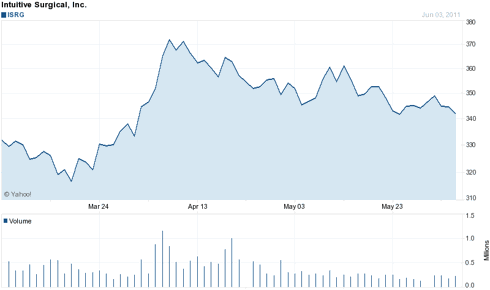 Herbalife (NYSE:HLF) – Some people may consider this more of a food company, but I consider it a healthcare stock because of its product. HLF offers weight management and nutritional supplements. They are both good businesses, especially the weight management business. As more and more people look for ways to lose weight, HLF is there to help them. The earnings have shown for it too. HLF has been starting up its markets in South America and has already seen a huge response. The continued growth from North America and emerging markets gives HLF a five year EPS growth rate of 21% and a five year sales growth rate of 7%. HLF is finding support at its 10-day currently and is nicely above its 10-week. HLF may seem like it is a retailer, but I believe its products and growth earn it a place on this list.
HLF 3 Month Chart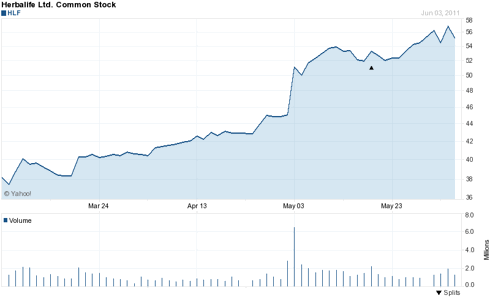 The healthcare industry has seen twists and turns. Mainly these came from the healthcare bill. Now that everything has gone through and the bill was passed, healthcare companies and investors are noticing that everything is not as bad as they first thought. The bill will be determined constitutional or not in 2012. If it is deemed unconstitutional, that will give a big boost to the healthcare stocks on top of what they may be getting up to that point, but even if it isn't, most of the space is worth getting back into. The effects of the healthcare bill were not as bad as thought, and it is now time to get back in and make some money.