Shares of BP (NYSE:BP) have not done well over the past year. A combination of Russian tensions, lower crude prices, and an adverse ruling over BP's violation of the Federal Clean Water Act has weighed on BP's stock.
Recently OPEC's decision to maintain crude production at 30 million barrels a day has sent Brent trading below $70, prompting even more selling of BP stock.
I don't think there is any reason to worry.
Much like ExxonMobil and Chevron, much of BP's portfolio are decade long investments that should do well in a broad range of crude prices.
BP, for example, reported positive profits and positive free cash flow in 2008 and 2009, when crude prices traded at one point around $35 per barrel.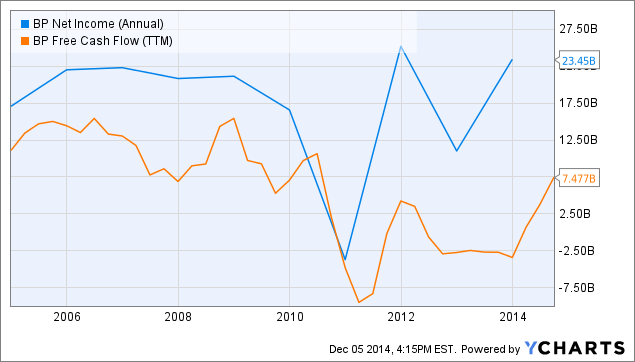 BP Net Income (Annual) data by YCharts
BP is less exposed to lower crude prices for several reasons. First, given that BP is an integrated oil major, its downstream refining unit should offset part of the upstream crude weakness. Second, BP is relatively unlevered compared to many U.S. shale drillers, thus giving BP more time to wait out the low crude prices. BP's debt to equity ratio, for example, is only 0.43, versus Continental Resources' debt to equity ratio of 1.2. Third, BP has a major natural gas presence. Approximately half of BP's upstream proved reserves are natural gas.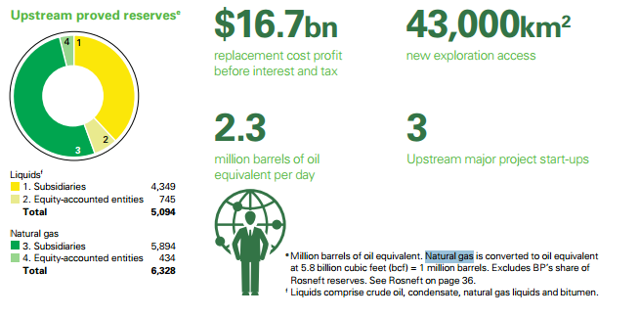 Source: BP
While the price of natural gas is still linked to the price of crude in many parts of the world, many analysts believe that the two energy forms will decouple moving forward as more LNG infrastructure is built.
Long term, the supply and demand situation for crude oil does not look that dire. The December 2017 Brent contract, for example, is still trading around $80 per barrel. Personally I think there are several reasons for this. First, the Chinese economy will likely recover in a few years as Xi's reforms kick in. The Chinese economy recovering should increase crude demand substantially. Second, if industry capital expenditures are reduced now, there will be less crude supply long term, leading to higher crude prices long term, all else equal. Third, I don't believe OPEC can tolerate low crude prices for more than a couple years. Most OPEC nations don't have the same currency reserves as Saudi Arabia does and will be forced to cut social programs as a result. Cutting social programs could spur another Jasmine Revolution, thereby threatening Saudi Arabia's stability. I think the powers that be in Saudi Arabia will prefer cutting production by a few million barrels rather than having a potential revolution at their doorstep.
With that said, BP's operations will still suffer somewhat from lower crude prices. BP CFO Brian Gilvary previously said the company could operate comfortably in $80 crude oil, but that it may have to pare some capital investments if crude fell below $70. Now that Brent is $68 per barrel, BP will likely cut some of its capital spending, thus lowering BP's future growth rate.
Aside from slightly slower growth, however, nothing substantial has changed in the long term. In my opinion, BP still has a long term normalized earnings power of $5 to $6 per share (2013 net income was $15 billion with 3 billion shares outstanding with Brent ~$110 average. $110 per barrel could easily occur after 2016 after OPEC cuts and China recovers), and shares are still worth $50 to $60 per share. Furthermore, BP's dividend, which costs approximately $7.2 billion a year, should be safe, as the company still plans to divest $10 billion in assets by the end of 2015.
Disclosure: The author has no positions in any stocks mentioned, and no plans to initiate any positions within the next 72 hours.
The author wrote this article themselves, and it expresses their own opinions. The author is not receiving compensation for it (other than from Seeking Alpha). The author has no business relationship with any company whose stock is mentioned in this article.