Deteriorating fundamentals
It's no secret that the gambling industry has been struggling. Regional gaming revenues are shirking. Growth in Lag Vegas has been trailing inflation (see chart below). In 2014 alone, five out of twelve casinos closed their doors in Atlantic City, the second largest gambling destination after Las Vegas. The City's gaming revenue is projected to hit half of its 2006 peak of $5.2B.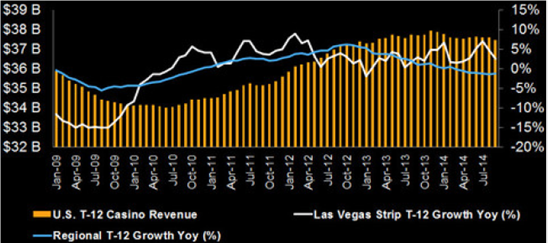 Source: Bloomberg
Some may argue that with the US economy growing over 3% and cheap oil creating more disposable income, the gambling industry will experience a renaissance. As a result, they argue, some investors should buy into the current trough and ride the recovery.
Not so fast.
Emerging trend of socially responsible investing
Socially responsible investing (SRI), an emerging trend, means gambling stocks could be out of favor indefinitely.
Responsible investing traces its root to the colonial era, when some religious groups divested the slave trade from their endowment funds. Fast forward to 1921 and the Pioneer Group created a mutual fund that screened out gambling, tobacco, and alcohol companies. A study by the US Forum for Sustainable and Responsible Investment (USSIF) estimates that as of 2012, over $3.7 trillion in assets under management have a social responsibility mandate. That's over 11% of total AUM in the country.
SRI is a fast growing asset class. From 2010 to 2012, AUM with an SRI mandate grew by ~22 percent. USSIF estimates that 443 institutional investors, 272 money managers and over 1,000 community investment institutions incorporate SRI criteria in their portfolio construction.
While tobacco stocks and fossil fuels have been actively avoided by many investors for decades, gambling stocks have not received their fair share of negative press (unlike the high-profile exit of fossil fuel names from the Rockefeller Foundation in 2014). It will only be a matter of time before the gambling sector falls out of favor.
Unexpected gambling stocks per the SRI criteria
There is more to the gambling industry than casinos. The widely used Bloomberg screening tool, Environmental Social Governance (ESG) analysis, also screens out companies that derive part of their revenue from the gambling industry, such as horse racing companies, slot machine manufacturers and gambling software developers. Below is a list of all gambling-related stocks in the US market.
Besides familiar names such as Caesars (CZR) and MGM (MGM), one will also find Canterbury Park (CPHC) a horse racing company, Amaya (AMYGF) an online gaming provider, and Power Capital (PCGB) an investment company focused on the gambling sector. The table below highlights stocks one may not expect to be a part of the gambling sector.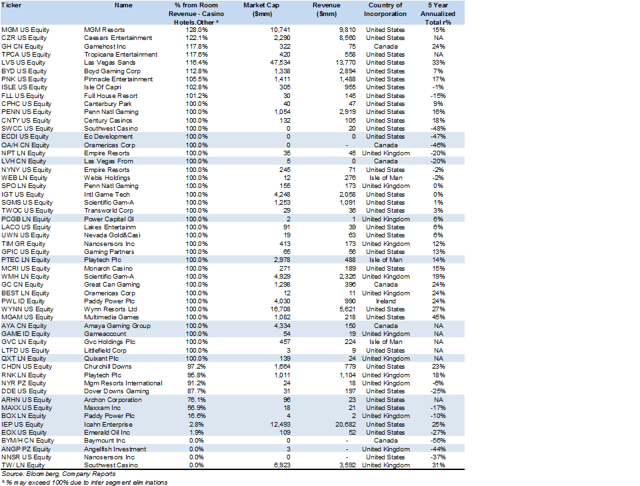 Not ready yet?
If you are not ready to exit the gambling sector completely, here is a first step -- be against the richly-valued stocks from the list above.
Amaya Gaming is a standout. Among gambling-related non-casino stocks, it has the highest P/E ratio (125x) but only mediocre ROE at 13%. In addition, P/B is a whopping 14x.The stock has gotten increasingly rich after the company acquired a European competitor in June this year. Although headline numbers may look pretty with a bigger operational base, the company's EBITDA margin has plummeted to -8.6% (MRQ). The looming unpopularity of gambling stocks among investors is clearly not baked into the current valuation. There is a disconnect between company fundamentals and the stock price.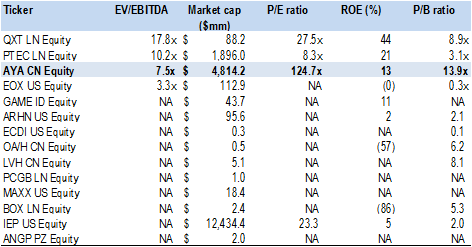 Source: Bloomberg and company reports
Conclusion
Investors sometimes get carried away chasing yield and momentum. The gambling sector is due for a historic devaluation.
After all, investing is not gambling.
Disclosure: The author has no positions in any stocks mentioned, and no plans to initiate any positions within the next 72 hours.
The author wrote this article themselves, and it expresses their own opinions. The author is not receiving compensation for it (other than from Seeking Alpha). The author has no business relationship with any company whose stock is mentioned in this article.
Editor's Note: This article covers one or more stocks trading at less than $1 per share and/or with less than a $100 million market cap. Please be aware of the risks associated with these stocks.