Dear readers,
This week's Outstanding Performance award winners exemplify the depth and variety of contributions to Seeking Alpha, and the benefit that delivers to readers in surfacing great ideas. One of our winners is a regular author who laid out a long idea over several articles and consistently followed up on (and pegged correctly) over many months, while the other was a well-timed short call from a less frequent author that played out over half a year. While neither author is currently a professional investor, both took a value approach to help readers invest smarter. For their efforts, they receive an award of $2,500.
This week's Outstanding Performance Award winners are:
Brian Grosso for his long idea on Strayer Education (NASDAQ:STRA) published in July 2013. Return to date: +72.1%
Kevin Graham for his short idea on AutoCanada (OTC:AOCIF) (ACQ.TO) published in June 2014. Return to date: +42.2%
Both authors have updated their thesis in a comment on the original article. The AutoCanada article is part of our SA PRO equity research archive, available exclusively to SA PRO subscribers, but will be made available to all readers for 48 hours. The Strayer Education article will be added to the archive after 48 hours.
About the winners
Brian Grosso is an undergraduate accounting student, as well as an independent investor and student of the markets. He has been contributing to Seeking Alpha for nearly two years, with his first article on Bridgepoint Education turning into a nice 12-month call. Grosso's work has spanned many sectors - from a successful turnaround call on Skullcandy to a solid long pick of consulting company Franklin Covey - but the for-profit education space has been a particularly fruitful one for Grosso. Though initially bullish on Corinthian Colleges, Grosso flipped to a bearish view, which played out in rapid fashion over the next year as the stock dropped 90%+. Likewise, Grosso called out Education Management Corp's steep overvaluation and bankruptcy risk, and the company launched a restructuring plan within a year of the article, with the stock having almost no outstanding value. On the long side, he correctly assessed that Career Education presented an attractive risk-reward for aggressive investors, leading to a double for investors.
Grosso's work on Strayer Education was another success in this space. Grosso first covered the company in mid-July 2013, arguing that it was the ultimate value proposition for the education space. Citing the company's strong operating characteristics - affordable tuition, low default rates, and competitive education offering - Grosso suggested Strayer's business was an attractive one. He proceeded to highlight how the stock was priced attractively in his next article. The last piece to the puzzle was a big sell-off after the company's Q2 2013 earnings report. Grosso saw this as the time to buy and filled SA readers in on why, as a focus on improving student retention and a looming turnaround in enrollment rates seemed poised to turn the company's fortunes around. And so it played out: the company's TTM free cash flow is $68M, above Grosso's conservative $60M estimate; the trend in declining total enrollment has slowed from 13% yoy to 2% yoy as of Q3 2014, and the shares are a double year to date. Grosso may have been a little early for maximizing return, but the +72% result isn't so bad for him or readers either.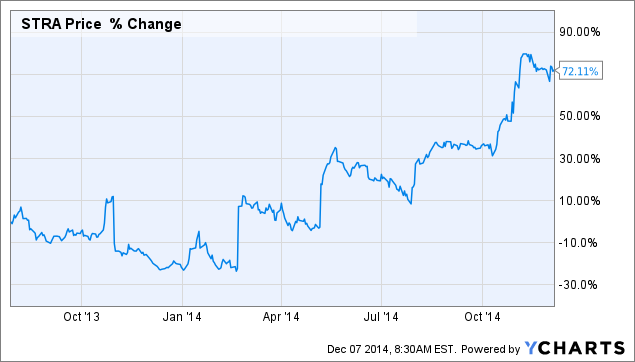 Kevin Graham is a professional engineer in Canada (with a focus on mechanical engineering) and an avid value investor who is currently pursuing his MBA. He's maintained a value investing blog for a long time, and likewise has Seeking Alpha articles dating back to 2010. His first article was a long call on Peyto Exploration that has been a near-double even with the oil-sector pullback over the past few months. His second article explained why ATP Oil & Gas was an avoid almost two years before the company filed for bankruptcy. He didn't make many other stock picks on Seeking Alpha, but it provides background on Graham's straightforward, value-oriented approach.
This played out the same way with Graham's article on AutoCanada, a stock he called 'an easy short.' Highlighting the company's parabolic share price rise (a fivefold increase over 18 months), which left it valued at 10x its book value, an overly lofty level, Graham felt. While the company was benefiting from a tailwind in Canadian motor vehicle sales, Graham suggested the tailwind would be short-lived and the company's set-up would limit growth options that would justify the valuation. In the two quarters since, AutoCanada has reported growth, but the valuation has started to drift back to earth; a secondary offering a couple weeks after the article came out was a strong sign of the potential overvaluation. That's played out over the rest of the year, and shares have returned 42% for shorts who followed Graham's original call.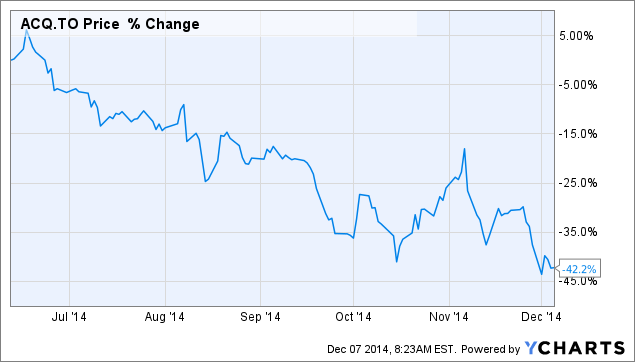 Congratulations to this week's winners! Look out for a new pair of Outstanding Performance award winners next Monday, and each Monday following. And here's a page with all previous winners.
More about Outstanding Performance awards
Seeking Alpha aims to help investors outperform the markets. In awarding authors of outstanding stock ideas that played out, we hope contributors will be motivated to share more outstanding long and short ideas with our readers - which benefits everyone.
Every week, we'll be searching through our long and short ideas archives looking for outstanding stock ideas that played out, and awarding two $2,500 "Outstanding Performance" prizes.
Here's what we'll be looking for:
Performance: Above all, we're looking for ideas that made SA readers money. Risk matters, so we'll be looking at the stock's market cap, Sharpe ratio, etc. as well.
Confluence: Every idea has a thesis. Did the idea play out for the reasons proposed or not?
Compelling: For an idea to be outstanding, it needs to be sufficiently convincing that a reader would have been compelled to take a deeper look at the stock and potentially take a stake. In assessing compellingness, we'll be looking at a number of factors including article comments (how did readers react?), historical performance (does the author have a track record of well-thought-out stock ideas?), voice of expertise (does he/she come across as someone who has unusual insight into the stock?), and how thoroughly the article covered key issues (reasons for market mispricing, catalyst(s), competitive landscape, company management, key risks, etc.). In other words, we'll be looking for the same things readers look for when assessing an idea.
To qualify for an award, the idea needs to have been submitted exclusively to Seeking Alpha. We will also be asking award winners to publish an update to their thesis, either as a comment to the article or as a standalone article.
Generally, we'll be looking for longer-term ideas that offered meaningful upside to readers. We'll be going back as far as two years or even further. We may also reward ideas that played out outstandingly over a shorter timeframe. But we will not be using Outstanding Performance awards to reinforce extreme short-term price volatility.
To get exclusive access to these articles after they are selected, as well as early and archival access to many of our top performing ideas, subscribe to SA PRO.
We'll be announcing Outstanding Performance award winners in Wall Street Breakfast, in the Today in SA PRO newsletter, and in a standalone article like this one.
If you have great stock ideas, why not become a Seeking Alpha contributor yourself? Colin and his contributor success team will make it easy to share your ideas with tens of thousands of readers.