As I write the fourth article in my series of "Stocks For The Long-Run," it's important to understand that I'm looking to put money to work now. While a great number of companies look good over the long-term, I don't want to buy their stock today or even tomorrow for that matter. That's why IBM (NYSE:IBM) is my fourth pick and my latest purchase. As the chart makes clear, IBM has disappointed investors this year. While the stock market has rallied to new highs this year, IBM is down nearly 13% in 2014.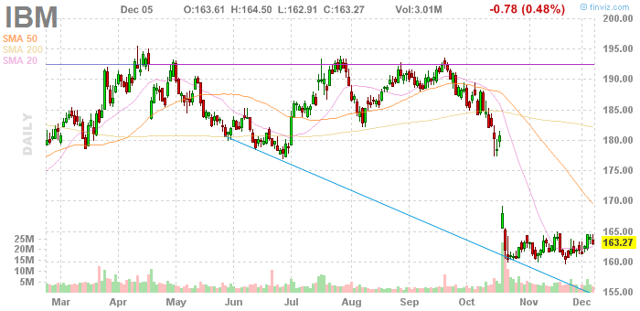 Reasons To Be Long
First and foremost, the top reason to own IBM is Warren Buffett. He bought into IBM three years ago and shares have underperformed during this time. However, this is playing into Warren Buffett's strategy. In his 2011 shareholder letter, he said:
Today, IBM has 1.16 billion shares outstanding, of which we own about 63.9 million or 5.5%. Naturally, what happens to the company's earnings over the next five years is of enormous importance to us. Beyond that, the company will likely spend $50 billion or so in those years to repurchase shares. Our quiz for the day: What should a long-term shareholder, such as Berkshire, cheer for during that period? I won't keep you in suspense. We should wish for IBM's stock price to languish throughout the five years.
Shares are performing just as Warren Buffett had hoped. In the meantime, IBM has reduced its share count by over 170 million, from 1.16 billion to 989.66 million. Using an average share price of $170, that means IBM has repurchased almost $29 billion in shares. IBM is a FCF and share buyback machine. In the past three years alone, IBM has generated over $43 billion in FCF, according to Morningstar. During this time, Buffett has added to his position. He now owns over 70 million shares, or 7.12% of the company worth over $13 billion.
Second, while IBM doesn't have the top-line growth of other tech companies, it stacks up well on a value basis.
| | | | | |
| --- | --- | --- | --- | --- |
| | IBM | Accenture | HP | Microsoft |
| Forward P/E | 9.7 | 16.35 | 9.58 | 15.42 |
| EV/EBITDA | 8.04 | 10.50 | 5.94 | 10.06 |
| Operating Margin | 20.45% | 14.27% | 7.91% | 31.19% |
| Dividend Yield | 2.7% | 2.4% | 1.6% | 2.5% |
| Payout Ratio | 34% | 44% | 23% | 44% |
Source: Yahoo! Finance
Third, IBM is undergoing a restructuring of its business that is affecting top-line growth. IBM is exiting under-performing businesses and investing in faster-growing ones with better margins. In reality, a shrinking IBM is a good thing. CEO Ginni Rometty pointed this out on the last earnings call:
...when we talk about what we're doing for the long term and these actions, these actions go on the heels of what has been a series of what I think are very bold actions from the entire year with a very clear strategy, one that's around moving to the enterprise IT to the era of cloud; one that's around data and analytics for transforming our client's industries and professions and then social, mobile and I can't underscore enough security.

These divestitures do give us some opportunity to go ahead and simplify the business and remove layers. In fact, I've asked you just to keep remembering that the divestitures this year alone represent $7 billion of annual revenue, but revenue that is absolutely with considerable loss this time. So our company it is fundamentally better positioned than it was a few years ago, but as I said, we have more to do and we need to do it faster.
Fourth, we could see some activist pressure if IBM continues to underperform. If Carl Icahn can pressure Apple (NASDAQ:AAPL), there's no reason why he couldn't go after IBM as well. Even fellow Seeking Alpha contributor Dana Blankenhorn, who has been critical of IBM in the past, noted recently that IBM could be vulnerable to a takeover.
Risks To Consider
For one, there are a number of critics and bears on IBM. One of those is noted hedge fund manager Stanley Druckenmiller, who went short IBM last year. So far, he's been right on the money. He told Bloomberg that IBM should be investing more in its businesses to take on the Amazon.coms (NASDAQ:AMZN) of the world instead of focusing on share buybacks. Druckenmiller also noted that technology is not Warren Buffett's area of expertise.
Second, there's a great deal of risk whenever a business transforms itself like IBM is. There's no guarantee management will get it right. It's even riskier when the industry is technology where change is always happening.
Bottom Line
I think the worst is behind IBM. 2015 will be a better year for shareholders and the business is a good buy today and tomorrow. At current prices, investors can buy in at lower prices than Buffett did three years ago. That's something that rarely happens. The rewards outweigh the risks in the long-run and that's why I now own shares of IBM.
Disclosure: The author is long IBM.
The author wrote this article themselves, and it expresses their own opinions. The author is not receiving compensation for it (other than from Seeking Alpha). The author has no business relationship with any company whose stock is mentioned in this article.