By Parke Shall
Bebe stores (NASDAQ:BEBE) is a name that we would have steered clear from in any type of situation. Recent news on the company is a stark reminder to us to throw this name into the dustbin.
Our outlook on brick and mortar retailers has been ugly in general; in numerous pieces we've said that we believe e-commerce is going to continually negatively affect retailers for some time to come. This holds true, especially, for brands like bebe stores, which in and of itself is a dying brand name.
Bebe's stock over the last 10 years gives a good visual into how the public generally has viewed the brand. Since its peak adoption time in the early 2000's, Bebe designs have found their way to lower and lower tier retailers. The profitability has followed in suit.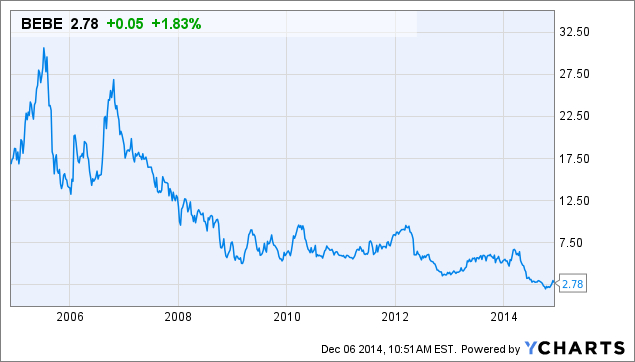 BEBE data by YCharts
In moving from bad to worse, on Friday morning, the company announced that suspicious activity and had occurred on cards in both the U.S. and Puerto Rico:
Based on its investigation to date, the Company believes the attack was focused on and limited to data from payment cards swiped in its U.S., Puerto Rico and U.S. Virgin Islands stores during a short window between November 8, 2014 and November 26, 2014. This data may have included cardholder name, account number, expiration date, and verification code. Purchases made through the Company's website, mobile site/application, or in Canada, or its international stores were not affected. Customers can feel confident in continuing to use their payment cards in our stores.
We would advise readers to look at our thoughts about the Home Depot (NYSE:HD) data breach before it was announced that things had gotten severely out of hand for the home goods retailer. We played it safe from the get go, as often these items are presented by companies as "already dealt with" while they themselves are still finding out the details. This Bebe incident seems to have that feel to it.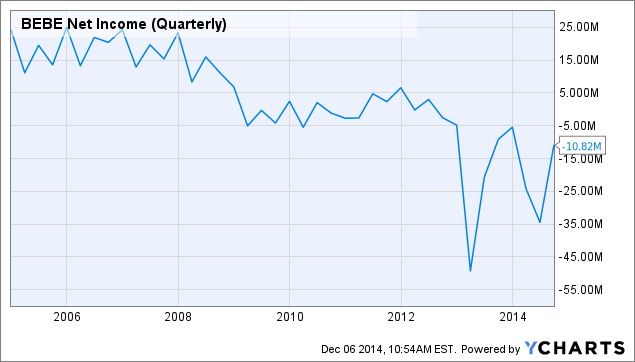 BEBE Net Income (Quarterly) data by YCharts
We didn't really need a reason to avoid bebe to begin with. The $220M market cap company has lost nearly $1/share over the trailing twelve month period. Joining Sears (NASDAQ:SHLD), RadioShack (NYSE:RSH) and other retailers, Bebe is suffering from the same complex of significant top line revenues while not being able to make cuts to drop sales down to the earnings figure. The company has $87.9M cash on hand and no debt, but it's bleeding money.
So, put together, our main three reasons for avoiding bebe right now would be:
1. The current data breach
2. Continued trouble operating at a profit
3. A brand name that we believe to be on its way "out"
Here in the states, Bebe as a brand has deteriorated. From being the predecessor to the PINK line from Victoria's Secret to now being sold at discounters, we believe the bebe brand name's best days are behind it. Bebe was ousted by Juicy, which we also believe will eventually go the way of Bebe. Combined with our other concerns about profitability and the unknowns associated with this latest data breach, we're staying far away from an investment in Bebe.
Disclosure: The author has no positions in any stocks mentioned, and no plans to initiate any positions within the next 72 hours.
The author wrote this article themselves, and it expresses their own opinions. The author is not receiving compensation for it (other than from Seeking Alpha). The author has no business relationship with any company whose stock is mentioned in this article.