As I wrote one month ago here, the VXX is a severely flawed instrument for the vast majority of long term and short term traders. The past 30 days havve been a good practical example of the theoretical case against VXX.
As many had expected, the VIX experienced intermittent spikes between May 5 and June 3, ending effectively flat (+1% give or take). The VXX, which is often viewed as a proxy for the VIX, dropped 12.5% during the same period. This was a direct example of the severe headwind the VXX faces during periods of contango (longer dated futures are higher than closer dated futures).
The below chart compares the "spot" VIX index (blue) with the VXX (white).
[Click all to enlarge]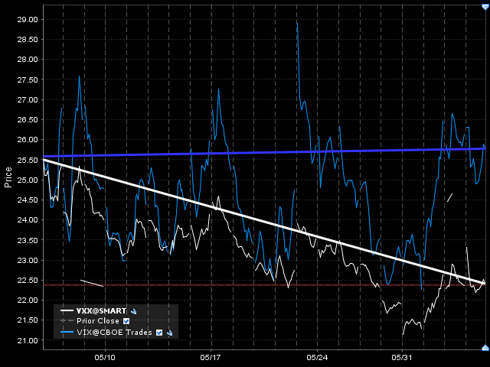 While it's certainly possible to make a profit as a VXX long with near-perfect timing, the odds are not in your favor.
For those with a penchant for market timing, consider this: Over the course of 20 trading sessions, VIX closed higher seven times and lower 13 times. However, on average, in the seven up days, the VXX only rose 0.24 of the spot VIX rise, while on the 13 down days, VXX fell 0.48 of the spot VIX fall. You had better be very certain of your crystal ball, because the odds are lousy.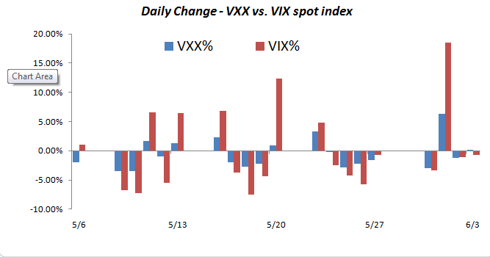 For anyone curious about where we stand now, July-June VIX contango continues to be close to $1.40 (~8%) -- not the highest in recent memory, but a big number nonetheless.
Continue to steer away from VXX (or go short). The stiff headwinds continue to blow against the VXX.
Disclosure: I am short VXX.