Personal note: I have updated my positions to reflect changes in my holdings, but please keep in mind that some of the positions are very small and mostly for research purposes.
Tax-loss harvesting (also referred to as tax-loss selling) involves selling investments for a loss to offset taxable gains (or income) in the overall portfolio. The SPDR S&P 500 Index ETF (NYSEARCA:SPY) is up 12.6% YTD, indicating that the average investor might have some gains to offset and will be looking for underperformers to sell before year-end. This year has been difficult for BDCs due to being removed from the S&P and Russell indices, continued interest rate fears, general declines in small caps, selling institutional shareholders over the last two quarters and December tax-loss sellers. BDCs are down an average of 10.8% as shown in the chart below.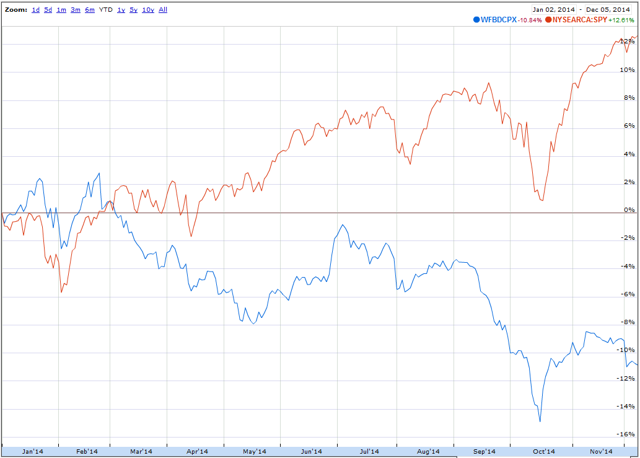 Higher yield BDCs have been hit the hardest over the last three months including TICC Capital (TICC) and Fifth Street Finance (FSC) down 11% to 12% and Prospect Capital (NASDAQ:PSEC) and Medley Capital (NYSE:MCC) down 18% to 19% compared to the average BDC down around 7%.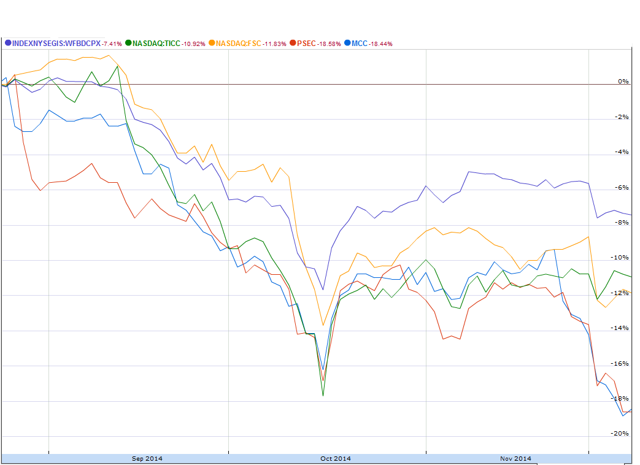 PSEC and MCC have also endured various issues, including potential lawsuits.
Which BDCs are likely to see more selling through the end of the year? Unfortunately it will probably be the ones that are already down the most and BDCs that investors may not want to reinvest in because losses are disallowed if the same investment is purchased within 30 days.
Over the last few weeks, I have been discussing market trends of the industry. I believe that certain BDCs have performed better than others due to lower operating cost, higher dividend and interest expense coverage, potentially leading to higher net asset value ("NAV") per share multiples paid by shareholders and less institutional selling. Higher NAV multiples enable BDCs to raise cheaper equity capital to grow the portfolio and support dividends as discussed in "BDC Growth Potential Vs. Dividend Coverage".
Operating Costs
In "BDC Expenses vs. Dividend Coverage" I discussed how lower operating cost structures enabled BDCs to have higher dividend coverage and the latest "BDC Expenses" article identified which BDCs had lower vs. higher operating costs for calendar Q3 2014. Many of the lower cost BDCs were internally managed including Main Street Capital (NYSE:MAIN), Triangle Capital (NYSE:TCAP), KCAP Financial (NASDAQ:KCAP) and Hercules Technology Growth Capital (NASDAQ:HTGC). The two most operationally cost-efficient externally managed BDCs were BlackRock Kelso Capital (NASDAQ:BKCC) and Solar Senior Capital (NASDAQ:SUNS).
The companies with the highest operating costs as a percentage of available income were PSEC, Fidus Investment (NASDAQ:FDUS) and Full Circle Capital (FULL).
Interest Expense Coverage
After operating costs, interest and borrowing expenses are the other major costs before a BDC can pay dividends. In "BDC Leverage And Interest Expense Coverage" I discussed debt service coverage for each company. The BDCs with the highest amount of available income to cover capital costs divided by the amount over interest expense for the most recent quarter were SUNS, TPG Specialty Lending (NYSE:TSLX), PennantPark Floating Rate Capital (NASDAQ:PFLT) and TCP Capital (NASDAQ:TCPC). BDCs with the lowest amount of interest expense coverage were PSEC, FSC, Ares Capital (NASDAQ:ARCC) and Gladstone Capital (NASDAQ:GLAD).
Institutional Ownership Changes
Earlier this year, BDCs were excluded from certain indices resulting in lower amounts of institutionally held shares and in "Institutional Ownership Changes For BDCs" I discussed some of the advantages to having larger shareholders including the positive influence they can have on decisions made by management. Institutional turnover in most stocks is quite low, but due to the "Russell Reconstitution" earlier this year, there have been some changes over the last two quarters. The average BDC has around 30% of its shares owned by these types of investors compared to 40% earlier this year. However some BDCs were impacted more than others.
The companies with the lowest amount of selling institutional shareholders over the last two quarters were TCPC, MAIN, ARCC, Golub Capital BDC (NASDAQ:GBDC) and New Mountain Finance (NYSE:NMFC). The four BDCs with largest amount of selling and lowest amount of institutional shareholders are PSEC, GLAD, SUNS and KCAP.
Year to Date Performance
The following table shows the YTD stock performance of each company with the average BDC down around 11%. I did not include TSLX or FS Investment Corp (NYSE:FSIC) in the average because they became publicly traded this year. I have included the results from previously mentioned articles as well as"'cost of equity" that is based on the current rate of dividends paid for each share.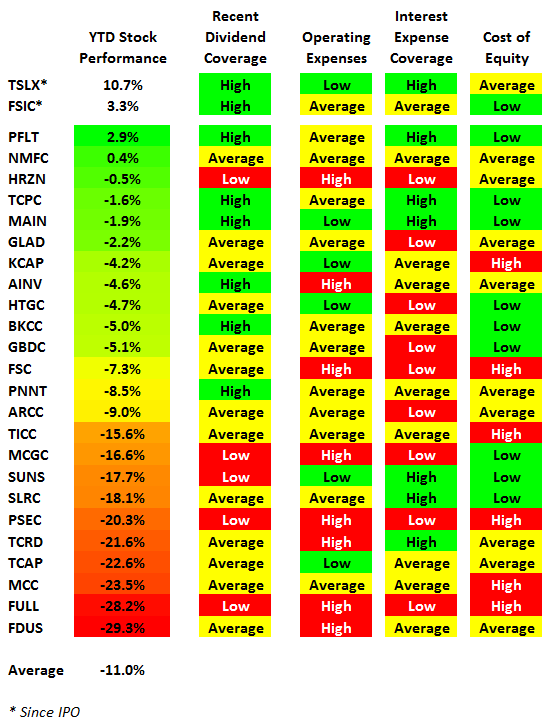 It should be noted that MCC is the only BDC in the previous table that has not reported calendar Q3 2014 results, so its performance will likely change this week.
My personal opinion: Many of the issues discussed in this article are interrelated and ultimately can impact dividend coverage and/or NAV declines. Some investors price BDCs based on these factors. BDCs trading at meaningful discounts to NAV over an extended period could be on a slippery slope for 2015. I also believe that there is good chance that this might be the absolute wrong time to sell BDCs trading at depressed multiples mostly for general industry-related reasons. For investors that agree, I would suggest using the proceeds from a tax-loss harvesting sale to invest in a similar BDC. Again these are my personal opinions and each investor is responsible for their own due diligence and should consult with appropriate tax and financial professionals that understand their personal financial and investments needs.
Volatility can be an opportunity.
As I mentioned in many articles in May 2014 (Russell deadline for the SEC to remove the Acquired Fund Fees reporting requirements), volatility can be a good thing if investors are patient. I would expect to see some downward pressure before year-end and testing the October 15 lows when I personally started to reinvest proceeds from sales earlier in the year. Most likely I will be making similar purchases in the coming weeks.
How do investors use this information?
Obviously consulting your tax advisor and calculating the amount of losses to harvest to maximize returns for the year is ideal. There is a likelihood that BDCs will rebound in January and investors will want to take advantage of the average BDC trading at a discount to book value. Keep in mind the "wash sale rule" of not purchasing the same (or substantially identical) investment within 30 days of selling. This means that you may want to sell a BDC that you will likely not want to reinvest. Dividend coverage and capital preservation should be key considerations for any BDC investor. This article mostly discusses coverage but please see my "BDC Risk Profile" articles and "BDC Research Page" for more information on capital preservation or for information on specific BDCs please visit my "Index to BDC Articles".
Disclosure: The author is long AINV, ARCC, BKCC, FDUS, FSC, FSIC, GBDC, GLAD, HTGC, MAIN, MCC, NMFC, PFLT, PNNT, PSEC, TCAP, TCPC, TICC, TSLX.
The author wrote this article themselves, and it expresses their own opinions. The author is not receiving compensation for it (other than from Seeking Alpha). The author has no business relationship with any company whose stock is mentioned in this article.
Editor's Note: This article covers one or more stocks trading at less than $1 per share and/or with less than a $100 million market cap. Please be aware of the risks associated with these stocks.