Back in 1995, I learned a tremendous amount about the silver market. I had been trading the precious metal since the early 80s and it was always the most profitable commodity for me because of its penchant to move. I made a boatload of money in 1987 when silver exploded from under $6 to $11 in just two weeks; it then fell from $11 to $7 in a matter of minutes. A professional trader on the right side of moves like that can make their year in a flash. However, it was in 1995, when together with colleagues I bought 265 million ounces of silver, that I really learned about the market's liquidity and pressure points - that is a story for another time and place. Suffice to say, crazy price movement is nothing new to me and I have come to expect it on occasion, particularly when the stars line up for the volatile metal.
In 2014, silver led precious metals lower
Silver began 2014 at just above $20 per ounce. It traded to a high for the year on July 10 at $21.66, and since then the price of silver has headed due south. Silver, traditionally the most volatile precious metal, actually led the sector lower - it was the first to crack. As of Friday, December 5, silver is 19.4% lower on the year. Silver is the worst-performing precious metal. In years when silver is good, it is oh-so-good, but this year things went the other way. Silver tends to lead gold because of its liquidity and volatility. Traders know that over the course of history it is the price of silver that moves first and fastest, and once it starts going it is very hard to hop on - one must wind up selling into a hole or buying a runaway market, which always adds to risk. Therefore, we tend to see big moves in silver precede moves in gold. Think back to 2011, silver moved from the mid-$20s to just under $50 per ounce in a matter of four months; during the same period the move in gold was more muted, with gold moving only half the magnitude on a percentage basis - and, it took gold an extra four months to get there. The bottom line is that silver tends to lead gold.
Last week - incredible volatility
Since silver decided to move lower in July, the price action has been calm. Yes, we have witnessed a number of days where the metal had a $1 range - but you can count those days on one hand. When markets change direction generally, one can pinpoint an inflection point, an event that marked the change. For silver, that event may have occurred last week, specifically on Monday, December 1.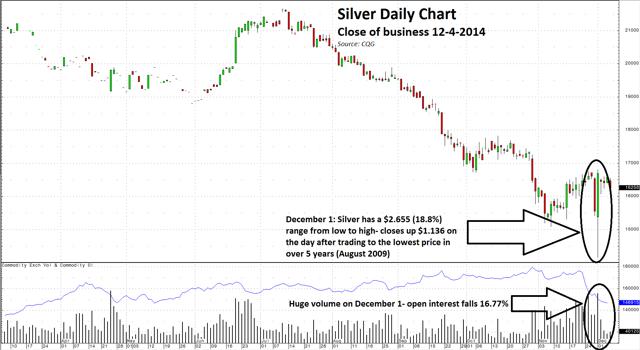 Last Monday was truly an extraordinary day in the silver market. When the session opened on Sunday night, silver traded all the way down to $14.155 - the lowest price since August 2009, then it exploded. The price moved up $2.655 (18.8%), peaking at $16.81 and closing at $16.692 on the session, a truly incredible move. At the same time, volume of just under 130,000 contracts was one of the busiest days of 2014. Finally, open interest, the total number of open long and short positions, collapsed by almost 17%. Stops were hit and open positions closed on the very volatile day. The incredible volatility could have marked an important turning point for silver, but only time will tell.
Is silver too cheap?
Silver has moved consistently lower since July - much lower than other precious metals. The magnitude of silver's downward spiral begs the question, is it overdone?
The relationship of silver to gold is nothing new. In 3,000 BC the first Egyptian Pharaoh, Menes, declared that two and one half parts silver equals one part gold. Precious metals have always been means of exchange, a hard currency. Gold is the bills and silver the change. I never forget my grandfather did not call the coins in his pocket change - he called it silver. For the past 40-odd years, the average silver-gold ratio has been around 55:1, or 55 ounces of silver value contained in each ounce of gold value. In modern times, the high of this relationship has been 99:1 in 1991, and the low just under 16:1 in 1979. As silver moved lower since July of this year, the ratio moved higher - from under 63:1 to a high of 75.87:1.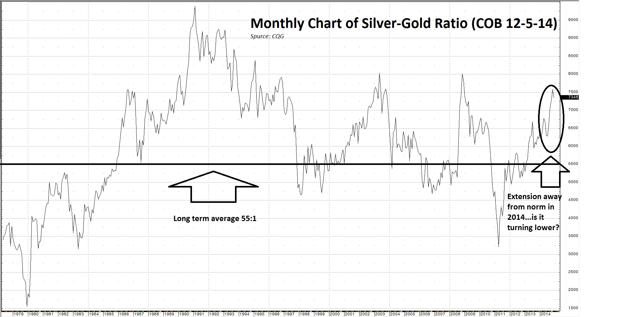 As the chart illustrates, the silver-gold ratio is currently trading at 73.48, but it appears to be turning. The extension of this relationship tells us one of two things. Either silver is too cheap or gold is too expensive, on a historical basis. Given recent action in the silver market, the answer may not be so clear. Even as the US dollar, which historically has an inverse price relationship with precious metals, has moved higher - silver has shown signs of strength.
Another interesting clue as to whether silver is too cheap is physical demand. The US mint reports that sales of American Silver Eagle coins are so brisk, at current prices the mint is within days of breaking the all-time annual sales record.
Action in December will determine the path
Last Monday may have been the first step in a very interesting and telling month for the silver market. Although it is the very beginning of the last month of the year, December is setting up nicely now for a potentially important technical event in the silver market.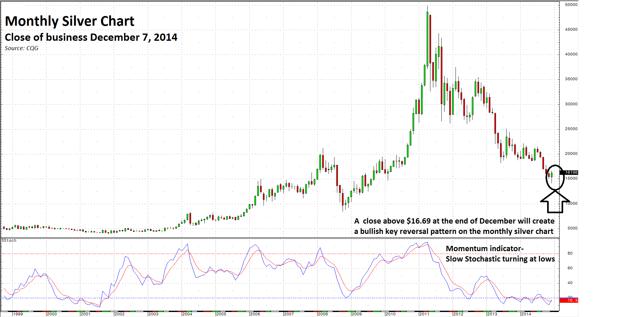 The action on December 1 set silver up for the month. The price made a new low (and traded below the November 2014 lows) and now all silver needs to do is to close above $16.69 per ounce at the end of this month for it to create a bullish key reversal pattern on the monthly chart. Moreover, an important momentum indicator, the monthly slow stochastic, appears to be turning on the lows. This could give silver the momentum to move higher. Action at the end of this month will be very important and could tell us the path for silver in 2015.
Silver will signal gold's direction
Repeatedly in history, silver has led gold. The current action and set up may just yield some compelling action for silver as 2014 ends and we move forward into a new year. If silver closes this year above $16.69, it can really run, and gold will most likely follow as it has so many times in the past. Every dog has its day, and the stars may just be lining up for a very interesting conclusion to the year.
Stay tuned!
Disclosure: The author has no positions in any stocks mentioned, and no plans to initiate any positions within the next 72 hours.
The author wrote this article themselves, and it expresses their own opinions. The author is not receiving compensation for it (other than from Seeking Alpha). The author has no business relationship with any company whose stock is mentioned in this article.
Additional disclosure: The author always holds precious metals in his portfolio. The percentage is changed according to market conditions.