More bad news for financials: Moody's Investors Services placed Bank of America (NYSE:BAC), down 15% year-to-date, Citigroup (NYSE:C), down 15.75% year-to-date and Wells Fargo (NYSE:WFC), down 13% year-to-date, under review last week. Banks ratings were boosted following government bailouts, and now the agency will review whether "these ratings should be adjusted to remove this unusual uplift and include only pre-crisis levels of government support."
But investors don't need an announcement from Moody's to know that financials are struggling. Banks have gone from too big to fail to the sector lagging behind the rest: financials are the only sector with a negative return year-to-date, down 2.9%.
And Financials Select Sector SPDR (NYSEARCA:XLF) is down close to 8% over the past three months (and BofA, Citi and Wells Fargo are among the fund's top 5 holdings). Granted, the recent sell-off has left shares oversold (and financials are the most oversold sector), but I don't look on that as any sort of buying opportunity. Trend lines signaled an intermediate sell earlier this month, and shares are in a clearly established downtrend. (Click charts to expand.)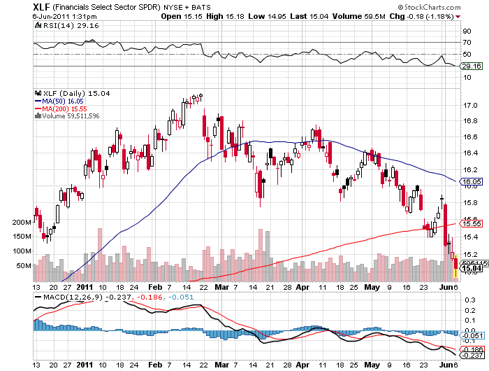 If I were looking for an opportunity in financials, I would look outside the U.S. One place I would look: Canada.
Canada ranked first on the soundness of its banks in the World Economic Forum's 2010-2011 Global Competitiveness Report (and second on the availability of financial services).
Source: World Economic Forum
I would look at Canada iShares (NYSEARCA:EWC); this ETF has exposure to Canadian banks, with 30% of its holdings in financials. Today, the fund is in a short term downtrend, so I would watch for a breakthrough above resistance around $32.75.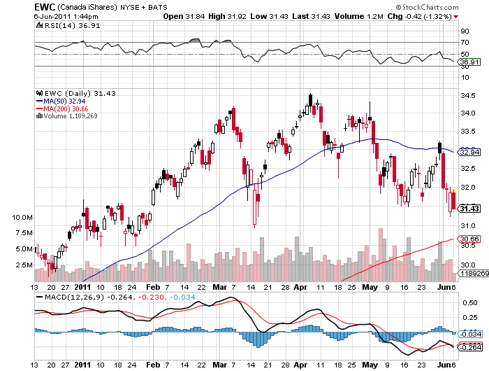 Source: www.stockcharts.com
Disclosure:
I have no positions in any stocks mentioned, and no plans to initiate any positions within the next 72 hours.