In this article, I wish to discuss Tesla Motors (NASDAQ:TSLA) in the context of portfolio strategy and asset allocation, and illustrate how the stock's risk-return patterns conform to a low R-Squared investing strategy. To clarify, R-Squared is a metric used to measure the degree to which the price movements in a stock can be explained by the movements of an underlying index. If the R-Squared value of a stock is low, the portion of returns that can be explained by the underlying index is also low.
By using this strategy, an investor is seeking to diversify by investing in a security that is highly uncorrelated with the broader market index, which presents opportunities for significant outperformance. Using the Capital Asset Pricing Model, I compare Tesla Motors to General Motors (NYSE:GM), Toyota (NYSE:TM) and Ford (NYSE:F) to illustrate that Tesla is far less correlated with the S&P 500 Index than the latter three companies. On a risk-return basis, TSLA does not appear to have more inherent beta risk than its peers.
Capital Asset Pricing Model
I regress 800 days of trading data against the returns of the S&P 500 for the period 15th September 2011 to 19th November 2014 to determine each company's Average Daily Return, Beta Value, R-Squared Value, Expected Return, and Jensen's Alpha. Company returns minus the risk-free rate are the dependent variable, and market returns minus the risk-free rate are the independent variable.
Average Daily Return vs. Expected Return: The average daily return shows the actual percentage daily return of each company over the given time period; this is the benchmark that we use against the expected return (the return that the CAPM says we should receive for holding the stock) to determine if a stock is undervalued or overvalued. The expected return is defined as the risk-free rate plus the product of the company's beta and the average daily market return, i.e. Risk-free rate + ß(Average Daily Market Return) = Expected Return. If the stock lies above the Security Market Line, it is undervalued. If it lies below, it is overvalued.
Beta: This figure tells us how volatile a company's price is relative to its market index. In this case, a company with a beta of less than 1 is less volatile than the S&P 500 Index; a company with a beta of greater than 1 is more volatile than the S&P 500 Index.
R-Squared: The R-Squared figure indicates the degree of the company's returns that can be explained by the market return, e.g. a company with an R-Squared of 100% means that 100% of the company's returns are "explained" by the market. Conversely, a company with an R-Squared of 0% means that none of the company's returns can be explained by the market return.
Jensen's Alpha: Jensen's alpha indicates the excess return generated by a stock over its expected return according to the CAPM. If a company has an average daily return greater than the expected return, then the excess return is defined as Jensen's alpha.
September 15 2011 - November 19 2014
The results below illustrate that with an R-Squared value of 10.73%, the returns of the S&P 500 only explain 10% of Tesla's returns. In terms of Ford, General Motors and Toyota Motor Company, we see a higher R-Squared value across these three companies ranging from 30% to 42%. Additionally, Tesla's beta value of 1.35 is broadly in line with the beta risk of its peers, with GM, TM and F having beta values of 1.43, 0.86 and 1.21, respectively. Additionally, it is noteworthy that all four stocks have an expected return of at least 0.07%. Of the four stocks, Tesla Motors is the only one deemed "undervalued", as its average daily return of 0.32% greatly exceeds 0.03%, resulting in a Jensen's Alpha of 0.24%.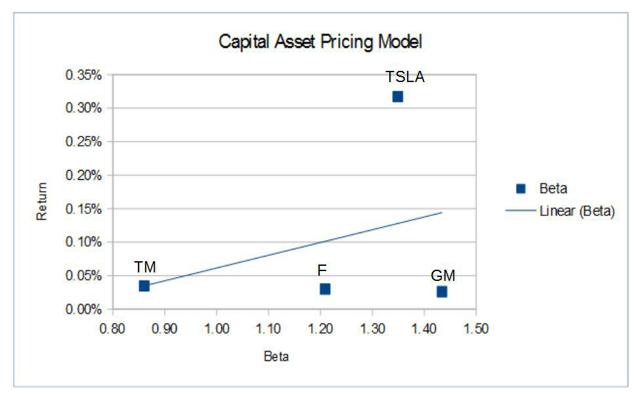 Sources: Author's Calculations
Of course, an obvious shortcoming of the Capital Asset Pricing Model is that it is backward-looking. It provides no evidence to suggest that this pattern will continue into the future. However, what is interesting is that in terms of beta risk, an investor in Tesla is taking no more risk during this time period than he/she would have done by investing in General Motors, Toyota or Ford. Tesla is not any more "risky" than these three companies in terms of price movements relative to the S&P 500. All companies have broadly similar beta values, and all companies have an expected return of at least 0.07%. Only Tesla has exceeded the expected return during this period.
In the case of automobiles, Tesla is admittedly an investment that is contingent on future industry growth for electric vehicles and 2013-14 represented a period of abnormal returns. However, I believe that given the cyclical nature of the automobile industry, it is unlikely that a potential downturn in Tesla's business would not ripple through to competitors given the increased investment in the electric car space.
Conclusion
While I will clarify that I have no position in TSLA at this time, the stock does conform to what author Nassim Taleb refers to as "the barbell philosophy," a situation where one invests very little of their overall portfolio into a certain security, but is exposed to a great deal of potential upside.
From comparing the R-Squared values of Toyota, GM and Ford, the returns of these companies are much more correlated with the broader market. However, on past performance they do not offer less risk in terms of investing relative to Tesla. From this perspective, there is little point in taking similar risk when these companies are far more correlated with the market index. In this regard, Tesla is a good example of a "low R-Squared" investment - one that diversifies away from the market index and presents opportunities to generate significant alpha.
Disclosure: The author has no positions in any stocks mentioned, and no plans to initiate any positions within the next 72 hours.
The author wrote this article themselves, and it expresses their own opinions. The author is not receiving compensation for it (other than from Seeking Alpha). The author has no business relationship with any company whose stock is mentioned in this article.