When a company signs a deal with Walmart (NYSE:WMT), it has the potential to be big. Recently, that's the case with SolarCity (SCTY).
The solar energy systems manufacturer has agreed to complete numerous new projects at Walmart facilities in close to 36 states. These solar energy rooftop projects are expected to last into 2018.
Bright Future Ahead For SCTY
In the last four years, SolarCity has completed over 200 solar related projects for the behemoth. Since June, nearly 50 solar projects have been completed at Walmart facilities in Puerto Rico, Oregon, New York, California and Arizona.
This points to profits and job growth for SolarCity. Since beginning the first project with Walmart four years ago, SolarCity has seen its base of employees explode - over 250% nearly two years ago. A new gigafactory, planned for New York and announced by Governor Cuomo, could create an additional 5,000 jobs upstate. It is set to be the largest solar manufacturing facility in the Western hemisphere-which could solidify the company's leading industry position for the foreseeable future.
Not-Too-Dim Earnings Results
In the last quarterly earnings report (filed November 6, 2014), the company posted net income of $19.2 million, up from a net loss of -$2.1 million for the same period in 2013.
Total assets stand at $4.1 billion, up from $2.8 billion from the same period in 2013; total liabilities come to just over $3 billion, for stockholders equity of $728 million.
While operating leases and solar energy systems incentives contributed a significant increase to SCTY's overall cost of revenue-these investments could pay off down the line as new customers sign up.
Total MW booked jumped 154% year-over-year to 230 MW, while total MW deployed grew 77% to 137 MW. Of these, residential MW deployed were up 100%. SCTY's total cost declined (11%) to $2.90 per watt.
New Solar Bond Offerings
In addition, SCTY is branching out by offering solar bonds-to which investors can directly buy in via the company's secure website, and whose payments will come by homeowners, schools, business, and government organizations who use SCTY's products and services. According to the company's press release, these are financially attractive, relative to other fixed income investments and are helping boost the economy by creating more cleantech jobs.
Walmart's Benefits Could Bring More Big Solar Customers Knocking
It's not surprising that Walmart has jumped on the solar energy bandwagon. It has millions of unproductive square feet of rooftop space across the country. While the cost of solar energy systems was prohibitive for years, declining installation costs (~30% for many PV systems) have become enticing.
Other large discount retailers are not far behind. Costco (NASDAQ:COST) and Kohl's (NYSE:KSS) have also been on the solar customer list. Commercial solar energy installation and use appears likely to continue.
Walmart still has over 4000 locations that don't utilize solar energy, and some installations are being put in as far north as Ohio State. In many areas, the cost of solar energy has become less expensive than commercial and residential energy.
Conclusion: Buy The Dip, Bright Future Ahead
There are many more empty rooftops across the country that could serve as installation points for the solar energy systems sold by SolarCity. If prices for these units continue to drop, smaller retail locations may also take part. Until then, it seems that Walmart and other large chains are assisting SolarCity's bottom line.
While continued low oil prices could test consumers' and investors' appetite for solar, SolarCity's impressive growth amid the current US oil boom is a testament to its resilience. With a leading industry position, the firm is still poised for success among those who remain focused on alternative and renewable energy stocks.
We see the current dip as an opportunity to buy into a company with a solid foundation and long-term potential.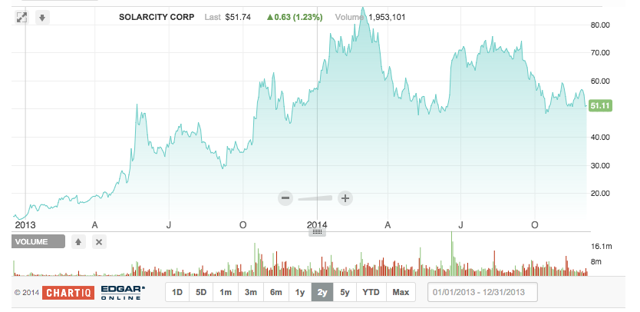 (Nasdaq.com)
Analysts from Robert W. Baird, Canaccord, Needham, and Deutsche Bank have all upgraded or initiated coverage on Solar City with Buy/Outperform YTD.
We invite readers wishing to join the discussion on SCTY and other renewable energy stocks to click the +FOLLOW button above the title of this article, and those looking for thelatest updates to click +Get real-time alerts.
Disclosure: The author has no positions in any stocks mentioned, and no plans to initiate any positions within the next 72 hours.
The author wrote this article themselves, and it expresses their own opinions. The author is not receiving compensation for it (other than from Seeking Alpha). The author has no business relationship with any company whose stock is mentioned in this article.