Citing a report by Plains All American (NYSE:PAA), a recent Oil & Gas 360 article said Bakken wellhead oil prices fell below $50/bbl last month. Wellhead prices for Bakken North Dakota crude reportedly slumped to $49.86/bbl on November 28 and rose slightly above $50/bbl on December 3.
The report also cited crude oil prices from other US shale plays:
Colorado's Niobrara shale: $54.55.
Oklahoma's Panhandle crude: $58.25.
Texas' Eagle Ford shale crude $63.25.
Of course not all acreage across these plays was created equal, but that's a $13+ spread between the average Eagle Ford and Bakken wellhead price and emphasizes what many have been saying for years now: the Eagle Ford is the most economically viable shale play in the US. A Bloomberg article says much of Eagle Ford production is still profitable with oil at $50/bbl and offers the following graphic to prove it:
Important parts of the equation for the economic viability of oil wells in any shale play are drilling and completion costs (D&C) and expected ultimate recoveries - EURs. However, a third very important factor is product transportation and delivery costs. And this is where the Eagle Ford in south central Texas has got them all beat. The play is virtually on top of America's energy focal point for both oil and refined product imports and exports, as well as chemicals processing and oil refining: the Texas Gulf Coast. In addition, pipeline infrastructure in this region of Texas is largely in place - relatively low-cost lateral pipeline projects are all that is needed to get the product to market. As a result, it is cheap to pipe oil out of the Eagle Ford in Texas, but expensive to shift it by train out of the Bakken formation in North Dakota.
The same is true for natural gas. According to the EIA, about 25% of the associated natural gas produced in the Bakken is still being flared due to a lack of exit pipeline capacity and adequate gathering systems: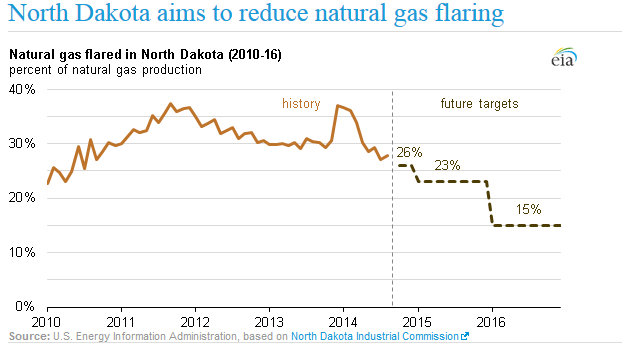 This is not only bad for the environment, but it also reduces royalties to landowners as well as IRRs for producers. On the other hand, the natural gas pipeline system in South Central Texas is fully developed with both intrastate and interstate connections. This is not to say flaring isn't occurring in the Eagle Ford, it is, but a quick glance at the map below shows the stark contrast in pipeline infrastructure in South Central Texas versus North Dakota (Bakken) or East Colorado (Niobrara). Also, the Eagle Ford is geographically located near the large natural gas consuming chemical and refining industries and in close proximity to ground zero of the coming US LNG export boom: the Louisiana and Texas Gulf Coast shoreline.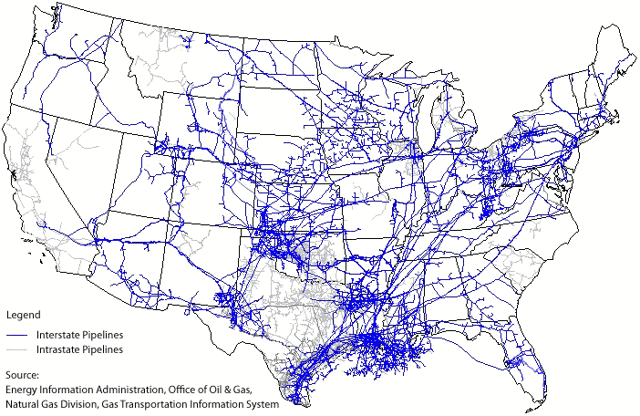 It was not much of a surprise to me when Woods Mackenzie reported that total production out of the Eagle Ford had recently passed the 1 billion barrel mark - with 70% of the total coming in just the last two years. What did surprise me is that WoodMac said the Eagle Ford was the third-fastest to achieve that feat globally - ranking it with the prolific oil fields of the Alaskan North Slope and the Ghawar field in Saudi Arabia. The Eagle Ford is truly a world class O&G play.
November new well drilling permits for US shale plays was reported to be down almost 40% yoy. Drops were seen across the board:
Change In Drilling Permit Approvals Nov/Oct:
| Shale | Nov/Oct Change |
| --- | --- |
| Permian | 38% |
| Niobrara | 32% |
| Bakken | 29% |
| Eagle Ford | 28% |
What was somewhat surprising was that the EF drop was almost as pronounced as in the Bakken. This could be due to a large number of marginal producers on the fringe of the best EF acreage. While it is likely that new well permits will continue to fall across the board, my instincts are that the Eagle Ford will prove to be the most resilient shale play in the US.
Major Eagle Ford Operators
EOG Resources (NYSE:EOG) is the top oil producer and the largest acreage holder in the Eagle Ford with a massive 632,000 net acres which are located predominately in the crude oil window: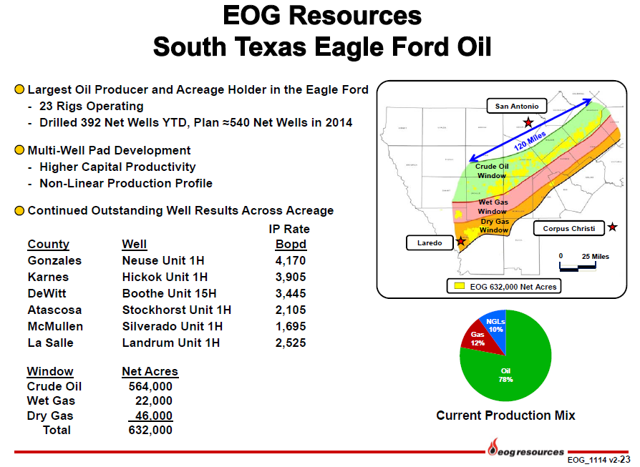 Source: November Investor Presentation
The Oil & Gas Financial Journal reported that BHP Billiton (NYSE:BHP) is the second largest producer followed by ConocoPhillips (NYSE:COP) in the 3rd spot (this is debatable - see below). Note that Sanchez Energy (NYSE:SN), after acquiring over 100,000 EF acres from Shell (NYSE:RDS.A) is now among the top leaseholders in the play.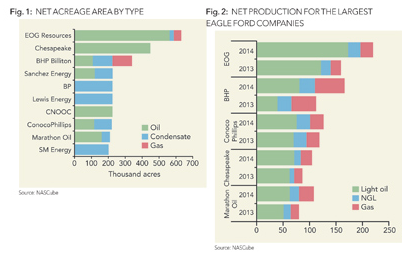 Considering the current environment, my favorite Eagle Ford operator is ConocoPhillips. As I reported back in April (see ConocoPhillips Blows Me Away With Massive Eagle Ford Upgrades), the company announced the addition of 700 million boe of Eagle Ford reserves while saying it has only booked ~20% of the reserves it ultimately expects to recover from the play. This implies a massive 3.5 billion boe total EUR from the company's Eagle Ford leasehold. In the same announcement, COP increased its 2017 EF production guidance to 250,000 boe/d. That's up 100,000 boe/d over last year's guidance of 150,000 boe/d. Granted, that could change now due to the "new world order" in oil after the price collapse, but that is to be expected as companies prudently and pragmatically adjust cap-ex to deal with lower realized prices.
That said, I would expect COP's plans in the EF will, in the main, stay on track with previous guidance. The company not only has a leading position in the play, but ties to its downstream spin-off Phillips 66 (NYSE:PSX) likely means there are some synergistic supply arrangements for its light-oil, dry gas, and NGL production out of the EF to supply PSX's refineries and chemical operations. Note that PSX will be a substantial player in the LPG export market (see Phillips 66's Big Deal To Sell LPG to Sinopec).
According to a recent company presentation - The Role of the Eagle Ford and Texas in the Energy Rennasiance - COP currently is running 12 rigs in the Eagle Ford and has a drilling inventory that will last 10 years. Coincidentally, COP said it is the #2 largest producer in the Eagle Ford (as opposed to the O&G FJ reference noted above).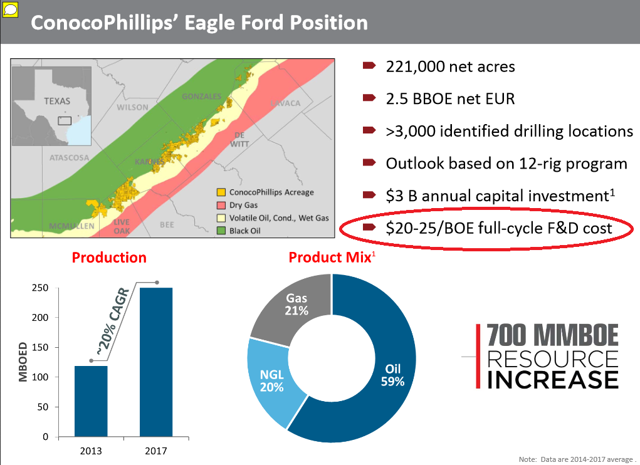 As seen from the graphic above, COP's acreage is located right on the seam of the crude oil, rich gas boundary. As such, its product mix is ~80% liquids. More importantly, notice COP's $20-25/boe full-cycle finding and development costs. According to the Texas Railroad Commission, ConocoPhillips has the higher oil production per well (see below). In addition, WoodMac says COP has the highest NPV per acre in the play: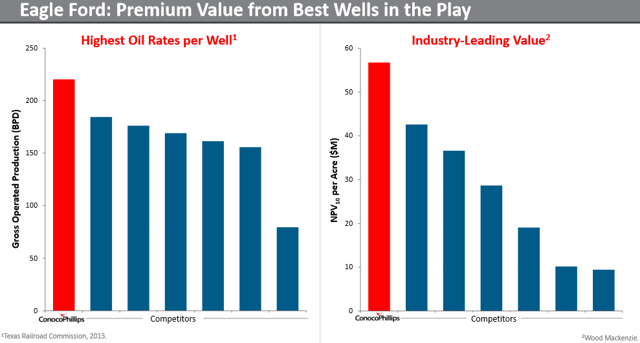 And this is one reason why COP has an industry leading breakeven price from its North American uncoventional assets. According to a third party report (Rystad North American Shale Report), COP's average unconventionals' breakeven price is under $40/bbl: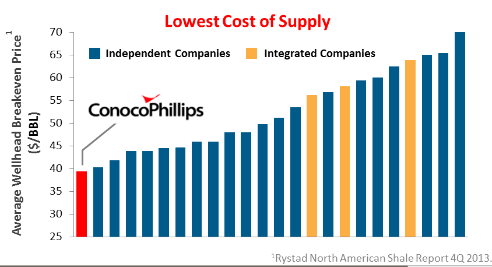 Source: BofA Merrill Lynch Energy Conference Presentation
COP is obviously a leader in the most economically viable shale play in the US - the Eagle Ford - and in North American unconventional plays in general. But that isn't the only reason I like the company. I like them because the largest independent O&G E&P company in the world is well diversified - geographically, geologically, and across oil, natural gas, and LNG. The company has a tier-1 position in the oil sands. COP is a low-cost producer there due to its FCCL SAGD projects having the lowest SOR (steam-to-oil ratio) of the peer group (see Cenovus: More Than Meets The Eye). COP also is the largest oil producer in Alaska, and much of this is very low-cost legacy production. Alaska is a cash cow for COP. Yet many shareholders and energy company enthusiasts might be surprised to know that it is APME, the Asia Pacific & Middle East segment, that was far and away the largest contributor to Q3 earnings: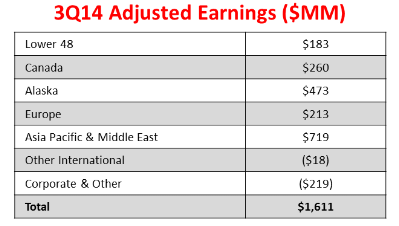 Note also that COP's lower-48 segment contributed only 11.4% of ConocoPhillips' total of $1.61 billion of adjusted net earnings in the quarter. So while lower oil prices in the US and globally will obviously hit the company's bottom line, it is in a much better position to weather the storm than are companies that are lower-48 centric shale operators (i.e. EOG). In particular, COP's exposure to international gas prices are an advantage - as is its low-cost legacy production in Alaska.
Summary & Conclusion
The current supply glut and low-cost oil environment is going to take a toll on US shale producers, especially those that are highly levered and focused on some of the less economically viable plays. One thing is clear: the Eagle Ford is the most economic of all the US shale plays and one reason is due to its excellent location to the Gulf Coasts' refining, chemicals, and soon-to-be LNG export industries. Other reasons are lower transportation costs, a mature pipeline infrastructure system, and lower F&D costs. As a result, realized prices for EF crude are currently some $13 higher than the average realized priced for Bakken crude. This is an advantage for the #2 producer in the Eagle Ford: ConocoPhillips.
Other advantages are COP's global diversity and its current 4.1% yield. While no one really knows how the current oil price drama will play out, COP is better positioned than most of the US shale producers. That said, COP no longer has the downstream businesses needed to offset a lower realized oil price environment. So investors in COP may want to also pick up shares in Phillips 66 , COP's downstream spin-off, in order to get exposure to the midstream, chemicals, and refining operations. I continue to prefer the combination of COP+PSX versus its former integrated peers Chevron (NYSE:CVX) and Exxon Mobil (NYSE:XOM) - two companies that completely missed out on the Eagle Ford. That said, Chevron and Exxon are in an excellent position to pick up additional unconventional acreage in the lower-48 as opportunities arise.
| | |
| --- | --- |
| Market Cap: | $83.52B |
| P/E ("ttm"): | 9.00 |
| EPS ("ttm"): | $7.54 |
| Div & Yield: | $2.92 (4.10%) |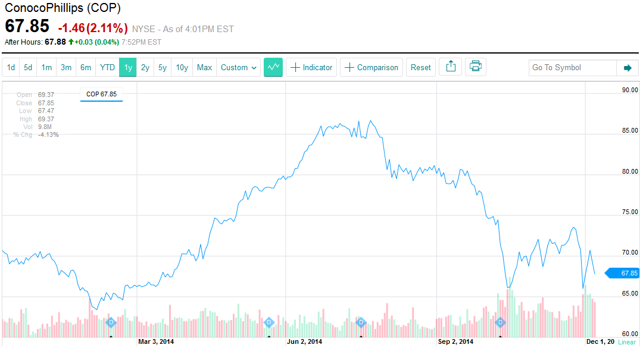 Disclosure: The author is long COP, CVX, PSX, XOM.
The author wrote this article themselves, and it expresses their own opinions. The author is not receiving compensation for it (other than from Seeking Alpha). The author has no business relationship with any company whose stock is mentioned in this article.
Additional disclosure: I am an engineer, not a CFA. The information and data presented in this article was obtained from company documents and/or sources believed to be reliable, but has not been independently verified. Therefore, the author cannot guarantee its accuracy. Please do your own research and contact a qualified investment advisor. I am not responsible for investment decisions you make. Thanks for reading and good luck!