The recent plummet in oil prices is why you invest in stocks that are trading with a margin of safety. As I've said before, my jump into Schlumberger (NYSE:SLB) couldn't have been more poorly timed. As oil prices continue to fall and as exploration and production capital expenditures fall with them, even best-of-breed Schlumberger is beginning to feel the pinch. Most recently, the company announced that it will take a sizable charge in the fourth quarter as the company reduces the size of its WesternGeco seismic fleet. The company cited expectations of lower exploration spending, and will retire its older, less cost-efficient vessels while canceling a number of its third-party charters. The end result will be a fleet about 60-75% of its previous size, with the disused assets driving an $800 million pre-tax writedown (which ought to have a $0.45-$0.50 impact on per-share earnings).
That Schlumberger is reducing its seismic fleet on a grim outlook for exploration ought to be no surprise to investors who follow companies like Geospace Technologies (NASDAQ:GEOS), whose travails I've been writing about for a few months now. Geospace's own seismic sales and rentals have been in a state of free-fall for quite some time now, in large part due to roll-backs in higher-cost deepwater drilling, which itself had been falling apart for several months before that. (The most recent domino to fall in this long-running saga is the widely followed Seadrill (NYSE:SDRL), whose dividend suspension resulted in a 30-40% drop in share price in recent days.) These widening ripples appear to have caught up with the widely-diversified Schlumberger, though the company's breadth of offerings, tight technological integration, and reputation give it a badly needed ballast.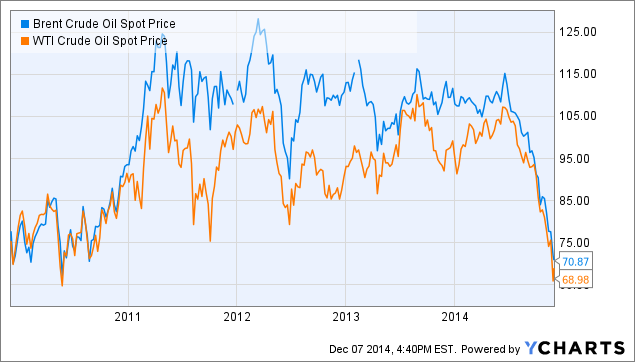 Brent Crude Oil Spot Price data by YCharts
Since my last assessment of Schlumberger's fair value back in October, oil has continued its precipitous descent, and crude futures trade at levels not plumbed since 2009. Whether or not you believe that this is due to a structural change in the oil industry or that the price correction will ultimately prove temporary (proven reserves deplete at a rapid rate, and even the most pessimistic forecasts suggest worldwide demand for crude oil to grow by the low single digits over the next decade), the short-term headwinds are real. Deepwater drillers are cold-stacking ships with utilization falling across the board. Higher-cost producers are feeling pressure. Contrary indicators, like airline stocks, are soaring. The dip in oil stocks may indeed be driven in part by panic, but it is definitely driven in part by fundamentals. It's only fair, then, that I reassess my fair value estimate for Schlumberger based upon this new outlook, and reconstruct my model based upon some more conservative assumptions.
Nevertheless, as I've alluded to in other posts, I continue to believe-- as other people clearly do-- that Schlumberger's earnings will be less affected by a drop in oil prices than the market appears to at the moment. The company's global footprint is unmatched and the scale of its product line is first-in-class, leaving it well-positioned to survive in oil market troughs and thrive in oil market rallies. The company was already targeting significant margin growth over the next few years with cost cuts and a move to highly-differentiated, proprietary technologies, and at the very least margin stabilization and cost controls ought to offset-- at least in part-- any fall in revenues. And though oil may be in a glut right now, additional oil finds are still only going to get harder. The fall in oil demand may well only be setting up a surge in demand later, and where we get the oil to satisfy that demand will ultimately be in unconventional or hard-to-reach places. In the meantime, oil producers will be under pressure to maximize their efficiency, to exploit resources already in hand. In either scenario, Schlumberger stands to benefit.
Valuation:
I'm lowering my fair value estimate for Schlumberger about 10%, from $132 per diluted share to $123 per share. I'd previously assumed 10-year revenue growth of about 7% per year and average operating margins of about 20%. Though I think the company can still achieve excellent operating margins of 20% as it upgrades its product line, cuts costs, and trades upon its considerable scale and reputation, it's probably too risky to assume that oil E&P CAPEX is going to make a hasty recovery to pre-2014 levels. I think the company will do well to simply drive flat 2015 revenue growth, though I do believe that a year will probably be enough to wring out excess supply (as higher cost producers leave the market and the global economy resumes its footing), and I assume Schlumberger should be able to resume revenue growth of 5.5-6.5% thereafter. I assume CAPEX to fall between 9-10% of revenues over the next several years, down from a historic 11%, and I use a weighted average cost of capital of about 9%. I model 2014 EPS of $5.65 and 2015 EPS of $5.50, the latter on revenues of about $47 billion, and EBITDA of about $11.8 billion. This fair value estimate implies a forward price-to-earnings ratio of about 21.3 times and a forward EV/EBITDA ratio of about 12.2 times.
Quantitative Analysis and Conclusion: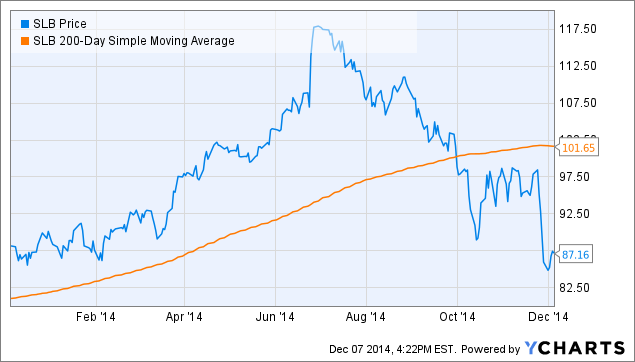 | | | | |
| --- | --- | --- | --- |
| Free Cash Flow Yield | 5.54% | Historical PE | 19.55 |
| Calculated FCF Growth | 8.01% | Historical PB | 3.75 |
| FCF Total Return | 13.55% | Historical PS | 2.91 |
| Expected Earnings Growth | 10.79% | 5-Year Forward PEG | 1.84 |
| Dividend Yield | 1.84% | FPE | 21.25 |
| Anticipated EPS Total Return | 12.63% | Fair EV/EBITDA | 12.21 |
| Median ROIC/WACC | 2.25 | Current EV/EBITDA | 8.91 |
| Morningstar Moat | Wide | Cost of Equity | Cost of Capital | 16.02% | 9.07% |
I still fully expect Schlumberger to be able to produce double-digit total returns over the next decade, and I have no intention of selling my shares. My cost basis remains solidly below my fair value estimate, and Mr. Market seems happy to afford me the opportunity to buy more of this best-of-breed company at a sizable (30% or so) discount to what I perceive as its fair value. A reverse discounted cash flow model using trailing twelve-month earnings suggests that the market thinks the company will only generate a 4.8% EPS CAGR over the next 10 years, which in combination with a dividend yield now approaching 2% suggests at least a solid single-digit total return, should the current multiple hold. I view the market sell-off as a considerable over-reaction, and will likely add more to my stake if the current weakness continues.
Disclosure: The author is long SLB.
The author wrote this article themselves, and it expresses their own opinions. The author is not receiving compensation for it (other than from Seeking Alpha). The author has no business relationship with any company whose stock is mentioned in this article.
Additional disclosure: General Disclaimer: This article provides opinions and information, but does not contain recommendations or personal investment advice to any specific person for any particular purpose. The author is not a professional financial adviser. Do your own research or obtain suitable personal advice. You are responsible for your own investment decisions.