Cabot Corporation (NYSE:CBT) operates as a specialty chemicals and performance materials company. The company offers carbon black, a form of elemental carbon used to enhance the physical properties of the systems and applications and rubber blacks for use as a reinforcing agent and performance additive in tires, hoses, belts, extruded profiles, and molded goods. Among other products, the business offers key ingredients for gas exploration and drilling companies.
The main reason I like Cabot Corp is due to its historical ability to return capital to shareholders, specifically denoted through its potential double digit ROE. While the current environment may present challenges, I think current (and potential) equity pricing offers investors a decent long term opportunity.
Near Term Outlook
Pulled from the last conference call transcript, management remains cautious on the fiscal year of 2015: "As we look ahead we expect a modest level of global growth in 2015. With declining oil prices in the first fiscal quarter we anticipate that many of our customers will be managing their inventories down leading into the calendar year-end. Therefore, we expect fiscal year Q1 2015 volumes to decline from the fourth quarter of 2014, as a result of the global macroeconomic conditions, seasonality effects, and inventory corrections."
This is precisely why the stock has drifted lower, losing over 30% of it's market cap in a short six months. While this is crucial to evaluate, I will address this in the valuation section, since we should first understand what the company is doing on a fundamental level.
Recent Improvements
While the market doesn't believe this company will become insolvent (even considering its modestly high debt levels), it does remain wary of Cabot's "cash burn". Compared to typical cash & equivalents, the company now holds only 66mm in cash which is significantly lower than historical levels.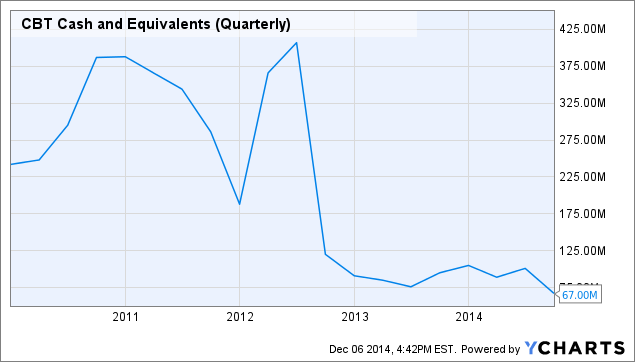 CBT Cash and Equivalents (Quarterly) data by YCharts
However, in addition to operating cash flow usage, this largely appears to be related to improving the bottom line:
Investment projects that offer higher energy yield and efficiency (feeding into cost controls).
Debt reduction that lowers total interest payouts.
Standard & Poor's recently upgraded the company's debt rating to BBB+ which is below average but still fair and is now considered investment grade. This was as a result of Cabot shrinking its total debt load by more than 15% over the last year. Management now believes that with current price declines in the equity coupled with an improving balance sheet that it can create a higher effective yield for shareholders, boosting total ROIC above current levels of roughly 6%.
Technically Speaking
Price at volume is a very effective indicator of figuring out "where the bulls are". Between $39 and $42 it seems there is a decent long side bias at roughly 2 to 1 (buyer to seller). Fortunately for us, volume remains high on a weekly basis so we could more than likely see lower levels than $42.25 - this could be support, but given the bearish engulfing candlestick on Friday it should settle down lower.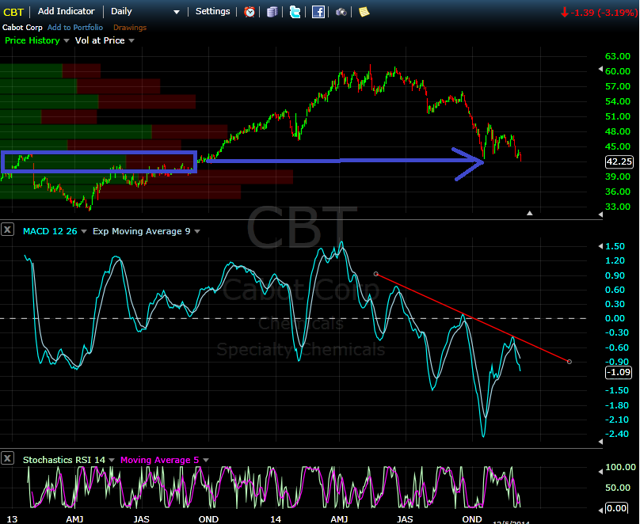 The MACD is forming a bullish megaphone pattern and stochastics are oversold.
Valuation Methodology
In a normal environment, earnings have effectively grown at an 11% rate over the last three years. Given new commodity pricing, revenue growth will inevitably decelerate as stated by management. With that said, the market will perceive a lower multiple is fair and this should then setup a reasonable long term opportunity. Here is the key chart: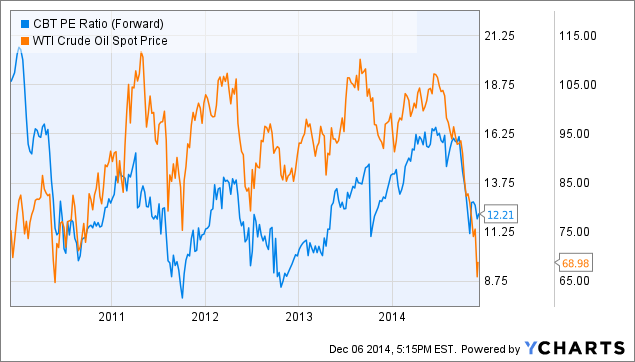 CBT PE Ratio (Forward) data by YCharts
As you will notice there is a high correlation between Cabot's earnings valuation and the price of WTI crude. Historically the company has been more sensitive to declines given higher leverage scenarios from its customer base (of which will reduce spending in poor pricing environments). Now it would seem there is a disconnect (with the earnings multiple above the spot price), and this could be reasoned by one of two ways:
T

he market believes Cabot has a stronger operating structure that can withstand these declines.
Current oil pricing is temporary or 2015 hedging offers enough protection.
Perhaps it's a combination, but regardless of the driver, I think it would be prudent to take a conservative approach and see how this develops.
More importantly, if we take next year's forward estimate of 4.13 (which may materialize in 2016 instead of 2015) and apply the averaged 12x multiple, we achieve a target of $50 (or 19% upside).
Bottom Line
In the near term we can expect earnings to be offset by lower oil, which may justify a lower multiple closer to 11x in the eyes of the market. Although with Cabot's improving operating efficiency, stronger balance sheet, and strategy of returning value to shareholders it would be fair to say that this is a company worth accumulating at the right price. At $42 it is modestly attractive but investors should seek a wider discount near 11x. I believe at $38 or less it is a safe buy. If commodities start showing a reversion, this could present a 15% annualized situation over the next 2 years.
Disclosure: The author has no positions in any stocks mentioned, and no plans to initiate any positions within the next 72 hours.
The author wrote this article themselves, and it expresses their own opinions. The author is not receiving compensation for it (other than from Seeking Alpha). The author has no business relationship with any company whose stock is mentioned in this article.