Over the past few months, the Shanghai composite has rallied significantly in the face of slowing economic data. The index, in fact, is up a stunning ~40% year to date.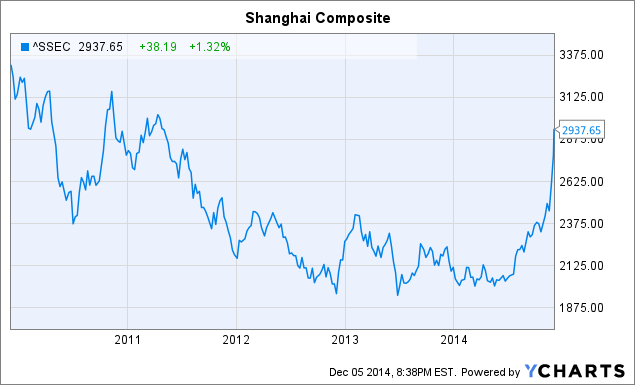 Given that stock indices are normally leading indicators of the broader economy, is the Shanghai index telling the world that China's economy will recover soon?
In some ways, the Shanghai rally is a bit confusing. Other forward looking factors such as commodity prices and shares of foreign companies that depend heavily on China have not rallied at all. The price of Brent crude, for example, has actually fallen from $110 per barrel to $68 per barrel. Similarly, shares of the commodity producer BHP Billiton are down 23% year to date. Normally, if the Chinese economy were to recover in a year's time, both the Chinese equity indices and the international equities that depend on China would rally at the same time.
In my opinion, the Shanghai rally could be the result of two things. First, due to the recently instituted Hong Kong Shanghai stock exchange link, there are more short term speculators trading on the Shanghai exchange than before. The short term speculators don't necessarily care if China's economy will do well in a year's time. Rather, the speculators only care if a stock has positive momentum; if a stock has momentum, the speculators will buy no matter what the fundamentals are. Given that the Shanghai index has done nothing but rally in the past six months, it is fair to say that many short term speculators are long and their collective buying has played a significant part in the Shanghai rally. Second, the Shanghai index could be rallying because foreign investors with decade long time horizons are buying for the first time. Although the Chinese economy is still decelerating, China still remains an attractive investment destination long term. Long term, there is no reason for Chinese GDP per capita to be different from Western GDP per capita. If Taiwan, Japan, and South Korea can do it, China can do it too. China just needs to reform itself so that the right systems and processes are in place.
Reforming an economy China's size will take some time. There are many difficult problems to solve such as corruption, pollution, and inefficient state owned enterprises that still dominate crucial sectors. Corruption alone is estimated to cost China 3% of GDP per annum.
The good news, however, is that China is making substantial progress on the corruption front. Corruption proxies such as Macau high roller revenues are down significantly from that of prior years. More recently, the Party expelled and arrested former standing committee member Zhou Yongkang for graft. If the Party continues to enforce its anti-corruption policies, it will reduce corruption and increase GDP growth going forward.
Many observers say that Xi Jinping is the most powerful Chinese President since Deng Xiaoping. Having a strong President is a good thing in that it allows China to properly reform. (As opposed to having a weak President who allows entrenched interests to water down reforms to preserve the status quo. )
Given that President Xi Jinping is still committed to reform, the odds of a major stimulus package and a rapidly recovering Chinese economy are unlikely. As Macau high roller gaming revenues show, President Xi's reforms are working, but it will take some time for the Chinese economy to realize the reforms' benefits.
The recent rally in the Shanghai index is most likely due to speculators playing momentum, rather than an indication of an improving Chinese economy due to a possible fiscal/monetary stimulus.
Disclosure: The author has no positions in any stocks mentioned, and no plans to initiate any positions within the next 72 hours.
The author wrote this article themselves, and it expresses their own opinions. The author is not receiving compensation for it (other than from Seeking Alpha). The author has no business relationship with any company whose stock is mentioned in this article.