The conventional wisdom is that pipeline MLPs should be immune to commodity swings because of partnerships' minimal direct exposure to oil prices. Instead, these pipeline 'toll roads,' which are indeed the most cost-effective way to transport crude oil, are normally immune to usual price volatility in oil. However, the recent drop in West Texas Intermediate, from over $100 to around $65 within a few short months is likely to alter the face of oil production in North America if prices stay in this range for a year or more, and this will affect Plains' pipeline business.
This is why most of the North American oil and associated gas pipelines are getting beat up right here. For example, since October 1st, leading crude pipeline Plains All-American (NASDAQ:PAA) is down by 14.4%. At the same time, leading NGL pipeline Enterprise Product Partners is down only 7.5% over the same period, and leading dry gas pipeline Kinder Morgan Inc (KMI) is actually up since October 1.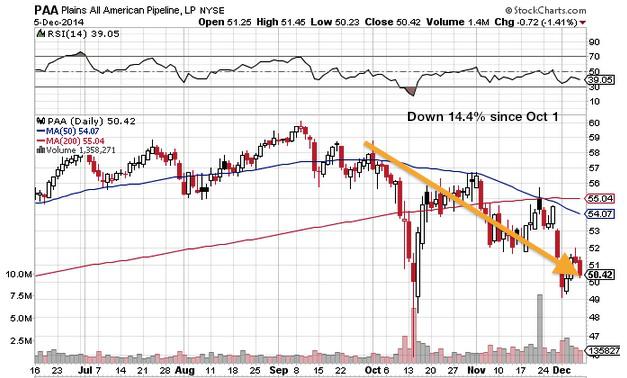 SharpCharts
While Plains' 14.4% decline is nothing compared to some of the upstream MLPs and offshore rig lessors, investors in midstream MLPs are not accustomed to such price volatility. Plains All-American's extensive crude oil transportation network is the midstream backbone of the North American shale oil and tar sands revolutions.
Unfortunately, with oil prices where they are right now, the meteoric rise of the North American crude oil complex is over. This sharp leveling-off of energy activity will have some effect on Plains All-American, and the market is trying to compensate for that right now. This article will take a look at Plains' infrastructure and how it might be impacted by a dramatic slowdown in energy activity in North America.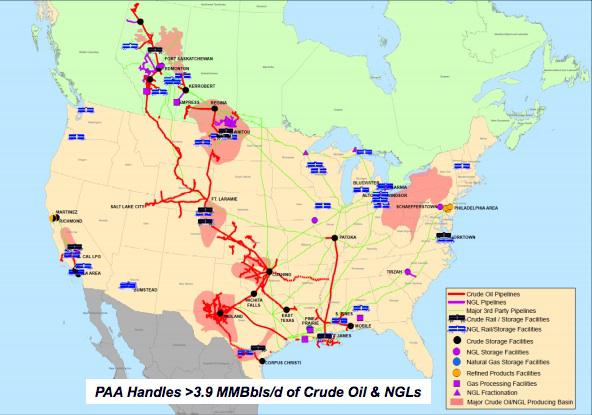 Courtesy of Plains All-American Investor Relations
Above is a map of Plains' operations. Just by looking at the map one can get an idea of the company's concentrations: The Permian Basin, Oklahoma, The oil sands, the Bakken, and some activity along the Gulf Coast and in the Eagle Ford.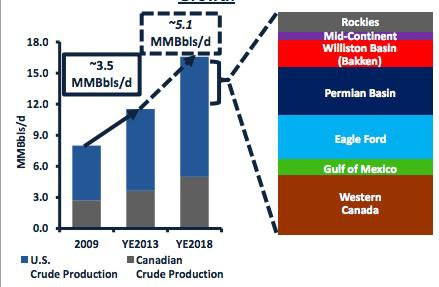 Courtesy of Plains All-American Investor Relations
Plains' greatest geographical focuses coincide well with where most of the growth in crude oil production is coming from. Overall, the oil sands of Western Canada, the Eagle Ford Shale and the Permian Basin are leading the way.
Remember the OPEC meeting over Thanksgiving holiday late last month? Most experts believed that, in order to find a balance between supply and demand for crude oil, OPEC nations would need to cut production by between 1 million and 1.5 million barrels per day. Not incidentally, the US and Canada are poised to add about 1 million barrels of production per year until 2018. In other words, production growth in the US and Canada are pretty much responsible for the looming oversupply situation.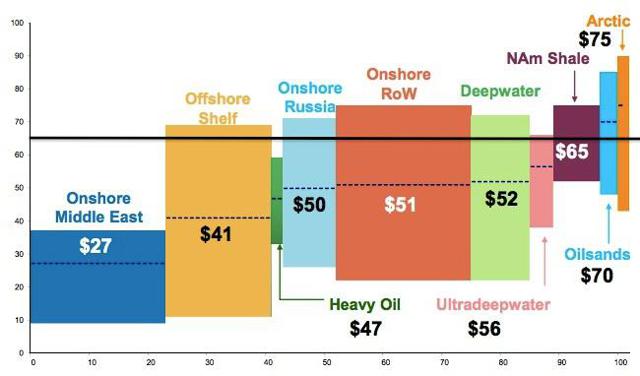 Courtesy of Seadrill Investor Relations
This chart from Seadrill illustrates the nervousness of the market right now. I added a black line at $65, just to show what production is profitable at this level and what isn't (keep in mind, Brent Crude is three dollars higher). As you can see, at these prices, most new projects in the Arctic and the Canadian oil sands are no longer economically viable. A substantial chunk of shale drilling is also uneconomical.
Most of Plains' infrastructure is for either shale oil or the oil sands. So, while Plains does not have direct exposure to oil prices, a drop of this magnitude could affect Plains' business in the long run. In other words, the drop from $100 oil to $80 oil had little effect on Plains because the oil still flowed at $80. However, a long-term drop to $60 could very well affect Plains because at that price a good chunk of shale drilling and oil sands projects do not make sense.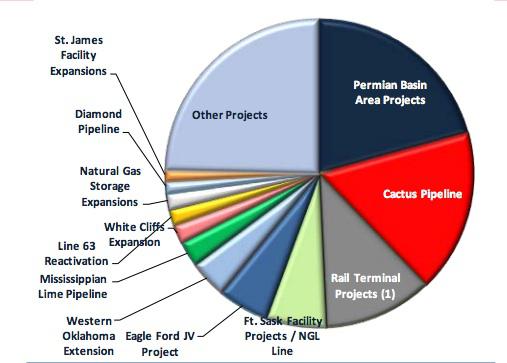 Courtesy of Plains All-American Investor Relations
While Plains does not delineate its revenue by geography, we can look at the company's capex projects to get a good idea of the partnership's focuses. First, Plains is quite a diversified liquids pipeline, with many projects spread into several geographies. However, we can see that the biggest chunks of capital are devoted to two places: The Permian Basin and the Eagle Ford (Cactus Pipeline is a Permian-to-Eagle-Ford crude oil pipeline). Together, I would estimate that the Permian and Eagle Ford occupy half of Plains' capex endeavors.
So here's the good news: According to a report by Credit Suisse (the results of which can be found on Hi-Crush Partners' investor presentation in the Cowen Energy conference), the Eagle Ford and Permian horizontal drilling plays have average 'breakevens' at around $54. Arguably, the Permian and Eagle Ford are the lowest cost-base shale plays in North America.
Even still, it's clear that the shale and the oil sands are inevitably going to be the ones doing the 'heavy lifting' when it comes to reducing capacity by 1 million barrels per day and bringing supply and demand back into equilibrium. Chances are that these lower oil prices will result in growth drilling in the shale coming to an end for now and in many projects in the oil sands getting either delayed or cancelled (depending upon how far along the said project is).
Some closing thoughts on Plains
The most likely outcome, when all the dust finally settles, is that these low prices will put an end to much of the crude oil production growth we are experiencing in North America. Today's prices just don't support much drilling and new oil sand mining projects.
In that case, Plains should continue to operate just fine, but with much less investment in new pipeline and storage projects. Plains' extensive capital spending depends on robust growth in oil production in North America. That said, continued price differentials between oil-producing geographies will provide at least some impetus for new pipeline projects into the future.
Right now Plains yields a steady 5.25% with ample coverage. Because most of Plains' new pipeline projects have been fully contracted out, the partnership's current capital expenditure should deliver a decent amount of growth going forward. Whether Plains will be able to continue that growth trajectory depends upon where domestic crude prices ultimately settle down. Right now it's hard to say.