Last week I published an article regarding the performance of RedChip healthcare and biotech picks. I looked at the six-month and twelve-month performance figures and described the performance of this group of stocks as horrendous. RedChip healthcare and biotech picks were down approximately 40% in the previous twelve months while the SPDR S&P Biotech ETF (NYSEARCA:XBI) was up almost 40% and the iShares Russell Microcap Index (NYSEARCA:IWC) was up 2.4%. At the end of the week, I discussed the piece with RedChip CEO Dave Gentry. He made some interesting points that I felt were worth presenting that I will discuss below. I also would like to discuss the recent Instablog RedChip put out called "RedChip Nation's Outstanding Performance In Healthcare and Technology Sectors." One of Gentry's main points was that he considered the time periods I chose to identify as arbitrary. I chose the six-month and twelve-month time frames, as those are pretty standard timeframes to review performance. Are those the perfect time frames to use? No, they are not. Ideally you would consider when RedChip first highlighted the stock, but this was not information I had easily available. RedChip recently highlighted performance of a selected group of its healthcare stocks in an Instablog titled "RedChip Nation's Outstanding Performance in Healthcare and Technology Stocks." The data from the healthcare stocks is included below: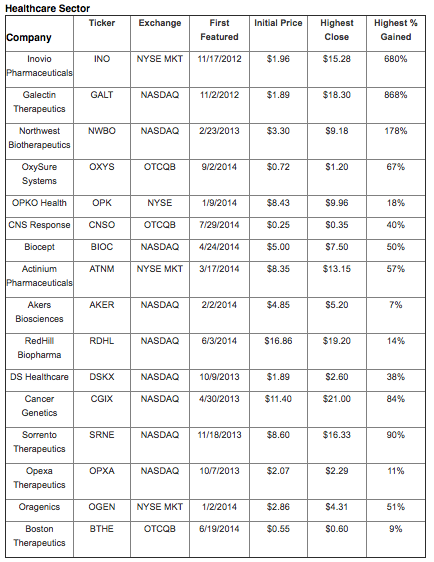 One statistic they have here that I do believe is very good is the first featured date. As I stated, I do think this is the best point of measurement when to doing data analysis of this nature. Now let's remember that RedChip is an international small-cap research, investor relations, and media company. With that in mind, it's certainly reasonable and rational to consider highest percentage gain as well. If we are looking to judge RedChip based on how effective it's at doing its job, we would certainly want to take a look at changes in volume, shareholder base, and institutional ownership as well. While this no doubt would be interesting, my main goal is to discuss stock performance so I will stay focused on that topic. As far as constructive commentary, I would think it's fair to say that the most unbiased way to review the performance would be to consider all of RedChip's past healthcare and biotech names. At this point, we are only looking at a sample. Everybody has picks that don't turn out. If anyone understands that, it's me. While my picks (8 buys, 3 sells, and 1 hold) have averaged a return of 8.33% since I started covering biotechnology stocks for my blog, I have had stocks that have dropped after I have made a call on them. For instance, on October 27th, I said significant value remains at Regado Biosciences after its lead drug failure. Since my article, the stock has dropped 18%. While I still think this stock will turn around and provide a very favorable return for those that purchased the stock after I recommended it, I certainly do want to acknowledge that my thesis has not yet come to fruition, which is evident by share performance.
In terms of performance, I believe that the fairest way to judge it is based on relative performance from the first feature date (or initiation date) to the current price as long as the stock is still covered. While I have included the data that RedChip presented in its Instablog, I have also presented this performance metric that I discussed:

While RedChip biotech and healthcare picks that the company recently highlighted in its Instablog are up on average since the first feature, they have significantly underperformed the comparison small cap biotech index. What potential counterpoints to this data should be considered?
1. Tax-loss selling is liquidating a position at a loss to help offset capital gains. We have been in an amazing bull market (especially within the biotech sector) over the past five years. This is no doubt triggering many investors to sell off some of their small cap biotech and healthcare positions that have performed poorly regardless of current fundamentals in order to reduce the amount that will need to be paid to the US government this upcoming tax season. This could certainly be affecting the numbers that are displayed here. Relooking at the figures a few months into next year would certainly remove the effect of this issue.
2. Dilution is certainly another interesting factor at play here. RedChip actually recently put out a blog post titled "Are Shelf Registration Filings A Bad Omen For Biotech And Medtech Stocks. In this piece, RedChip specifically takes a look at shelf registrations through an S-3 filing. An S-3 filing allows a company to offer shares without an additional filing for the most part at will until the share allowance of the S-3 is used up. In RedChip's post, they noted that biotech stocks that have submitted an S-3 filing with the SEC this year have seen their stocks on average drop substantially. While this is something I have honestly not put too much thought into until now, this is a great point by RedChip as it makes sense intuitively that a filing of this nature would create an overhang on a stock. I personally would be concerned if I were a shareholder of a company that filed an S-3. What other factors could be at play here? Are there hedge funds that short a company when an S-3 is released and then buy back the stock when the share allotment in the shelf is mainly used up? It wouldn't surprise me.
I believe the data in this follow-up piece provides a fair analysis off of my initial piece. I encourage everyone to take a look at the numbers I have presented here to come up with their own conclusions. As general comment, when looking at a potential short position in biotech, make sure to pay especial attention to the potential risk/reward. For instance, Akers Biosciences (NASDAQ:AKER), one of the stocks that is part of the performance analysis of this article, is a stock I cover, currently with a hold rating. There are some things I like about the company such as its increasing revenue and smart sales force hires. There are also some things I do not like such as lack of a timeline in regards to the path to profitability and what seems to be somewhat aggressive accounting. Regardless, this is a $13.6 million company with $13.3 million in working capital and shareholder equity of almost $16 million as of the last quarterly report that is burning in the neighborhood of $1 million a quarter. While I remain neutral on the company's short-term outlook, this is not a stock that one should short as the balance sheet and reasonable cash burn should provide the stock with some downside protection. As a counterexample, I recently reiterated AEterna Zentaris (NASDAQ:AEZS) as a sell after its phase III Macrilen failure and a 44% drop since my initial sell recommendation. This is a $41.9 million company with $42 million in cash and equivalents as of Q3 end. While this on this surface seems like a poor short, AEZS burns cash at a pretty alarming rate, leading to my estimate that the company will have less than $20 million in cash by Q2 next year (assuming no additional raises). Given the management lapses illustrated in the Macrilen CRL, the low probability of success for its current lead candidate, the company's frequency of using its ATM to dilute shareholders, and its high cash burn, this would certainly still be an appropriate short candidate.
In summary, this performance study has brought up some interesting topics in regards to factors affecting stock return in the biotech industry. I personally think the topic in regards to the performance of small-cap biotech stocks after S-3 filings is extremely interesting as it makes sense intuitively that this could cause a significant overhang on the stock price, leading to abnormal returns for a short position. This is no doubt an area to highlight for future study.
Disclosure: The author has no positions in any stocks mentioned, and no plans to initiate any positions within the next 72 hours.
The author wrote this article themselves, and it expresses their own opinions. The author is not receiving compensation for it (other than from Seeking Alpha). The author has no business relationship with any company whose stock is mentioned in this article.
Editor's Note: This article covers one or more stocks trading at less than $1 per share and/or with less than a $100 million market cap. Please be aware of the risks associated with these stocks.