Overnight the Asian markets were higher, even though we learned that Japan's economy actually shrank far more than initial reports indicated. The capital flows into China remain strong and continue to push that market higher, which leads us to believe that we are probably seeing hedge funds chase some gains in order to play catch up with US benchmarks.
A lot of financial news outlets were covering the oil and energy markets this weekend and the common theme we saw was that many hedge funds and other smart money individuals are now betting that a bottom has either been put in or will shortly take place.
Chart of the Day:
The Dow Jones Industrial Average made a run at the 18,000 point level on Friday before pulling back with the other benchmarks during the afternoon. While we are red this morning, it will be interesting to watch trading this week, especially after European markets close each day.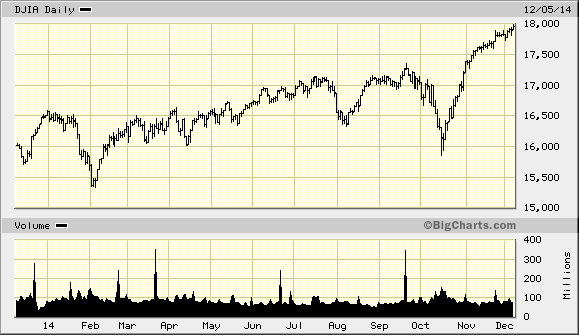 Source: BigCharts
We have no economic news today, but will kick off the week with JOLTS and Wholesale Inventories tomorrow.
The Asian markets are higher today:
All Ordinaries - up 0.70%
Shanghai Composite - up 2.86%
Nikkei 225 - up 0.08%
NZSE 50 - up 0.13%
Seoul Composite - down 0.39%
In Europe, the markets are lower this morning:
CAC 40 - down 0.89%
DAX - down 0.56%
FTSE 100 - down 0.86%
OSE - down 0.48%
Pharma Merger
Merck (NYSE:MRK) announced that they would pay $102/share in cash for Cubist Pharmaceuticals (CBST) in a deal worth $8.4 billion, or $9.5 billion including debt. Cubist shareholders are receiving a 35% premium over Friday's closing price. The acquisition will enable Merck to increase their offerings of antibiotics immediately as well as add some very promising drugs to the pipeline.
This acquisition will boost Merck's efforts in the antibiotic space, not only bringing new drugs into the fold, but also bringing in talent to help Merck with its own drugs developed or in development in-house.
Sales Disappoint At The Golden Arches
It seems that everything has started to go wrong for McDonald's (NYSE:MCD) recently, and this morning's global sales numbers did not help to right the ship. Global sales for November were down 2.2%, with US sales falling 4.6%, sales in Europe down 2.0% and sales in the Asia/Pacific, Middle East & Africa segment down by 4.0%. Every region for the company saw lower sales, but the real worry for the company has to be the 4.6% drop in the United States, their largest market.
Some of the talking heads this morning are discussing yield protection from the dividend and the current risk/reward. With all of the good news out there for other restaurant companies, we think that any new capital allocated towards the industry should go to companies already experiencing a turnaround or with businesses that are seeing steady growth numbers.
Sticking with that line of thinking, Goldman Sachs believes that there are three good buys in the restaurant industry right now, with Starbucks (NASDAQ:SBUX) appearing on its 'Conviction Buy List'. Also among the buys are Burger King Worldwide (BKW) and Chipotle Mexican Grill (NYSE:CMG). All this even as Goldman views the industry as a 'Neutral'.
CBS, Dish Reach Deal
CBS (NYSE:CBS) and Dish Network (NASDAQ:DISH) announced that they had reached an agreement to settle their recent battle and return CBS signals back to Dish customers after a very short blackout Friday night. Saturday's announcement ensured that CBS's NFL games were on the air Sunday, which kept the blackout from having a larger effect on either company.
The company's new multi-year agreement also covers CBS' Showtime premium cable channel and its streaming service. Under the terms of the agreement, many of which were not disclosed, Dish will have the right to allow its customers to stream Showtime. This portion of the deal also ended litigation that was ongoing between the two companies, so it appears that both sides are able to claim victory for the time being.
Disclosure: The author has no positions in any stocks mentioned, and no plans to initiate any positions within the next 72 hours.
The author wrote this article themselves, and it expresses their own opinions. The author is not receiving compensation for it (other than from Seeking Alpha). The author has no business relationship with any company whose stock is mentioned in this article.