My Connection To Nuclear Power
Like it says in my Seeking Alpha profile summary, I spent over 6 years of my professional life working as a mechanical engineer for a nuclear power plant company which designs, maintains, and is currently in the process of building the next generation of nuclear power plants domestically and abroad. In fact, over the next twelve months, a couple of these next generation nuclear power plants are expected to go online for the first time ever in China.
Despite my nuclear engineering experience, though, it doesn't necessarily make me an expert or fortuneteller on the future of nuclear power around the world. Instead, it means I have a far better understanding and appreciation of the uniquely long timelines involved in designing and building a single nuclear power plant versus other analysts that have spoken on the subject in recent months.
Uranium Resources, Inc. (URRE) happens to be a stock I own within a very speculative part of my portfolio. In this article, I will give a detailed overview of what is going on today with Uranium Resources, Inc. or URI, the uranium industry over the past decade, and the pros and cons of making uranium companies like URI a part of your portfolio going forward.
Recent Financial News for Uranium Resources
Despite its relatively small size and market capitalization of around $50 million as of December 5, 2014, URI is not new to the uranium business. The company was founded in 1977 to explore, develop, and recover uranium and today has properties in both Texas and New Mexico. In Texas, URI has two main processing facilities (both on standby) capable of processing 800,000 pounds of uranium per year. In New Mexico, URI holds an NRC license to recover up to 3 million pounds of uranium per year. Additionally, the company owns mineral rights for nearly 195,000 acres across New Mexico near areas where some of the largest concentrations of uranium deposits are expected to exist in the world. Despite these seemingly large numbers, 2013 annual uranium requirements globally stood at approximately 160 million pounds. Therefore, URI is clearly a very small player in this industry.
On November 6, 2014, URI delivered their third quarter earnings for fiscal 2014. The company delivered another quarter of zero revenue since the company hasn't produced any uranium since 2009 - the last year that the company reported revenues of any kind. Net losses for the quarter were $4.0 million, 22% higher than the loss of $3.3 million in the same quarter a year ago. An annual revenue and net income chart is shown below for URI.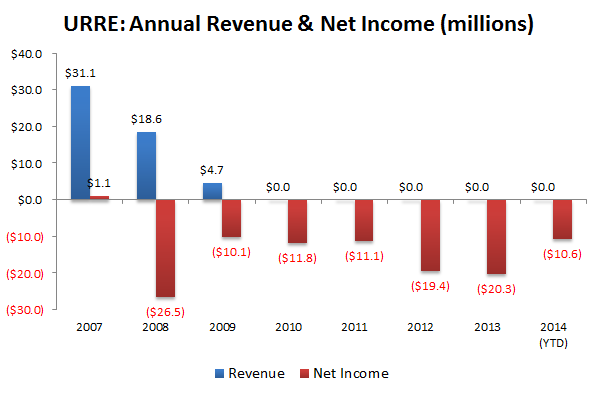 (Source: Uranium Resources SEC Filings)
The story for URI has been survival. This is because for the last several years, spot prices or current prices for uranium have been far too low to be profitable for companies like URI. This is the reason why URI has their plants in Texas on standby and haven't pursued or sold any uranium since 2009. It just doesn't make economic sense.
To gain an even better understanding is to compare the uranium industry with what is happening with the oil industry today. There is a low price point, which once broken, will make the pursuit of oil unprofitable for oil companies. However, unlike uranium, there are far more users of oil around the world which will inevitably take all measures to prevent oil companies from shutting down production completely.
In an effort to survive, URI has been more focused on reducing costs in recent quarters. At the end of the third quarter, cash and cash equivalents stood at $7.9 million, 293% higher than the same quarter a year ago. The company has been able to successfully reduce cash burn to under $1 million per month during the third quarter. Management believes that they will be able to use less than $10 million in cash for all of 2015. While URI's management has a few goals in the near-term future, it may be unrealistic for any of them to be pursued to any extent since spending will be limited over the next year. Below is a chart showing how URI has been able to reverse the trend on their cash levels the past several quarters.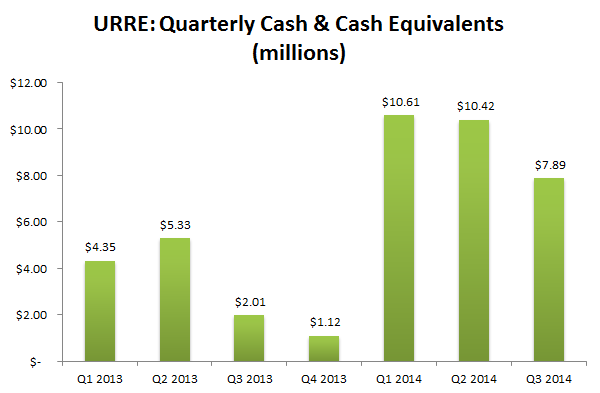 (Source: Uranium Resources SEC Filings)
Nevertheless, URI is not sitting completely idle. In September, in an effort to better position themselves in the future, URI did a property swap with privately held Rio Grande Resources Corp. Under the agreement, URI acquired nearly 9,000 acres of uranium properties in Texas near its idle processing facilities in exchange for giving up over 3,000 acres of New Mexico's Roca Honda region. In early December, URI completed a new technical report for the Roca Honda region, which concludes that further exploration drilling at two of the properties is recommended.
Uranium Companies - One Of The Unluckiest Groups Since 2005
Around 2005, the 'nuclear renaissance' was beginning. Nuclear engineering companies were out in full force hiring new engineers and the price of uranium was starting to rise from the low $20s per pound. By 2006, uranium prices peaked at nearly $136 per pound. Today, uranium spot prices range between $35 and $45 per pound. What happened?
Everyone and every company involved in the nuclear industry became too excited about the 'nuclear renaissance'. As a result, utilities started to buy up all the available uranium. Companies like URI would experience a huge stock price appreciation from 2005 to 2007. In fact, by 2007, URI's shares were trading at well-over $100 per share - which would also be the last year they produced positive net income. However, due to the high levels of utility buying which were also buying in anticipation for the future, and therefore stocking up on uranium fuel, companies like URI would find themselves with no buyers a couple of years later. When you combine this trend with the fact that designing and building new nuclear power plants is an extremely long process as I stated previously in this article, it is the perfect storm for uranium companies.
The March 2011 Fukushima accident is incorrectly used as a scapegoat to why companies like URI were in serious financial difficulty. By the time Fukushima hit the nuclear power plants on the coast of Japan, spot prices for uranium were already down to $60 per pound as a result of what happened to the industry in previous years. The fact that any gap between supply and demand for uranium has been fulfilled in recent years by secondary sources, governments, or utility stockpiles has only made it harder for URI and its peers to produce any revenues the past five years.
Articles like Street Sweeper wrote in mid-November and later published on Seeking Alpha have a much dimmer view of the nuclear industry, and in particular, URI. Japan has recently announced that they plan to restart at least two of the Fukushima reactors sometime next year. This article believes that URI will be bankrupt before the first reactor even starts.
I believe the article has a few problems. First, it is focused on just the Fukushima plants and doesn't address the possibility of several other plants in China starting up in the next twelve months. Second, oil at $70 to $80 a barrel isn't going to last forever. At some point, nuclear power is going to again become a lot more economically viable when compared to other power generation methods. Lastly, the article seems to believe that URI is going to just give up and become a shell on the Nasdaq, completely ignoring the fact that the company has been around nearly four decades and has made moves to better manage its expenses as it waits out the restart of another 'nuclear renaissance'.
Furthermore, the article seems to ignore the fact that even bigger companies like Denison Mines (NYSEMKT:DNN), which has a market capitalization of nearly ten times that of URI, have similarly faced the same struggles as its smaller peers. If we look at the stock performance of both Denison and URI since Denison's IPO in 2007, both companies have mirrored each other on the market since.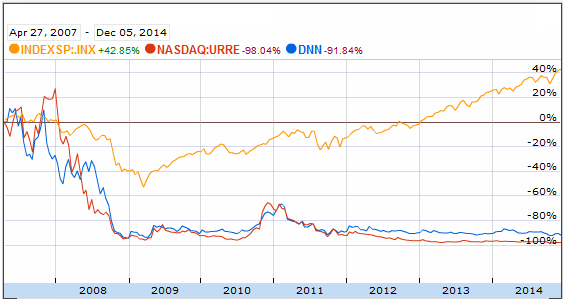 (Source: Google Finance)
Why Companies Like Uranium Resources Deserve A Second Look
In URI's latest shareholder presentation, they gave a figure similar to the one below which shows, according to the World Nuclear Association, planned and proposed nuclear power plants worldwide. The problem with this figure again goes along with the long time frame required to build a single nuclear power plant. Therefore, figures like these, while optimistic, extend potential payoffs for stocks like URI just that much further down the road - almost to time frames that are unrealistic for most investors.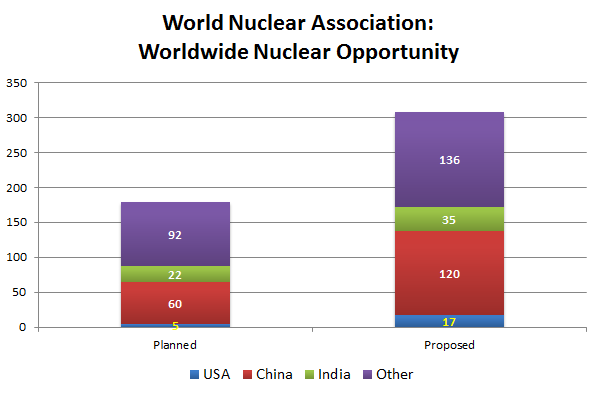 (Source: World Nuclear Association)
Instead, hopeful investors wishing to cash in on the rise of nuclear power worldwide, and consequently the demand for uranium fuel from companies like URI, should look at the following two figures, which are given by the International Atomic Energy Agency. The first chart shows the number of nuclear power plants under construction worldwide while the second chart shows the number of plants in operation. The first chart clearly shows that China is where the focus should be at in the future for uranium fuel demand, not Japan like the Street Sweeper article above implies.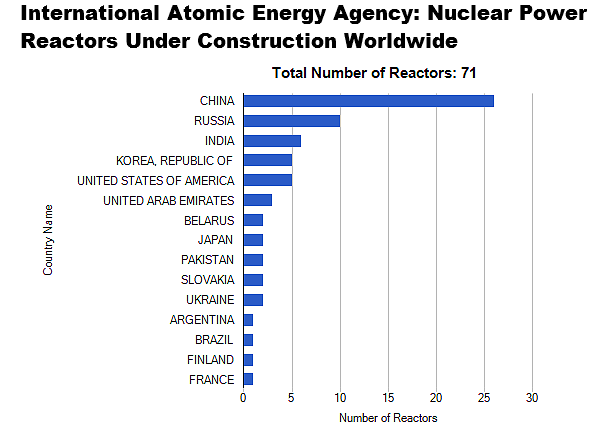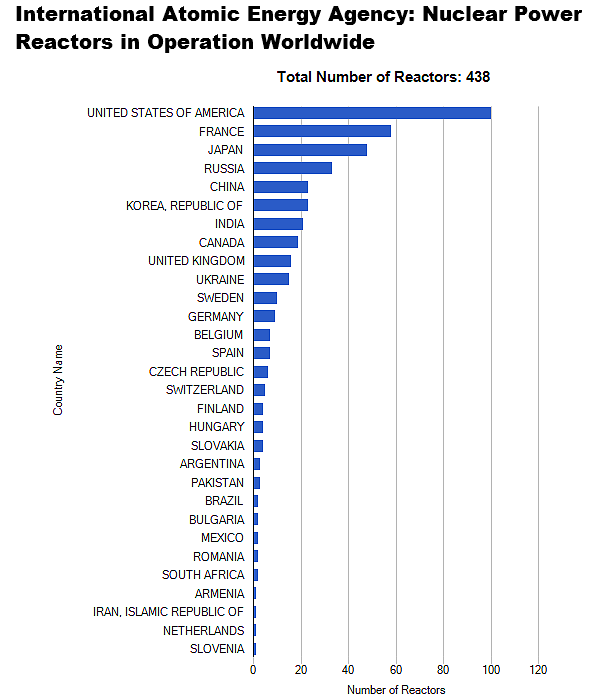 (Source: International Atomic Energy Agency)
URI, in particular, deserves a second look because surviving has been their M.O. for years. In their 2013 Annual Report through an SEC filing, they stated that:
"We had no revenue from uranium sales between 2000 and the fourth quarter of 2004, and therefore had to rely on equity infusions to fund operations and maintain our critical employees and assets."
With the same situation presented again, it wouldn't be wise in my opinion to count out URI just yet. In January of 2013, they executed a 1-for-10 stock split to bring the stock in compliance with Nasdaq's $1.00 minimum bid trading requirement. At the time, it reduced outstanding shares from 161.1 to 16.1 million shares. After secondary offerings since, there are now nearly 25 million shares outstanding today. While moves like these dilute existing shareholders, it is far better than the alternative - bankruptcy.
The spot market is another positive for companies like URI. Because it is so thinly traded, uranium prices can quickly turn on a dime. As uranium prices increase, the net asset value of uranium producers can significantly increase in a short amount of time. While uranium price fluctuations work the other way too, it is believed by many that long-term uranium prices will not go much lower than they are currently.
The U.S. Supreme Court has been favorable for nuclear power as well. In late November, the Court reviewed the nation's first-ever standards requiring power plants to reduce mercury emissions and other toxic air pollutants. Going into effect in April 2015, another previous ruling will require coal and oil-fired plants to cut out most of their emissions of mercury. Rulings like these hurt coal power plants while moving nuclear power plants up to focus as a safer and cleaner alternative. Despite the fact that no new nuclear reactors have come online in the U.S. since 1996, the Obama administration overall has said it is committed to reintroducing nuclear power in the U.S.
Overall, companies involved in the discovery and producing of uranium deserve a second look because the next few years have many potential catalysts that favor uranium producers. When you combine the idea that Japan still has 46 other plants in the Fukushima-affected area that can also be restarted soon and the fact that China is in the final stages of bringing online the newest nuclear power plants in the world, companies like URI have the potential to return to the glory of former years.
The Risk Factors In Backing Uranium Stocks
Make no mistake, though, URI is a risky stock and so are others like it. Doing simple math, URI is running out of money and time if they don't do another secondary offering or find a way to raise new capital. Spot prices of uranium also need to go significantly higher than they are today because of URI's uranium sales agreements which gives its customers a discount from uranium spot prices. In a recent earnings call, CEO Chris Jones stated that even if spot prices were to stay in the mid-$40s, URI would need spot prices to go up even higher to compensate for pricing discounts to its customers.
Even though it is out a couple of years, the 2016 Presidential Election could shift nuclear power plant talks over the next several years. While both Republicans and Democrats have taken a more neutral stance on nuclear power in recent administrations, it is clear that under President Obama, nuclear power has been the beneficiary of new policies such as carbon dioxide limits, mercury emissions, and other rulings that have punished coal-fired plants in recent years.
Cheaper natural gas as well as advancements in solar and wind power could be hazardous to the long-term potential of nuclear power as well.
Additionally, there is no getting by the fact that nuclear power results in the high costs of nuclear waste disposal and the decision of where to place it all. When you combine this with long project durations, the high upfront costs that filter out potential nuclear power plant customers to a select few companies or nations, and public opposition which is still a significant threat to nuclear power's revival, the risk factors in backing uranium stocks is very real.
Lastly, it appears that history may be repeating itself again at the expense of uranium companies. Right now, many U.S. utilities with nuclear power plants in their portfolio are starting to secure long-term uranium stockpiles to last through 2017 and beyond. This has all the makings to mirror what happened to the uranium industry from 2005 to 2007 and could make a comeback for companies like URI nearly impossible.
Conclusion
Today in the U.S. there are at least 100 operating nuclear power plants that generate 19% of the country's electricity. More importantly, though, are the next generation of power plants that are expected to go online over the next few years in China. This momentum could help raise uranium spot prices and improve URI's overall financial position as they seek to capitalize on a Part II of the 'nuclear renaissance'.
URI has many roadblocks in its way as it tries to dig itself out of the hole it is currently in financially. However, the company has historically shown that is can persevere during the roughest of times. It would be wise for investors to use this article as a starting point for their own decisions on investing in this sector. However, I have explained throughout this article why when it comes to companies like URI, the market's most patient investors need only apply.
Disclosure: The author is long URRE.
The author wrote this article themselves, and it expresses their own opinions. The author is not receiving compensation for it (other than from Seeking Alpha). The author has no business relationship with any company whose stock is mentioned in this article.
Editor's Note: This article covers one or more stocks trading at less than $1 per share and/or with less than a $100 million market cap. Please be aware of the risks associated with these stocks.