Although there is no substitute for assessing a firm's valuation on a discounted cash-flow basis, evaluating a firm's value through its PEG ratio may be the next-best option. Provided in this article is an aerospace supplier cheat sheet that gives a brief description, the market cap, consensus forecasts, long-term growth estimates, and the corresponding PEG ratios for suppliers within the commercial aerospace chain. This list should come in handy as commercial aircraft deliveries soar in coming years.
(Click charts to expand)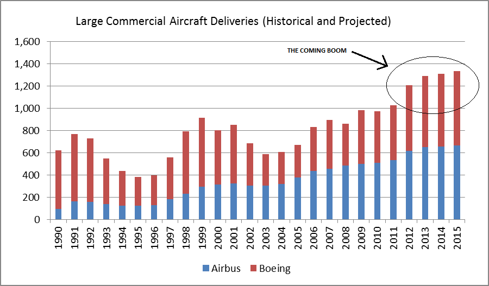 Based on the cheat sheet below, there are nine aerospace suppliers that currently garner a PEG ratio below 1, derived by taking the price-to-earnings ratio based on next year's consensus numbers divided by consensus estimates for the five-year annual growth trajectory of that company. These firms are AAR Corp (NYSE:AIR), Astronics (NASDAQ:ATRO), BE Aerospace (BEAV), CPI Aerostructures (NYSEMKT:CVU), Ducommun (NYSE:DCO), Honeywell (NYSE:HON), Kaman (NASDAQ:KAMN), Spirit Aerosystems (NYSE:SPR), and Triumph Group (NYSE:TGI).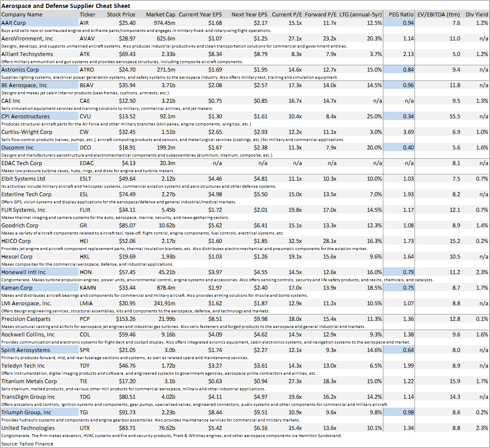 AAR Corp (PEG: 0.94) This firm has a diversified portfolio of aerospace and defense businesses, with aftermarket and support services representing about three-fourths of revenue and the balance coming from manufacturing (its top line is about a 50/50 split between government and commercial). AAR's airframe and engine parts products will enter the commercial build cycle via established relationships with OEMs, while its maintenance, repair, and overhaul (MRO) facilities should benefit from a near-doubling of the worldwide fleet by 2030 and a trend toward increased outsourcing, which on a domestic basis, is expected to expand to 70% of total MRO share by 2018, from about 58% today.
The firm is targeting 10% operating margins by fiscal year 2013, from about 8.2% in its third quarter of fiscal 2011 (ended February 2011), thanks to growth in higher margin businesses, cost management, and improved operations. By its estimates, every 10 basis points of margin expansion adds roughly $0.02 in annual earnings per share. AAR just secured a new $400 million revolving credit facility, and its debt metrics aren't terrible (net debt-to-EBITDA is about 2 times). Plus, more than half of its debt load is due after 2015. This one is for your radar screen.
Astronics (PEG: 0.84) This firm is one of my top small-cap picks in the aerospace supply chain. Check out "Sorting through the Aerospace Supply Chain" for more information, or you can view this firm's most recent presentation here (pdf).
BE Aerospace (PEG: 0.96)
This company has been on a roll as of late. BE Aerospace, a maker of aircraft cabin interior products and a distributor of fasteners and other products, set a record for bookings in its first quarter thanks to demand for aircraft spares (new buy and aftermarket retrofit programs) and consumables. The firm's top-line and bottom lines continue to expand at impressive rates, and BE Aerospace just upped its full-year earnings guidance in April. Operating margins jumped 120 basis points in its first quarter, and the metric should continue to show improvement as a result of higher sales volume, a better revenue mix, and productivity enhancements in coming periods. The company has no debt maturities until 2018, and a sizeable untapped revolver, though net debt-to-EBITDA is slightly elevated at about 2.75 times. This name represents a more levered play on aerospace demand.
CPI Aerostructures (PEG: 0.34)
This micro cap name is more a play on defense than commercial, but we left it in this list due to its best-in-class PEG ratio. Orders continue to roll in (the firm's on track this year to outpace the record level reached last year), and CPI's pipeline looks solid (it has bid on over $400 million of unawarded projects). The firm has guided revenue to advance nicely in coming years followed by decent earnings expansion, with 2012 levels more than doubling the adjusted 2010 mark, which had been its best performance in years. If management hits the net income levels it has guided to for 2012, CPI could earn nearly a $1.70 per share (it's trading at about 8x that level of earnings). The S-92 Sikorski helicopter, Gulfstream G650, and the A-10 Thunderbolt should provide some revenue visibility in the years ahead. Net debt-to-EBITDA is roughly 3 times, though the firm just increased its revolver capacity. CPI represents an interesting micro cap play on defense, though a focus on capitalizing on the upswing in commercial aerospace may be more lucrative.
Ducommun (PEG: 0.4) This firm's top line comes in at roughly 23% commercial aerospace and about 50% defense, with the balance generated from the industrial, resources and medical end markets. Its acquisition of LaBarge reduced its exposure to the commercial aerospace cycle, but we couldn't leave it out due to its attractive PEG ratio. Pro-forma net debt-to-EBITDA was roughly 4x at the end of 2010, but with the firm's decision to suspend its cash dividend, investors may be better suited to wait until integration risk subsides. Ducommun is one for the watch list.
Honeywell (PEG: 0.79) This conglomerate will benefit greatly from the coming aerospace boom. Honeywell's backlog is at historic highs, and the firm is well positioned on existing fleets and has been winning new customers (COMAC, AVIC). Aerospace sales were up 8% in the first quarter this year thanks to strong commercial OEM and aftermarket volumes, while segment margins expanded roughly 80 basis points. The firm's other major segments--Automation and Control Solutions, Transportation Systems, and Specialty Materials--all posted strong growth and margin expansion in its first quarter, too. There may still be upside in Honeywell's shares from these levels.
Kaman (PEG: 0.75) This firm has two segments: industrial distribution, where it's the third largest distributor in the power transmission/motion control market, and aerospace, where it generates roughly 70% of sales to the defense markets. Management is targeting more than a doubling of sales to the aerospace markets on a high-teens operating margin for that segment by 2014. Investors should keep on eye on Kaman's growth trajectory in coming periods and whether such ambitious expansion plans create significant acquisition risk, which could threaten its investment-grade credit rating. This name is one for the watch list.
Sprit Aerosystems (PEG: 0.64) A look into this name's $28.2 billion order backlog perhaps best explains its opportunity. Roughly 44% comes from Boeing's (NYSE:BA) 737, 21% from the 787 Dreamliner, 9% from the 777, and 5% from the 747--that's about 79% from Boeing alone. Spirit also has exposure on the A350 (12%) and the A320 (6%). As arguably Boeing's best supplier, this firm will go with the fortunes of the jet maker during the coming upswing. And if this delivery boom ensues as planned, look for Spirit to put up some solid returns. Spirit is one for the watch list.
Triumph Group (PEG: 0.98) The company operates in three segments: aerostructures, aerospace systems and aftermarket services--all three of which put up solid organic growth in its last fiscal year (ended March 2011). Triumph's backlog remains strong, and the company is focused on improving execution and controlling costs, while paying down debt. The firm is also working to capitalize on additional synergies from its acquisition of Vought Aircraft Industries. Net debt-to-EBITDA stands at about 3.3x, a bit elevated, and investors may still get a better entry point on the firm's shares. Triumph is a name for the watch list.
We'll leave an in-depth examination of these nine firms for subsequent articles, but the cheat sheet above should help to prevent investors from overlooking any opportunities to capitalize on the coming aerospace boom. For a read on my top three picks in the aerospace supply chain [Precision Castparts (NYSE:PCP), Astronics, and EDAC Tech (NASDAQ:EDAC)], please view "Sorting Through the Aerospace Supply Chain."
Disclosure: I have no positions in any stocks mentioned, but may initiate a long position in EDAC over the next 72 hours.