Fonar Corp. (NASDAQ:FONR) is an undervalued stock in the medical field that will benefit from the obesity epidemic in the United States and abroad in an unusual way. When we think of battling obesity in the medical field, we think of the "miracle" obesity drugs or drugs that can treat cancer, heart disease or diabetes. But medical equipment designed for obese people is often an afterthought. As overweight people make up a large proportion of clients in the medical industry, I believe medical equipment designed to enable comfortable, dignified medical care and effective diagnoses is a great growth industry and Fonar has a piece of it.
Fonar makes upright MRI machines. In addition to having features that make the MRI process comfortable for everyone, including children, these machines are able to scan people weighing up to 500 pounds and can also be used on special needs patients who are unable to lie down. An upright MRI machine is a much more cost-effective and less embarrassing solution for an overweight individual than alternatives like using supersized MRI machines at zoos. They also allow for joints and the spine to be imaged while in a weight-bearing state. While tunnel system MRIs have better quality images, improvements in coil technology and software have narrowed the gap in image quality between tunnel system and open system MRI machines.
Comparing the two pictures below of Fonar's upright MRI and a standard scanner shows that the upright MRI is much more appropriate for larger people. Even people who are not overweight would prefer the experience of Fonar's MRI compared to a standard one which mimics the experience one would have in a horror movie of being strapped to an assembly line and led into a chamber.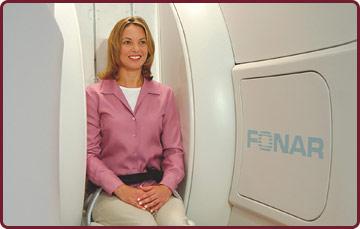 Source: www.glendalediagnostic.com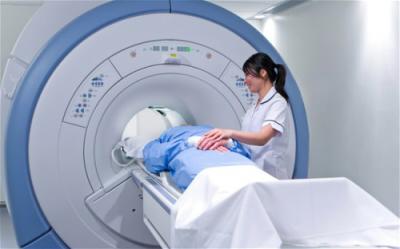 Source: www.telegraph.co.uk
Given Fonar's ability to differentiate itself from other MRI machine manufacturers, one would think it would trade at a premium or at least equivalent to other medical device manufacturers, but it does not. When Medtronic, Inc. (NYSE:MDT) trades at a $75 stock price, it is valued at a trailing P/E of 26, forward P/E of 17.3 and an EV/EBITDA of 12.8. Contrast that to FONR when it trades at an $11.50 stock price, it is valued at a trailing P/E of 7.2 and an EV/EBITDA of 4.8. FONR needs to double in price just to align in valuation with its larger industry counterparts.
So why is it trading at such a discount? Reviewing the income statements and MD&A for Q1 ended September 30, 2014 and Fiscal 2014 provides some important insights.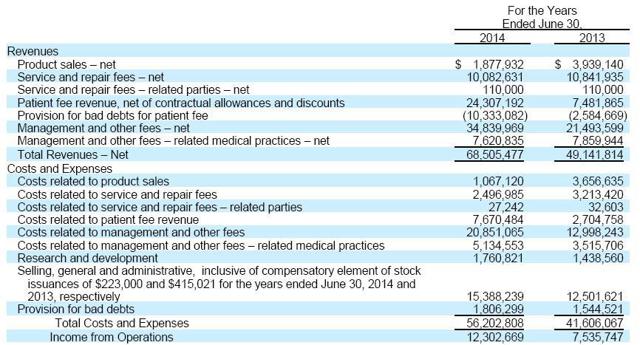 Fiscal 2014 saw 39% revenue growth from $49.1 million to $68.5 million. But that growth is due to the company acquiring a portfolio of MRI scanning centers in Florida and New York now known as Health Diagnostics Management, LLC or HDM in March 2013. Fiscal 2014 saw the benefit of a full 12 months of revenue from this subsidiary while fiscal 2013 had only three full months. Revenues attributable to the company's medical equipment segment decreased 18.9% to $12.1 million from $14.9 million year-over-year. The company is very open as to why it thinks it can't gain penetration into its core business despite having a differentiated and in most cases superior product:
"We believe that one of our principal challenges in achieving greater market penetration is attributable to the better name recognition and larger sales forces of our larger competitors such as General Electric, Siemens, Hitachi, Philips and Toshiba and the ability of some of our competitors to offer attractive financing terms through affiliates, such as G.E. Capital. Nevertheless, no other competitor offers a whole body weight-bearing multi-position MRI scanner as the FONAR Upright® MRI."
The past quarter shows its own set of issues. Revenue growth was up 7% due to equipment sales, but the service business was flat. The table below provides details on the patient fee revenue earned from the scanning centers under the HDM subsidiary. While fiscal 2014 benefited from a full year of operations, a comparable period of Q1 2015 to Q1 2014 shows a 4% decline in net patient fee revenue from $3.8 million to $3.6 million.

Revenue from workers' compensation and personal injury grew 28% while other categories remained flat. But bad debt offsets this increase due to the decrease in reimbursement rates paid by insurers, Medicare and other government programs for MRI scans. Out of the $6.8 million in gross revenue, only 3.6 million or 54% of it was collected. This compares poorly to the 65% of revenue collected for Q1 2014. If the reimbursement rate paid has declined, the company must be more prudent when choosing to perform upfront scanning services. Costs are being incurred to run the scans but if the revenue isn't being collected, investors will lose confidence in the company's ability to run this business. Given the decreased reimbursement rates, investors may ultimately question FONR's choice of aggressively expanding into the service side of the MRI scanning business altogether instead of focusing on its core business of MRI equipment sales.
Despite the $1.3 million increase in revenue from the sales of equipment, the company blames low sales on the lower MRI reimbursement rates and economic uncertainty but I believe FONR's inability to grow is due to its lack of size. It admits it has trouble penetrating the market with its superior product and cannot offer financing terms on its very expensive MRI scanners like G.E. Capital can.
I believe Fonar makes a good buyout target for the large MRI manufacturers as it has a superior product, lack of capital to mass market that product and it has an undervalued enterprise value due to investor malaise over recent financial performance and the direction the company has taken with respect to the service centers. One roadblock to Fonar being purchased lies with its management.
Raymond Vahan Damadian is the founder, CEO and largest shareholder of FONR. He has been instrumental in the invention of the MRI scanner but was excluded from a Nobel Prize. Critics of his have noted his unruly behavior during the controversy. While this article is not a discussion on whether or not he deserves recognition, his activities outside the role of CEO for FONR might be off-putting for some investors considering that he holds nearly 100% of the control over the company. In 2003, Fonar issued a very strongly-worded press release about his exclusion from receiving the Nobel Prize. Shareholders and potential investors may question why a publicly-listed company would undertake such an action, where the primary benefit of the Nobel Prize would be to the CEO as opposed to shareholders at large. Although it happened more than 10 years ago, it is a demonstration over the control Dr. Damadian has over Fonar.
Despite a buyout offer that may be very lucrative for shareholders, including Dr. Damadian, he may not want to sell "his" company under any circumstance. The purchase of the portfolio of medical centers that appear to be marginally profitable may be a rash decision in an attempt to ward off potential suitors. FONR hasn't been able to get to scale in order to penetrate the MRI equipment market, so the company is trying to expand into related service fields instead.
On the flip side, Dr. Damadian is nearly 80 years old and FONR's superior MRI scanners and patents owned by it would be extremely valuable to any equipment maker of sufficient size to market it properly. At some point Dr. Damadian may get an offer even he can't refuse which would be massively favorable to other shareholders as well, more so than if he had accepted the first offer he received. Even if he is a determined workaholic who doesn't want to retire as a multi-millionaire, eventually his heirs would take over and would be more likely to listen to a lucrative buyout offer.
An investor who buys FONR appears to be getting a company that is at least 50% discounted to where it should be. The problem is that there are extenuating circumstances associated with FONR that includes a lack of scale to competitively market its MRI scanners and a founder and CEO who has exclusive control over the company and may put his personal desires and biases ahead of the good of all shareholders. I believe FONR will have an end that will be very lucrative for shareholders. An investor who holds FONR or is thinking of a purchase must be willing to be very patient as the stock could be trading at a 50% discount to where it should be for years, but the wait may be worth it.
Disclosure: The author has no positions in any stocks mentioned, and no plans to initiate any positions within the next 72 hours.
The author wrote this article themselves, and it expresses their own opinions. The author is not receiving compensation for it (other than from Seeking Alpha). The author has no business relationship with any company whose stock is mentioned in this article.
Editor's Note: This article covers one or more stocks trading at less than $1 per share and/or with less than a $100 million market cap. Please be aware of the risks associated with these stocks.