On the surface, Descartes (NASDAQ:DSGX), LinkedIn (LNKD), and Facebook have very little in common. Descartes is a B2B company and they are B2C. However, there is one important common denominator, but before that is discussed, let's take a look at what Descartes does to make money.
Descartes Overview
Below is an overview from Descartes' most recent Descartes annual report:
We are a global provider of federated network and global logistics technology solutions that help our customers make and receive shipments and manage related resources. Using our federated network and technology solutions, companies can reduce costs, improve operational performance, save time, comply with regulatory requirements and enhance the service that they deliver to their own customers. Our network based solutions, which primarily consist of services and software, connect people to their trading partners and enable business document exchange (bookings, bills of lading and status messages); regulatory compliance and customs filing; route and resource planning, execution and monitoring; inventory and asset visibility; rate and transportation management; and warehouse operations. Our pricing model provides our customers with flexibility in purchasing our solutions either on a perpetual license, subscription or transactional basis. Our primary focus is on serving transportation providers (air, ocean and truck modes), logistics service providers (including third-party logistics providers, freight forwarders and customs brokers) and distribution-intensive companies where delivery is either a key or a defining part of their own product or service offering, or where there is an opportunity to reduce costs and improve service levels by optimizing the use of their assets.

Below is an excerpt from Descartes' most recent annual report outlining Descartes' sources of revenue:
Total revenues consist of services revenues and license revenues. Services revenues are principally comprised of the following: (i) ongoing transactional fees for use of our services and products by our customers, which are recognized as the transactions occur; (ii) professional services revenues from consulting, implementation and training services related to our services and products, which are recognized as the services are performed; and (iii) maintenance, subscription and other related revenues, which include revenues associated with maintenance and support of our services and products, which are recognized ratably over the subscription period. License revenues are derived from perpetual licenses granted to our customers to use our software products.
Basically, Descartes is providing transparency, automation, efficiency, and regulatory assistance throughout the supply chain of its customers.
The Network Effect
Let's get back to what Descartes, LinkedIn, and Facebook have in common. It is the network affect, although, the dynamics causing the network affect vary across these three.

Descartes achieves this, because the more customers it signs up, the more it makes sense for other customers to sign up. Furthermore, once they do, customers generally stay with a software provider like this for a long time, especially if it ties them further into its supply chain partners. The stronger the network effect becomes, the bigger the moat. LinkedIn and Facebook have tremendous network affects. It is difficult to imagine anyone catching up to them at this point. As such, they command tremendous valuations, although they are probably overvalued. However, with a forward P/E of 13, Descartes seems like a good deal if you believe they also are achieving a strong network effect, albeit a far less sexy.

The Numbers
Descartes is growing and I think the growth is going to accelerate. Below are financial statement screenshots from the latest annual report:

Income Statement -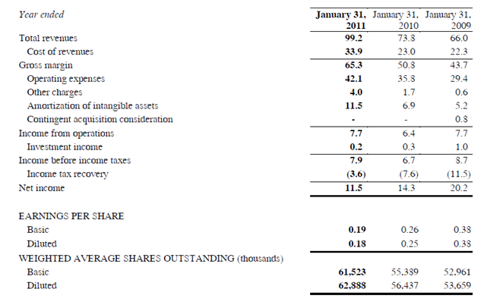 Balance Sheet -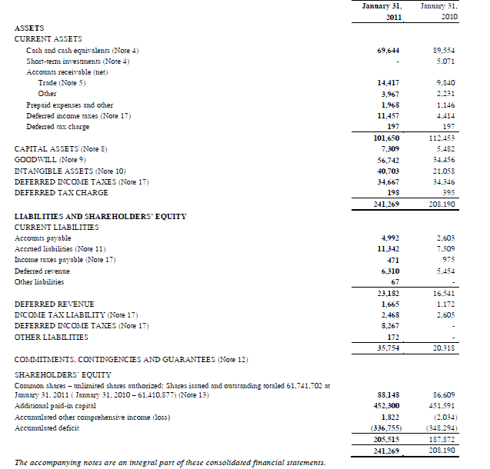 Note: I could not fit the whole cash flow statement in a screenshot, but you can find it here.

As you can see, revenues are climbing steadily for Descartes. Balance sheet looks healthy as well. The only thing I don't like is that the shares outstanding are growing. However, the gross margins are above 65% and the company is plowing a lot of money into growth. Descartes is growing organically and through acquisitions. According to management, its goal is to be a "Federated Network" that acts as a hub so that all its customers can communicate with each other. The way I look at it, Descartes is in a great position for growth:
1.) Descartes is signing up large clients and helping them streamline their logistics efforts. This gives Descartes a great opportunity to cross sell to other companies in the supply chain of its current customers. I would imagine this would make the sale easier, further achieving transparency across the supply chain.
2.) The world is only going to become more connected, and solutions like Descartes are going to be needed to avoid duplicative work by members in the supply chain.
3.) Advances in computer technology will only enable Descartes to provide more service and automate key areas of the supply chain in order to save money.
4.) Transportation, particularly global transportation, is becoming more regulated and onerous, which makes solutions like Descartes very appealing for companies overburdened with paper work. This is a key selling point for Descartes. How often is regulation your friend?
5.) Descartes revenue model allows companies to pay for a license or per transaction, which means customers have flexibility as well as scalability.
6.) Descartes is growing globally and has revenue from all over the world.
7.) Once a customer signs up for software like this, they generally stay on board for a long time making revenue nice and predictable.

In conclusion, assuming you agree with me regarding Descartes network effect advantage, one has to ask why Descartes is priced at 13 times forward earnings while LinkedIn and Facebook are priced into the stratosphere. This question is particularly relevant when considering that LinkedIn, Facebook, and Twitter do not exactly have their revenue models nailed down like Descartes. In my opinion, I think Descartes is a small company in an unsexy industry and is just flying under the radar. In a couple of years, I imagine Descartes being much larger or bought out for a nice premium by another company.
I have been watching Descartes for quite some time, and am planning to buy shares at some point. Marketwatch shows analysts with an average rating of BUY and a price target of $9.25. I agree. I think this is one people should get on board with, particularly after the most recent quarter of sales growth. Per the press release, in Q1FY12, Descartes had revenues of $27.1 million, up 27% from $21.3 million in the first quarter of fiscal 2011 (Q1FY11).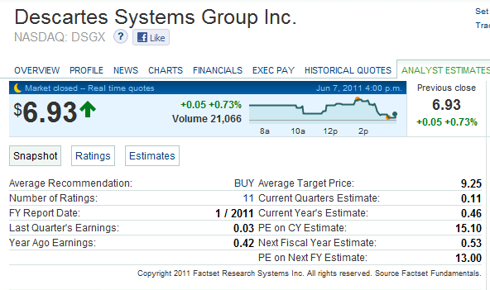 Disclosure: I have no positions in any stocks mentioned, but may initiate a long position in DSGX over the next 72 hours.