Morgan Stanley issued a research note that discussed why oil prices could head lower still. This has pushed oil prices lower by over 2% on the session, with WTI Crude hitting five-year lows. The sell-off in oil today is impacting the largest oil names, with both Exxon Mobil (NYSE:XOM) and Chevron (NYSE:CVX) trading lower. Of the two giants, we would note that Chevron looks a bit more attractive right now as it has been trading near its 52-week lows whereas Exxon Mobil has still yet to break through the $90/share level to test its 52-week lows in the mid $80/share area.
Chart of the Day:
WTI Crude is seeing heavy volume today as the benchmark hits fresh five-year lows on new negative research reports. It is obvious that OPEC is losing control of the market and Saudi Arabia could find itself losing key allies within the cartel as the lower oil prices are not just hurting US shale producers but also its fellow members. Saudi Arabia has vast cash reserves, but some of its fellow OPEC members have not built up sufficient rainy day funds to go along with this market share grab.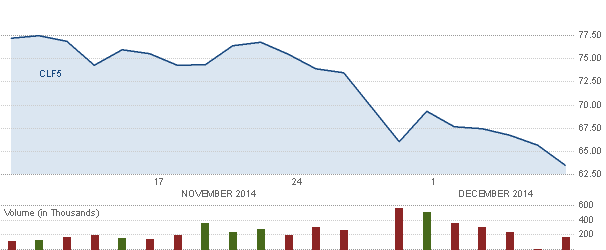 Source: CNBC
Commodity prices are as follows (at time of submission):
Gold: $1,193.30/ounce, up by $2.90/ounce
Silver: $16.275/ounce, up by $0.017/ounce
Oil: $63.42/barrel, down by $2.42/barrel
RBOB Gas: $1.7122/gallon, down by $0.0612/gallon
Natural Gas: $3.654/MMbtu, down by $0.148/MMbtu
Copper: $2.897/pound, down by $0.0055/pound
Platinum: $1,231.20/ounce, up by $11.70/ounce
Gulf Oil Spill
The Supreme Court rejected BP's (NYSE:BP) attempt to limit its exposure to the Gulf Oil spill in the agreement it reached with the government to set up a fund to pay out claims for those impacted by the spill in the region. Initial estimates of the total costs were $7.8 billion, but now the company says that they cannot accurately predict the total cost.
Comments made by finance director Brian Gilvary that showed up in the press this weekend indicate that the company is set to cut middle manager jobs due to the low oil prices. Also under consideration is the possibility to delay certain projects if oil prices remain in the $60-$70/barrel range. Since these comments were made before the Supreme Court decision, it is still unclear what impact that event will have on the company's plans moving forward regarding further job cuts and/or project delays.
Analysts Still Bullish On MLPs
Credit Suisse is the latest to issue a research report on where investors can find safety in the MLP space amid the recent sell-off in all things energy. Rather than looking at just the limited partner units, Credit Suisse instead argues that one should look to the general partners due to their more conservative nature.
Credit Suisse discusses Kinder Morgan (NYSE:KMI), Williams Companies (NYSE:WMB), Plains GP Holdings, LP (NYSE:PAGP) and Energy Transfer Equity, LP (NYSE:ETE) as attractive names with solid distributions. All of the above companies yield at least 2.9%, with some yielding close to 4.60%.
General partners tend to have better balance sheets than the limited partnerships that they control as the limited partnerships fund their acquisitions via the debt markets and are continually maintaining leverage in order to maximize tax benefits and maintain distributions (as well as distribution growth).
Weather Outlook
While temperatures are once again falling in the US south, the forecast is for the country as a whole to see temperatures rise over the course of this week. There is some bad weather coming, but once again its impact is expected to be muted and not anywhere as severe as the winter weather experienced last year or even last month. This is why the natural gas market is weak even as some are discussing positive medium and long-term trends developing with companies cutting back on drilling plans in certain areas of the country.
Disclosure: The author has no positions in any stocks mentioned, and no plans to initiate any positions within the next 72 hours.
The author wrote this article themselves, and it expresses their own opinions. The author is not receiving compensation for it (other than from Seeking Alpha). The author has no business relationship with any company whose stock is mentioned in this article.