The stunning drop in the price of oil has caught many unaware as the pain from the oil patch continues. West Texas Intermediate crude oil has dropped from the $95-$105 range it has traded at for the bulk of 2014 to under $70 per share. The article below will discuss how I'm managing my positions in the energy sector.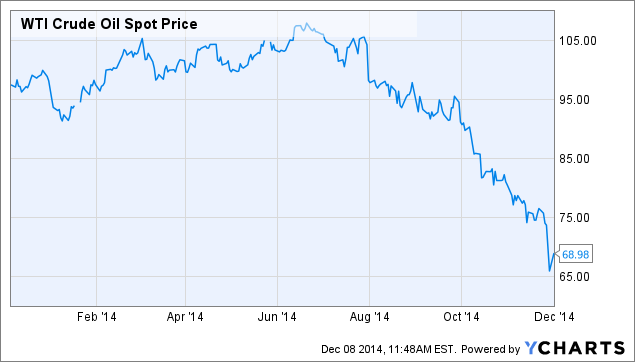 WTI Crude Oil Spot Price data by YCharts
The staggering drop shown in the chart above has battered the energy sector leading to losses for the year. The commonly mentioned issue is there is far more product available than end demand which has led to a supply glut and hence a lower share price. I don't dispute this view. However if we dig a bit further a different picture emerges. The sudden drop in demand in my view is a direct result of weak economic conditions in various parts of the world namely Japan and Continental Europe which has curtailed demand for energy. The EU is growing at a sub 1% rate with different parts of the union below this number. In essence the bulk of the EU is in a virtual recession which we have seen lowers demand for oil. Japan shocked many when it released third quarter GDP numbers. The numbers indicated the country contracted in the third quarter as the effects of a hike in the national sales tax reverberated through the industry. If we look at the third quarter data, a new picture emerges where recessionary forces have led to a sudden drop in demand for energy and with it a drop in the price of oil.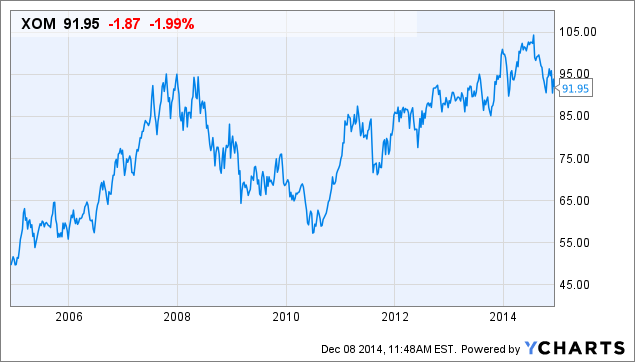 XOM data by YCharts
I will use Exxon Mobil (NYSE:XOM) as an energy proxy to demonstrate what tends to happen when we enter into such conditions. The most recent example of this sort of plunge happened in 2009 when the world entered into a recession. XOM earnings cratered from $8.69 in 2008 to $3.98 in 2009 as the demand for oil plunged. As economic activity began to pick up once again the price of oil rebounded along with XOM earnings which catapulted forward to $6.54 per share in 2010. A similar phenomenon was witnessed in the early part of the last decade as XOM earnings in 2000 of $2.41 declined to $1.61 in 2002 as worldwide economic conditions were less than favorable. As conditions improved in 2003, earnings rebounded to $2.56 per share. I have no doubt a snapback will occur in the near future once worldwide economic conditions improve once again.
How I am playing the expected rebound
I currently hold three positions in the energy sector with no desire to reduce my exposure. To the contrary, I will be looking to deploy additional capital into the sector next year as conditions firm up a bit. My two largest positions are in the vertically integrated oil companies namely XOM and BP plc (NYSE:BP).
I continue to view XOM as the best run company in the sector. I suspect an investment in XOM will outperform the broader averages over time. XOM currently pays a dividend north of 3% with a long track record of yearly increases. I plan on simply allowing the dividend to compound here. The secret to XOM long-term outperformance is management's aggressive repurchasing of shares outstanding. XOM has managed to decrease its share count by nearly a third over the past ten years including the share issued to acquire XTO energy. For a long-term shareholder the combination of an increasing yearly dividend along with a decreasing share count is simply unbeatable. I would not be surprised to see XOM use the weakness in oil to acquire some of the smaller players that may run into financial difficulty. I actually expect management to announce a fairly large acquisition to increase production. With interest rates being as accommodative as ever, I would like to see the company issue long-term debt to make the acquisition.
The second holding in the sector is BP. BP trouble are well known, and there is no point in rehashing them here. BP's smallish size may actually make them prone to being taken over by one of the larger players such as Royal Dutch Shell (NYSE:RDS.A). I would prefer if they remain independent as I am quite happy with current management. BP is currently trading below book value which in my view makes them a screaming bargain. Management is keenly aware of this and has been aggressively deploying funds to repurchase shares. BP recently announced it is accelerating the pace of its job cuts as the sudden drop in oil has accelerated the need for the cuts. While it is certainly less than pleasant to hear of people losing their jobs, I am heartened to see management reducing costs. BP dividend is currently north of 6% which is quite appealing. I am simply content to allow the dividend to reinvest and compound from here.
The third holding in the energy sector is Schlumberger (NYSE:SLB), the largest player in the oil services field. SLB tends to be a bit volatile as demand for their services is ultimately tied to the price of oil. The shares have collapsed since hitting a high of $118 earlier this year. I recently wrote about management's five-year earnings road map where they expect earnings to reach between $9-$10 per share in 2017. I have no doubt the price of oil will be far higher than it currently stands which will lead to sustained demand for SLB services. SLB is undergoing a compan-ywide cost reduction regiment which will make them far more efficient than they currently are. I will continue to hold the shares I purchased in 2013 at $76 and allow the dividend to compound. If the price trades down toward my original entry point I will look to double my position.
Speculative Play
I am actively watching Apache Corp (NYSE:APA) to stabilize before entering into a speculative position in the firm. APA book value is north of $85 per share which is quite intriguing. The bulk of the company's properties are located in the US which is comforting. The US is extremely stable which diminishes the risk of an abrupt cease in operations. Right now energy companies are in a severe tailspin and are being hit with in my view aggressive tax loss selling.
Sectors to Avoid
The offshore oil drillers have been absolutely crushed here as the recent drop in the price of crude has augmented the list of challenges facing the industry. In my view a perfect storm has descended on the industry as a glut of new equipment will be delivered next year just in time for a sudden drop in demand. I suspect most are attracted to the sector due to its above average dividend yields. However as we have seen with the recent announcement by Seadrill (NYSE:SDRL) dividends can also be eliminated. Let's hope management of the other companies does not resort to such a move.
Conclusion
The vertically integrated oil majors offer the best protection against falling crude prices. I'm content to continue to hold and reinvest the dividends as I believe the down spike will be temporary. I would like to thank you for reading and I look forward to your comments.
Disclosure: The author is long XOM, BP, SLB.
The author wrote this article themselves, and it expresses their own opinions. The author is not receiving compensation for it (other than from Seeking Alpha). The author has no business relationship with any company whose stock is mentioned in this article.
Additional disclosure: Thank you for reading the article. Investors are always reminded that before making any investment, you should do your own proper due diligence on any name directly or indirectly mentioned in this article. Investors should also consider seeking advice from a broker or financial adviser before making any investment decisions. Any material in this article should be considered general information, and not relied on as a formal investment recommendation.