Semafo Inc. (OTCPK:SEMFF) is a Canadian gold company focused on mining and exploration activities in Burkina Faso, West Africa. Semafo reported strong third quarter revenues and earnings, thanks to the recovery of high quality ounces at the Siou and Fofina deposits, both adjacent to the flagship Mana mine. Semafo has a healthy balance sheet with no debt and an increasing cash position. Low cash costs continue to return positive free cash flows even with soft gold prices.
Big financial and operational gains
Semafo registered net income of $11.2 million, or $0.04 per share, compared to the net loss of $0.8 million in the prior-year quarter. Earnings growth benefited from the 30% dip in total cash costs and robust gold production, but falling gold prices partially offset gains.
The new Siou and Fofina deposits near the Mana mine have contributed immensely to top and bottom line growth this year. Gold production grew 67% YoY to 64,700 ounces on the back of higher gold grades (2.91gpt) and gold recoveries (92%) derived at Siou and Fofina.
Gold sales grew 82% to 67,100 ounces at an average realized gold price of $1,260/oz. This bolstered revenues by 71% to $84.5 million, and beat analysts' expectations of $82.9 million.
Revenues could have been much better, taking into account the current bearish gold environment. The average realized gold price was $1,314/oz or 4% higher last year, thus taking away millions in potential sales and profits.
Low cash costs ward off gold price dips
The improving U.S. economy and labour market has lifted the U.S. dollar to five-year highs, significantly bearish for the metals market. Investors are shifting out of safe haven assets and moving into U.S. equities for greater returns.
The lousy bullion market could dip further if better U.S. economic data comes out or the U.S. Fed reiterates raising interest rates in the near-to-short term. Weaker gold prices would drive earnings lower for each metal producer.
Gold miners have slashed costs in response to falling gold prices to widen profit margins and maximize cash flows. Semafo has done an exceptional job on that front. Total cash costs for the quarter fell 31% to $555/oz. That is a competitive cost profile when compared to other gold peers (see Figure 1).
The total cash cost average is $650/oz among the sample population we put together in the following chart.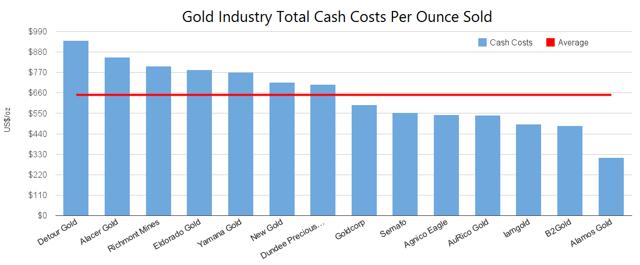 Figure 1: The chart compares U.S. cash costs per ounce from the most recent quarterly report from each respective company.
Semafo lowered its 2014 cash cost guidance to between $660/oz and $675/oz, from $695/oz and $745/oz. This reflects the lower cost production from the new high-grade Siou and Fofina deposits.
Production 2014 guidance estimates
Semafo increased its 2014 production guidance to between 230Koz and 235Koz gold, from 200Koz and 225Koz gold. That tops 2013 gold production of 158.6Koz. Investors have great confidence that Semafo will meet guidance, considering it has achieved annual production guidance for six consecutive quarters.
Given year-to-date gold production of 172.5Koz, we forecast the company to produce approx. 57.5Koz in the fourth quarter to meet the low-end (conservative) guidance estimate (see figure 2). That is lower gold production on a QoQ basis, but a 61% jump compared to last year's fourth quarter production.

Figure 2: Our Q4 estimates based on the company's production guidance and year-to-date production.
From the production guidance, we can calculate an estimate for fourth quarter and full-year revenues. We forecast fourth quarter revenues of approx. $71.88 million based on an estimated average realized gold price of $1,250/oz (down 0.80% QoQ) and low-end production estimates (see Figure 3). Given these projections, Semafo could beat analysts' expectations of $69.32 million and $0.07 earnings per share.

Figure 3: Our full year revenue estimates based on pro forma Q4 estimates and actual 2014 revenue data.
We forecast the company to make $282.6 million in 2014 annual revenues, 25% higher than a year ago, to meet the low-end production, and revenue estimates.
Big cash and no debt burden
A gold company carrying a large debt burden in the current lagging gold environment will no doubt scare off potential investors. Weak gold prices have squeezed profit margins, and cash flow creation, making it difficult for some gold miners to service debt.
Semafo, however, flaunts a $112.2 million cash pile and no debt on the balance sheet - an uncommon quality only very few share in the gold sector. Alamos Gold (ACI) and Alacer Gold (OTCPK:ALIAF) are the only two competing companies in Figure 1 that hold no debt on the balance sheet.
(Note: We have written about Alamos Gold and Alacer Gold previously. We encourage investors to read our reports on these two debt-free companies here and here).
Semafo has generated positive free cash flows for the past two quarters (Q2 = $31M; Q3 = $24M) and we think this will continue as long as the company sustains a low cash cost profile.
We expect two key catalysts to drive the stock price higher in the current quarter, including:
Increasing the existing reserve base at Siou by year-end, thus extending mine life and potential financial gains. Semafo has conducted drilling at the Siou deposit to better define gold grades and gold mineralization continuity between 180 meters and 225 meters vertical depth. The current reserve depth at Siou is approx. 180 meters.
Releasing drill results from the Banfora Gold Belt.
We have no position in Semafo Inc., but we may initiate a position in the stock after gold market volatility stabilizes. Tax loss selling and portfolio adjustments could add downward pressure on the stock before year-end. This could offer new and/or existing shareholders an opportunity to "buy the dip."
Disclosure: The author has no positions in any stocks mentioned, and no plans to initiate any positions within the next 72 hours.
The author wrote this article themselves, and it expresses their own opinions. The author is not receiving compensation for it (other than from Seeking Alpha). The author has no business relationship with any company whose stock is mentioned in this article.
Editor's Note: This article discusses one or more securities that do not trade on a major U.S. exchange. Please be aware of the risks associated with these stocks.