Investors were not thankful for OPEC's decision on Thanksgiving Day. No change in production targets means as much as 500,000 excess barrels are being produced every day. Assuming global oil consumption remains at today's levels, in less than one year oil explorers will only have to work half-time.
That's certainly not welcome news for the Exploration and Production sector, which has collectively lost 35% of its market capitalization in recent months (see chart below).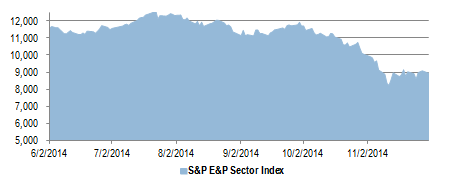 Where's the trough for oil prices?
While it's hard to predict how OPEC members will act/react in the coming months, and how the Iranian nuclear talks will progress (read: slowly), two things are almost certain: 1) brokers usually take risk off the table going into December, 2) the first quarter is usually a low point for E&P companies.
So in short, it's OK if you can't time the trough.
Combined with the sell-off, the above mentioned factors have created a perfect storm for E&P stocks in the near term. Now is a great entry point.
Being selective among E&P stocks
Investors should stick to high-quality names with diversified assets, proven technology, and strong management teams.
Big Cap or Small Cap?
There has been a debt-fueled E&P bonanza, partly driven by the US shale boom since 2009. As a result, the E&P sector has dipped its toe into the high yield market and hasn't pulled back -- yet. Many small-cap names in the space are debut debt issuers (see chart below). While some may argue that overcapacity and plummeting profits may render these companies potential takeout targets, event driven investing is a topic for another day. For now, it's prudent to stick to mid-to-large cap names which are usually diversified, have thrived for decades, and survived through both ups and downs.
If the names below are over-represented in your portfolio, it may be time to stop the losses before things get worse.
Chart: Small cap E&P companies that are debut debt issuers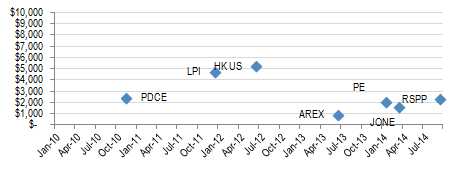 NAV Screen Results
This leads us to mid-large-cap E&P companies. A screen of Price/Net Asset Value (P/NAV) points to a few names with temporarily depressed valuations (note: for E&P companies P/NAV is a more meaningful metric than the commonly used P/E ratio for other sectors, as E&P companies' high amortization expense and associated assumptions make P/E less comparable). Historically the sector trades around 100-115% of NAV. So we focus on stocks with P/NAV below 100%.
The list includes Anadarko Petroleum (NYSE:APC), Noble Energy (NYSE:NBL), Cobalt International Energy (NYSE:CIE), Denbury Resources (NYSE:DNR), and EQT Corporation (NYSE:EQT).
Each stock from the list has room to run from these abnormally depressed levels. Take Anadarko, an experienced player that's been a leader in the US shale boom. Third quarter liquid production at the company more than doubled compared to last year's levels.
Another key player in the Wattenberg field is Noble Energy, and it too looks attractive. The company has diversified into West African (22%) and Mediterranean fields (11%). Noble's story is compelling given its geographic diversification, its leading role in shale drilling, and the implementation of its Integrated Development Platform.
Remember, Warren Buffett said the average investor can expect to see four or five serious market dislocations in a lifetime. Currently we have one staring right at us. Investors with "mental fortitude" will surely benefit from this holiday gift from OPEC.
Disclosure: The author has no positions in any stocks mentioned, and no plans to initiate any positions within the next 72 hours.
The author wrote this article themselves, and it expresses their own opinions. The author is not receiving compensation for it (other than from Seeking Alpha). The author has no business relationship with any company whose stock is mentioned in this article.