Konami (KNM) is the fifth-largest game company in the world by revenue and is know for popular game series such as Castlevania, Contra, Dance Dance Revolution, Gradius, Frogger, Suikoden, Ganbare Goemon, Metal Gear, Pro Evolution Soccer, Silent Hill and Yu-Gi-Oh!
In this article I will be focusing on the influence that its football game: Pro Evolution Soccer (PES from now on) could have on its share price and its earnings, as the release of PES 2015 might provide a catalyst for the stock that is quoting near a 52 week low.
Years ago, PES used to be the game to play whenever you wanted to play soccer or football on your Playstation 2. But since the arrival of FIFA, PES and Konami had been lagging behind, in quality and in number of units sold.
Today, investors might be wondering if the launch of PES 2015 is providing them with a unique opportunity as Konami's PES 2015 seems to be greatly appreciated by the gaming community and is even getting higher ratings than FIFA 2015 from numerous gaming websites.
The gaming community on PES 2015
If football games are the only thing you play, it's worth owning both in a bid to satisfy every mood. Most importantly, though, is knowing that PES 2015 is not inferior to FIFA 15. That in itself represents a huge step forward for a series that, for a time, looked as though it had no chance whatsoever of getting back to digital football's elite table.
- Gamespot.com: 8/10: GREAT
After an extensive rebuilding process, PES 2015 is a series back to its best. It embraces its PS2-era roots while offering almost everything you could want from a modern football simulation. The marketing blurb isn't just braggadocio on Konami's part; the pitch really is theirs.
- IGN.com: 9/10: AMAZING
Pro Evolution Soccer 2015 takes important strides forward on graphics, presentation and game modes, while out-performing its arch rival FIFA on the pitch. Official team names, more accessible game modes and some tweaks to tackling would all be welcome, but it's great to see Konami's football game back on form.
- Trustdereviews.com: 8/10
The game even won the reward "Best Sports Game" of Gamescom 2014, which is a big deal in the gaming industry.
And while the critics seem to be quite happy with FIFA 2015 this year as well, a lot of players seem to be disappointed and might decide to get a copy of PES 2015 instead of FIFA. Following, metatrics.com - one of the leading review sites in the world - PES users are much happier with their game than FIFA users. As FIFA gets a 5.9/10 based upon 551 ratings and PES a score of 7.5/10 based upon 217 user ratings. This clearly shows the difference in user satisfaction.


This will have a massive positive impact on the number of copies that PES 2015 will sell. And not only is it beating FIFA this year, it is also being exposed for the first time in 6 years to a generation of FIFA players that never even looked at PES in previous years. The fact that PES is now able to put itself back in the spotlight is definitely positive for future versions of the PES series.
When taking a look at the graph below, you might think now is the time to buy some Konami shares. Unfortunately this is not true.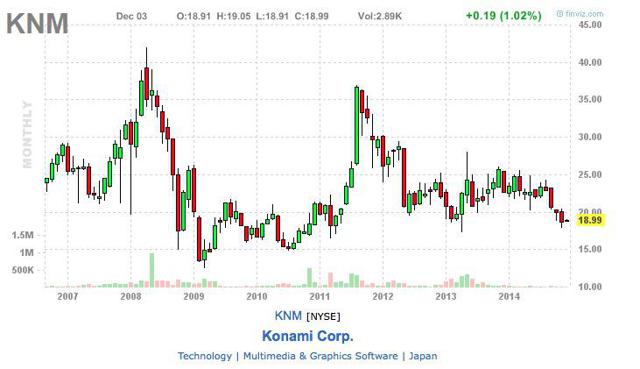 How many PES 2015 copies will Konami actually sell?
During the following paragraph I'll be calculating the amount of PES 2015 copies I expect Konami to sell in total, based on how previous versions have performed during their first week of being available to the general public.
In order to do this, we first have to take a look at how previous PES versions have performed.
Total amount of units sold per version:
PES 2009: 6,840,000
PES 2010: 5,960,000
PES 2011: 4,830,000
PES 2012: 3,560,000
PES 2013: 2,350,000
PES 2014: 1,700,000
As one can easily calculate, the average total amount of units sold per version is: 4,200,000 copies.
Now, we'll take a look at how many of these sales were achieved during their first week.
First week sales per version:
PES 2009: 341,985 (5% of all copies)
PES 2010: 435,834 (7.3% of all copies)
PES 2011: 442,369 (9.15% of all copies)
PES 2012: 407,710 (11.37% of all copies)
PES 2013: 187,292 (7.96% of all copies)
PES 2014: 140,260 (8.2% of all copies)
As one can easily calculate, the total amount of units sold in its first week of launch is on average: 325,908 copies.
This indicates that the percentage of copies that is sold in its first week represents, on average, 7.75% of its total sales that it will achieve.
Having this in mind, let's take a look at PES 2015's first week sales.
PES 2015 FIRST WEEK: 367,751 copies.
So, as one can easily calculate, it is to be expected that PES 2015 will sell something around 4,745,174 copies, if all goes well.
If my calculations are correct and I'm not missing something, PES 2015 is expected to sell almost as much copies as PES 2011, which sold 4.8 million copies.
Compared to last year's 2014 version, PES 2015 is about to sell 179% more copies. A drastic turn-around.
Now, before we go any further, I want the reader to know that Konami's fiscal 2015 runs till March 31 of 2015. So that's only 3 months to go and only 3 months for PES 2015 to make a positive impact on its earnings.
Possible impact of strong PES 2015 sales on FY 2015
If we look at the performance on how previous PES games (I looked at PES 2011 as a reference) performed during their first three months after launch, it is safe to say that PES 2015 will sell at least 2 million copies during this period.
So when taking these sales into account at an average price of €50 or +-$61 per copy, Konami's Digital Entertainment business would be boosted by 14.8 billion Yen or $123 million during fiscal 2015 because of PES 2015.
And with video games: every copy sold should equal some extra money to the bottom line. To built the game, the developer has to invest heavily at the beginning i.e. $20 million, but from then on it's all about bringing the game to the people. Costs related to this are mainly the administration costs, the marketing costs and the actual production and delivery of the game i.e. an additional $20 million.
In previous years, costs of goods sold + rendered services and SG&A expenses were +-160 billion Yen ($1.33 billion) and +-52 billion Yen ($433 million) respectively. But these costs represent the total amount of costs off all segments combined and give no clear view on how high Konami's actual profit margins on its video games are.
So as it is quite impossible to find out how high its profit margins on a game like PES are, I've decided to take a look at how big the impact of the PES series is on the Digital Entertainment segment.
Impact of the PES series within the Digital Entertainment segment
In the two tables below, one can see that the "Digital Entertainment"segment is vital for the survival of Konami as it delivers 47% of its total revenue and is, together with the "Gaming & Systems" segment, the only profitable segment of the company.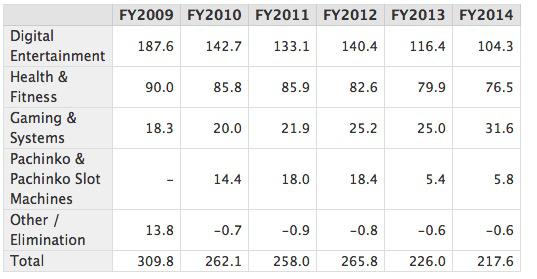 Revenue overview Konami FY 2009 - FY 2014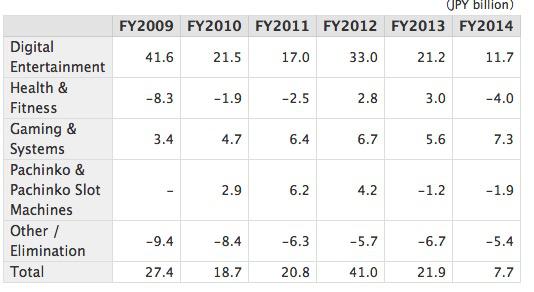 Operating Income overview Konami FY 2009 - FY 2014
First of all I want the reader to notice that the operating profit margin of the "Digital Entertainment" segment equaled 11% in 2014 and want the reader to know that this was the year where Konami only sold 1.7 million PES copies and thus that video games had a low share in the total D&E revenue mix.
When looking at 2009 however, the "Digital Entertainment's" operating profit margin was a staggering 23%. Konami sold 7 million copies of PES during this period and PES was responsible for ~34% of total revenue for the segment.
So the marginal impact of its video-game division within the Digital Entertainment division is significant for the entire company as Konami's highest margins are clearly achieved by selling video-games.
For 1H of Fiscal 2015, the company reported total revenue for the Digital Entertainment segment of 44 billion Yen so far. If we'd assume the same performance for 2H of Fiscal 2015 and include our expected 14.8 billion Yen from PES 2015 for gaming consoles, we'd be at 102 billion Yen for fiscal 2015 of which 14.8 billion Yen will be from PES. Thus representing a 14% piece of the pie. This increase from 8% to 14% compared to last year, should lead to a decent increase of at least a few percent in operating margin for the segment and the company.
Consequently, I've decided to use a ~14% operating margin (vs. 11% in 2014) for the Digital Entertainment segment during fiscal 2015, based on the above stated facts and in line with the segment's fist half-year results.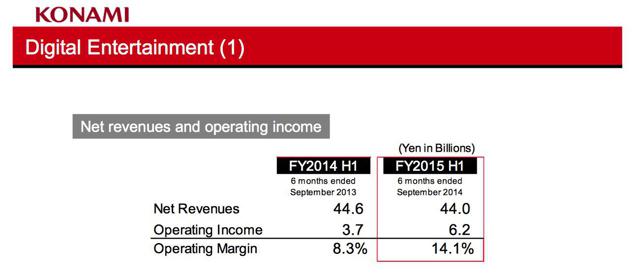 Any upside potential?
Now, let's put everything together for Fiscal 2015 and take a look at Konami's valuation and see if the stock has some decent upside potential while quoting at the bottom of its trading range.
(All figures I used can be found here & throughout this article: for The Digital Entertainment segment I used my own estimates. All other figures are what the company is projecting)
My Digital Entertainment guidance comes 3 billion short of the company's own guidance as they probably have included stronger sales during the second part of the year as they launched a new Yu-Gi-Oh! TV-series and the appropriate play-trade cards.
| | |
| --- | --- |
| Net Revenues | FY 2015 Guidance |
| Digital Entertainment | 102 Billion |
| Health & Fitness | 76 Billion |
| Gaming & Systems | 30 Billion |
| Pachinko & Pachinko Slot Machines | 10 Billion |
| Other/elimination | -1 Billion |
| TOTAL: | 217 Billion Yen |
| | |
| --- | --- |
| Operating Income | FY 2015 Guidance |
| Digital Entertainment (>~14% margin) | >14.28 Billion |
| Health & Fitness | 1 Billion |
| Gaming & Systems | 7 Billion |
| Pachinko & P. Slot Machines | 0.0 Billion |
| Corporate/elimination | -6 Billion |
| TOTAL: | 16.28 Billion Yen |
My net income forecast for fiscal 2015 comes in at 9 Billion Yen or $75 million (as I'm assuming net income to be ~45% of operating income like last year). The company's own guidance is aiming at 7 billion Yen net income, as I think they are underestimating the amount of PES copies they'll sell this year after only selling 1 million copies last year.
So there's definitely a chance that Konami is about to beat its own guidance, which might elevate its share price temporarily.
However, at its current share price of $18.50 the company is worth 2.7 billion and is quoting against a forwarded P/E ratio of 36 when using my estimates. This makes it hard for me to call the stock cheap or buy-worthy.
A more appropriate price for the stock would be $14 per share, as the company has a book value of $1.62 billion. A $14 share price would also give the stock a much fairer valuation of 24 times its fiscal 2015 earnings, closer to its historic average of 20.
At its current share price of $18.4, the stock therefore has 24% downside.
Delisting
Besides that the company is still quite expensive, even after including the strong PES sales, it is worth mentioning that Konami is planning to start the delisting process for its American shares.
KONAMI CORPORATION (the "Company") hereby announces that its Board of Directors has resolved, at a Board of Directors' meeting held today, that the Company will apply for voluntary delisting of its American Depositary Shares ("ADSs") from the New York Stock Exchange (the "NYSE"). In connection with the delisting, the Company intends to file for the termination of registration of its ADSs under the U.S. Securities Exchange Act of 1934, as amended (the "Exchange Act").
If you buy shares of Konami today, you'll only be able to sell them through the Over the Counter Bulletin Board (OTCBB) from mid 2015 onwards, which will make it less easy for American investors to trade their shares.
Conclusion
Konami seems to be back on track with its PES series as it created the best football/soccer game of the year. But investors should not be fooled by its seemingly low share price. Konami remains a value-trap as even after including the strong expected PES sales, its expected P/E remains far above normal levels.
A more appropriate price would be $14 per share, which would make the stock worth a buy as it is in the midst of a turn-around that might represent decent opportunity for investors - but only at an appropriate price - in this case $14/share.
Disclosure: The author has no positions in any stocks mentioned, and no plans to initiate any positions within the next 72 hours.
The author wrote this article themselves, and it expresses their own opinions. The author is not receiving compensation for it (other than from Seeking Alpha). The author has no business relationship with any company whose stock is mentioned in this article.
Additional disclosure: The stock is attractive, but only at a fair price of $14. Therefore I prefer to give this article a LONG tag.