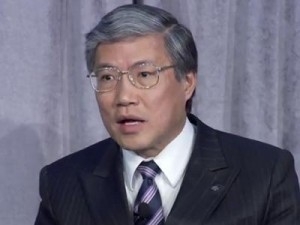 Richard Koo: 'I'm the better Keynesian. Spend, spend, spend!'
Richard Koo, the man who recommends massive government spending as the 'cure' for recessions, in spite of the fact that he resides in Japan, where the failure of this policy could be observed first hand for over 20 years running, has taken it upon himself to snipe at a fellow Keynesian, Paul Krugman. Allegedly, Krugman's recommendations are not favoring deficit spending enough.
This is of course incredibly funny, given that Krugman has yet to encounter a government deficit he thinks is big enough. His main failing, according to Koo, seems to be that he wanted a lot of money printing from the Fed as well, or that he expected it would 'work'.
Paul Krugman's belief that further monetary stimulus, specifically QE2, would be capable of supporting the U.S. economy misled the Obama administration and has put the U.S. in a difficult economic policy position, according to Nomura's Richard Koo.

Koo says that while U.S. officials and Paul Krugman read his book on balance sheet recessions, they refused to admit more fiscal stimulus, that is government spending, was the only means by which U.S. could grow. Instead, they convinced themselves that more monetary stimulus would be enough to jumpstart U.S. growth.
(our emphasis)
Consider us rolling on the floor with laughter. The economy, according to Koo (and according to Krugman, for that matter) is apparently a stalled engine in need of 'jumpstarting'. Of course we all know how well Mr. Koo's recommendations on deficit spending have worked in Japan – where for some reason, said 'engine' still refuses to be 'jumpstarted', in spite of Japan's government amassing the by far biggest fiscal debt among industrialized nations.
The so-called 'balance sheet recession', which Koo and his fans insist is some kind of great new revelation is of course nothing but the Keynesian 'liquidity trap' concept warmed over. To accuse Krugman of relying solely on more money printing instead of more deficit spending of course laughable. Krugman himself keeps insisting that the government is not spending enough.

The result of QE2 has not lived up to administration, or Krugman's expectations, according to Koo. Instead, we're left with only two policy choices: protectionism and dollar devaluation, or more fiscal stimulus.

It's important here, to note, WHY QE2 doesn't work, according to Koo… essentially all that happened is that by buying up Treasuries, investors were forced to look for returns elsewhere, in places like stocks and commodities. The latter, the commodity gains, ended up slowing down the economy. What's more, QE2 has had no positive impact on bank lending whatsoever.

Koo notes that, because of the current political situation, fiscal stimulus now seems unlikely. Consensus has formed around austerity, and that would need to change for more government spending to be put in place. Standing in the way is Republican opinion, Democrat acquiescence, and ratings agencies who seem prepared to downgrade the U.S.

The alternative, protectionism and dollar devaluation, could be disastrous if history is any example, according to Koo.
It should be noted that Koo's critique of 'QE2' is entirely correct – it has had precisely the effects he mentions and bank lending to the private sector has certainly remained subdued. He is also correct that 'protectionism and dollar devaluation would be disastrous'.
However, he presents us with a set of false choices, under the erroneous assumption that the government must intervene in the economy to 'save it'. He says ' we're left with only two policy choices: protectionism and dollar devaluation, or more fiscal stimulus', but that is simply untrue. As Ludwig von Mises noted a long time ago already, the best thing the government can do when faced with an economic bust is absolutely nothing. The only way to bring the economy back to a sound footing is to allow market forces to correct the imbalances in as unhampered a fashion as possible. The problem of the economy is not a 'liquidity trap', even if it comes by another name, its problem is that the previous credit expansion has left it with a discoordinated productive structure and a grave imbalance between production and consumption.
No amount of government intervention can alter this fact in a positive manner – it can only lead to even more distortions. In what way any of the tree 'policy choices' we are now allegedly left with would improve this situation is a complete mystery. It should be obvious that neither protectionism nor dollar devaluation can possibly improve the economy's status. However, it should be just as obvious that deficit spending is likewise destined to fail. Every single cent the government spends must be taken from the private sector, since the government produces no wealth and possesses no hidden stash of resources it can draw on. So to the exact same extent as the government increases its spending, the private sector will be forced to reduce its spending and investment. Resources will then simply be commandeered by bureaucratic fiat instead of the voluntary decisions of market participants. How is that going to improve the economy? As a matter of fact, the past decade has not only seen the biggest bout of monetary inflation of the entire post WW2 era, it has also seen the biggest increase in deficit spending since WW2. Obviously, neither the former nor the latter have had any positive effect so far. We will never understand why people like Koo and Krugman do not for once stop to think about this and consider that their theories might simply be wrong.
Of course, we still find it eminently entertaining when these Keynesians begin sniping at each other and start arguing over who has the 'better plan'. Why not just abolish capitalism and be done with it? If these people were right, the Soviet Union's GOSPLAN agency would be the institution most worthy of emulation. A pure command economy provides after all the best conditions for statist intervention. According to people like Koo and Krugman nothing could be better, since that would enable all their plans to be implemented in full.
(Photo via Businessinsider.com)