Alaska Communications Systems Group, Inc. (NASDAQ: ALSK) has officially shed its wireless business by selling its 33% stake in Alaska Wireless Network to GCI for $300 million. The move transforms Alaska Communications business model from a local telephone company to a focused broadband and IT solutions provider. ALSK will use $250 million of the proceeds to pay down debt, which reduces adjusted net leverage ratio to just over 3 and is below the level needed to pay dividends. Almost overnight, the sale has transformed the Alaskan based company from one of the highest levered companies in its industry to one of the lowest.
Thesis
The accelerated debt reduction as a result of the wireless sale is paramount because it not only allows ALSK to specialize in investing in a more attractive business segment but also creates two important catalysts that now seem a near certainty over the next 12-18 months. An acquirer now views ALSK as a much safer prospect because the liquidity risks have all but been completely removed. The company is now free to pay dividends, which is a primary reasons why large institutional investors (who have the ability to quickly move stock prices) buy telecom companies like ALSK.
CEO Anand Vadapalli mentioned some points worth noting on the recent investor call discussing the sale.
Mr. Vadapalli said the customers he spoke with "loved the fact that we [now] have one of the strongest balance sheets in the sector" and they "loved the fact that they are dealing with a company that has a strong financial future" and "that he could not be more excited about the opportunity that is in front of the company"
When asked about how the transaction affects the company's ability to pay dividends Mr. Vadapalli said this:
"if you look at the combination of growing top line, lower leverage, growing EBITDA, growing cash flow, from my perspective the management team has created the perfect combination of events for the board of directors to now focus on all the things the board can do to create value for our shareholders and I can assure you that is hugely important and very high on the board's agenda"
-Alaska Communications CEO Anand Vadapalli, Investor Presentation, Sale of Wireless Business
Why This Opportunity Exists
Alaska Communications has been doing business in Alaska for over 120 years. Leverage and payout ratios became unsustainable and current management recognized that the company's financial future was at risk. Management responded by cutting the dividend and outlined an ambitious three year business plan that would shift the focus from the highly competitive, capital intensive wireless business to the more lucrative business broadband and IT services segment. Thus far, CEO Anand Vadapalli has executed magnificently on the turnaround plan as ALSK has gone from being about $550 million in debt with high financial risk to being the one of the lowest levered companies in its sector with an industry leading broadband growth rate of about 11.5% ALSK will now be able to pay a sustainable dividend for years to come. Moreover, the company will be able to invest all of its capital at 20%+ returns per year in a broadband segment that management projects will grow by 50% over the next five years.
Lower Leverage Substantially Reduces Financial Risks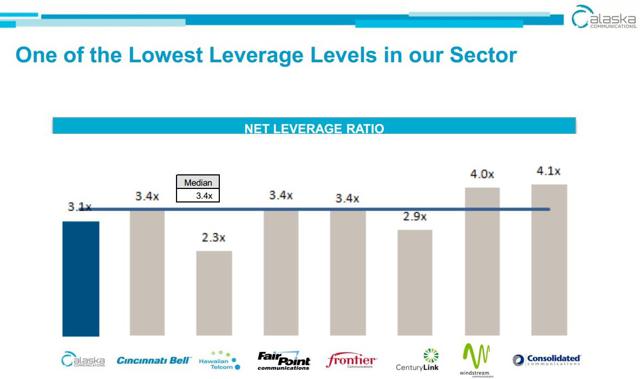 Source: Investor Presentation, Sale of Wireless Business
After taxes and other closing fees, ALSK will reduce its net debt from approximately $415 million to $165 million. CFO Wayne Graham has said the move will eliminate $4 million of negative margins from the retail wireless business and create $8 million in cost synergies associated with simplifying its business model for a total benefit of $12 million. ALSK received a premium value for their AWN stake, selling the joint venture for about 6.5 times EBITDA. ($50 million in EBITDA - $4 million loss from wireless operations *6.5 = $300 million) The sale reduces ALSK's EBITDA by $38 million because ALSK will no longer receive the $50 million preferred distribution upon closing of the sale. Subsequently, adjusted EBITDA is now projected to be $54 million on a pro forma basis. See Ted Barac's analysis for a further breakdown on the pro forma figures of the deal.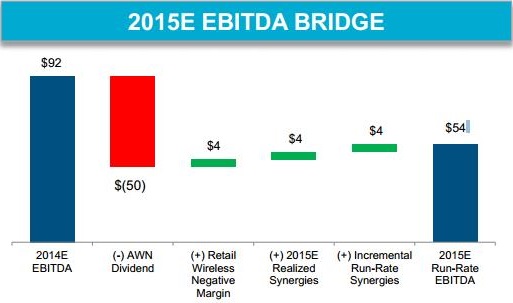 Free to Specialize in High-Margin Business Broadband
ALSK is now free to focus on its more lucrative broadband and managed IT solutions business which have historically generated the industry leading returns of about 11.5%.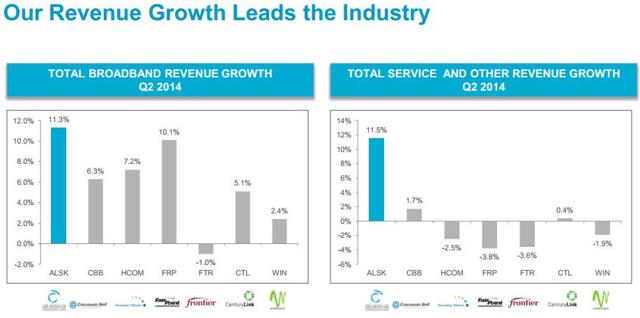 Source: Q32014 Earnings Call Slides
ALSK's sale of its wireless assets now frees up 100% of its estimated $35-$40 million of capital spending budget to maximize returns on its lucrative broadband investments. (20%+ IRR on invested capital) ALSK's high margin business and wholesale revenues account for half of the company's total revenues and executives have estimated the revenues will grow by 50% over the next five years. ALSK should realize their lofty expansion goals because of their strong customer relationships and (as evidenced by the CEO's comments) strengthens the reputation of the firm. ALSK's broadband customers includes some of the leading businesses in Alaska: key customers in the energy and government sectors include Conoco Phillips, Exxon Mobil, Halliburton and the state of Alaska. CEO Anand Vadapalli has repeatedly emphasized the fact that these contracts were won because of ALSK's superior network quality, which should only improve from the resulting synergies of the wireless sale. ALSK should now be able to secure more lucrative contracts with industry leading energy companies since oil companies are investing more in their Alaskan operations in response to Alaska's new oil tax laws that have spurred over $6.25 billion of investments in the Alaskan energy sector. The sale of the negative margin wireless business will allow ALSK to strengthen the already high quality of its broadband infrastructure and free up 100% of its capital and human resources to devote further expansion efforts in the industry leading business broadband segment.
Source: Conoco Phillips Alaska Oil Tax Reform
Lower Leverage Resulting From the Sale Makes Alaska Communications a More Attractive Acquisition Target
CFO Wayne Graham has more than 25 years experience and has led more than $3 billion in M&A transactions over his career. On the recent investor call addressing the wireless sale he said that Alaska Communications received a premium for the wireless business at $300 million. Mr. Graham's expertise and proven track record executing value enhancing transactions coupled with ALSK's now lower leverage makes an acquisition at a similar multiple to the wireless business now more likely.
If we assume that an acquirer would value ALSK at a similar 6.5 times EBITDA multiple to the wireless business sale, then ALSK's implied equity value is likely $215 million, or $4.35 per share - a 124% premium over the closing price of $1.94 on Dec. 5th. ($54 million in EBITDA*6.5 - Net Debt of $136 million)
Conclusion
The wireless sale comes as a pleasant surprise for Alaska Communications shareholders because the acquisition risks associated with the company's debt are now virtually nil. Moreover, ALSK will now be free (according to current debt covenants) to pay dividends once management deems the timing to be right. ALSK has shed an unprofitable business segment in order to focus all of its resources on expanding its high-margin, industry leading broadband segment. With the wireless sale, management did in about 6 months what most thought would take 3-5 years. They have divested from a negative margin business in order to increase shareholder equity by paying off debt - what CEO Anand Vadapalli correctly refers to as "a mortgage on the business." Two important catalysts have resulted from the unexpected sale that will unlock ALSK's substantial value. First, ALSK is more attractive as an acquisition target because of the reduction of leverage risk. Second, the company now has the ability to pay dividends - an important catalyst that is a buying signal for large institutional investors to finally take notice of a small neglected telecom company like ALSK. Management has superbly executed on a business plan three years in the making. Thursday Dec. 4, 2014 was the turning point for ALSK and the sale of its wireless business is the unexpected catalyst that will unlock the tremendous value hidden in this company.
Disclosure: The author is long ALSK.
The author wrote this article themselves, and it expresses their own opinions. The author is not receiving compensation for it (other than from Seeking Alpha). The author has no business relationship with any company whose stock is mentioned in this article.
Editor's Note: This article covers one or more stocks trading at less than $1 per share and/or with less than a $100 million market cap. Please be aware of the risks associated with these stocks.