While the markets have been posting incredible gains since the end of the recession, last week the S&P 500 (SPY) and Dow Jones (DIA) posted their 5th straight week of losses. Many investors could have seen this coming since as the saying states "what goes up must come down". And in the case of such a large bull rally for well over a year, the market was well in need of a corrective wave. Another factor increasing the speed of the recent corrective wave is the old investor saying of "sell in May and go away". History demonstrates that stock markets usually perform poorly between May and October. No one knows the exact reason but some believe that this is the time that most portfolio managers are taking vacations and investors themselves would rather be worry free during summer months.

Although these could all be factors contributing to a correction, I believe there is another larger factor that is weighing and will continue to weigh on the markets. This number one factor is the stalling growth of the U.S. economy.
Let's face it, there is no stronger factor that can power the markets than the world's most influential country, the United States of America. The economy has seen a small and steady decrease in unemployment, a slight growth in GDP, an increase in consumer sentiment, an increase in construction spending as well as other positive economic indicators. But recent indicators are definitely not looking as positive. Obama claims that there is no risk of a double dip recession to calm the souls of the U.S. citizens. Yet in my opinion whether we would like to cover it up with roses or not, the risk still remains.
The economy is far from being in a steady recovery. As seen recently, one of the most concerning factors of the economic recovery is the lack of job creation. A recent article states that there are 4.6 unemployed people, on average, for each available job posting in April. In a healthy economy, the ratio is more like 2-to-1. If people don't have jobs, they won't spend. If they don't spend, companies will likely have less profit. If companies have less profit, they will have less money for capital spending as well as hiring and expanding. If all these factors happen, the U.S. GDP and its growth is harmed and the economy remains in a vicious cycle. It is quite concerning to see the U.S. unemployment rate rise back to 9.1% in the recent jobs report as this represents that almost 1 out of 10 Americans remain unemployed.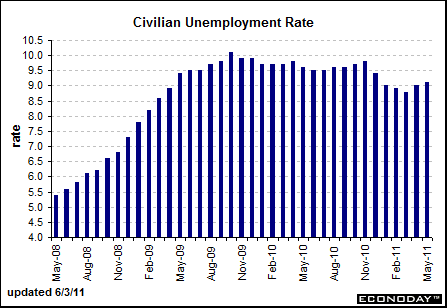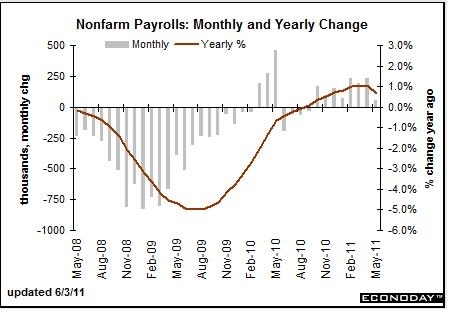 As seen in the charts above provided by Bloomberg, both unemployment rate and non farm payrolls are not showing good short term trends. Non farm payrolls gained only 54,000 in comparison with a consensus of 180,000 for May, while the unemployment rate inched up from 9.0% to 9.1%. Analysts had expected a drop to 8.9%.

Another concerning factor is that American interest rates remain at rock bottom levels. Even with extremely low rates, the economy does not seem to want to step into high gear. The federal government has even recently tried to buy back $600B worth of federal bonds to help push rates even lower, but this does not seem to have helped the economy.

On top of the extremely low rates, the government has been continuously trying to stimulate the economy through QE1, then QE2. Some believe QE3 could be initiated if the economy keeps showing a lack of growth. It seems unlikely at the moment since Bernanke mentioned Wednesday that there is not much more the Fed can do. Pumping the economy with these stimulus programs is like injecting the economy with steroids; it will do well while the quantitative easing lasts, but once it starts wearing off, the economy will go right back to where it started.

Although the quantitative easing measures may have helped bring some positivism back to the U.S. economy, many recent signs are showing that the economy is evidently not in the best shape. Consumer Confidence seems to also be decreasing in the short term. As seen in the graph below, it has fallen from a recent high of over 70% to recently missing analysts estimates of 66.5% and falling to 60.8%.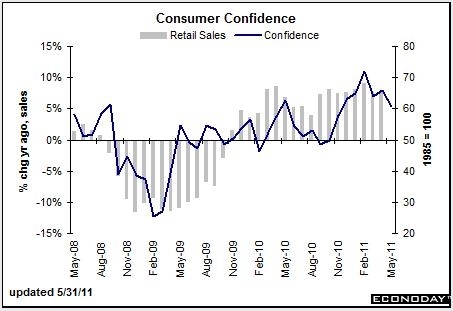 A last factor that could have Americans worried is the American debt situation. For a start, the consumer debt situation is still frighteningly high. A recent article states that consumers borrowed more for the seventh straight month. This brings the seasonally-adjusted annual level of consumer debt to $2.43 trillion.
Although the consumer debt level is surprisingly high, the most staggering figures come from the U.S. government itself with a debt of $14 trillion. Both Moody's and Standard and Poors have stated that they will review the American government credit rating if they do not raise the $14.3 trillion debt ceiling. If reached, it will have terrible consequences for the American economy as well as raising borrowing costs. Spending cuts must be implemented and quickly if the federal government wants to fix this dismal situation. This could also be one of the reasons why Bernanke appears to be saying that the Fed has exhausted all options and that he seems to be inferring that there will be no further quantitative easing. They certainly can't afford much more spending.

Click to enlarge: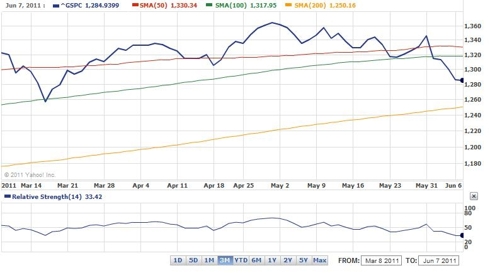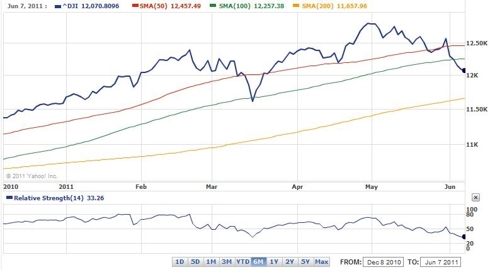 As for the charts, the S&P and Dow Jones are at their lowest since March. Both indexes are trading below both their 50 and 100 day moving averages and are showing quite weak relative strength measures, 33.42 for the S&P 500 and 33.26 for the Dow Jones. Some may believe such low RSI levels are showing oversold conditions. Yet despite an effort to make gains, on Wednesday both indexes ended in the red by the end of the day, continuing to show weakness. A key level that most investors will be looking out for is a crossing of the 200 day moving average. The 200 day moving average is usually one of the most important indicators to track longer term trends and a break of this line could mean a further decline is coming. For the S&P 500 this key level is near 1250, for the Dow Jones it is near 11,658.

For now, most of the concerns over the U.S. economy and its recovery have been apparent in short term economic indicators. It will be important to keep tracking these indicators to conclude if the economy is in fact going to be in the midst of another financial crisis or if it has simply been taking a short term breather.

Disclosure: I have no positions in any stocks mentioned, and no plans to initiate any positions within the next 72 hours.