I continue to believe that (NYSE:MCD) is in serious trouble and the way ahead is full of uncertainty. The company needs to address a number of issues, before the stock will work again.
Today's sales trends are just further proof that there is more downside that upside in the stock.
McDonald's reported dismal same-store sales for the month of November this morning, mostly missing estimates across the board:
Global comps -2.2% vs -1.9% estimate
U.S. comps -4.6% vs -2.1% estimate
Europe comps -2.0% vs -2.0% estimate
APMEA comps -4.0% vs -3.8% estimate
Last month, we warned that we've yet to see a light at the end of the tunnel signaling a true recovery. Today, we echo that sentiment.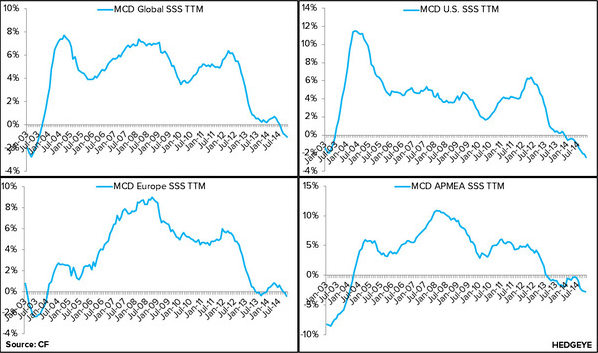 Global and U.S. comps were particularly woeful, with severe underperformance in the U.S. leading the way due in part to "strong competitive activity." This is the worst monthly comp McDonald's has reported for the U.S. in over a decade. Importantly, management lowered Q4'14 EPS guidance by $0.07-0.09 due a strengthening U.S. dollar.
While Europe performed in-line with expectations, weakness in Russia, France, and Germany resulted in a -130 bps sequential decline from October. APMEA, despite being down -4.0% for the month, was the only region to record a sequential improvement in comps on both an absolute and two-year basis as Japan and China attempt to recover from the supplier issue. As a reminder, management previously announced this issue will negatively impact EPS by $0.07-0.10 per share in Q4'14.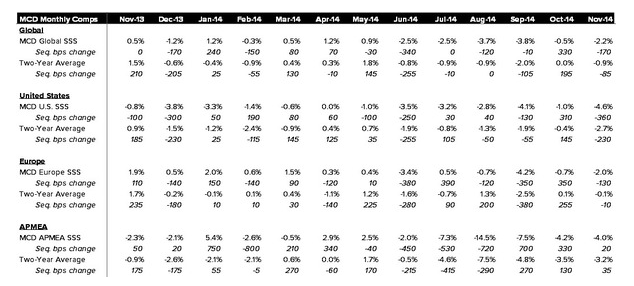 Rhetoric was quite similar to that of a month ago, as management noted they are working to restore momentum in the U.S. by enhancing marketing, simplifying the menu, and shifting toward a more locally-driven structure to increase its relevance. We've wondered in the past to what extent these changes will be made and whether or not they will be able to change the direction of the U.S. business. Though we recognize these changes will take time, November was nothing short of discouraging. In fact, the decline in the business appears to be accelerating.
It will be a long road to recovery for MCD, which makes us cautious on the stock. The bull case for McDonald's is that an activist will step in to unlock value. But, as we opined in a note last month, the activist case for McDonald's appears quite bleak as well. We're staying on the sidelines, until we clearly identify a catalyst to get involved on either side of the trade.
While appreciating the difficulty and complexity of the situation at hand, major changes need to be made - and fast!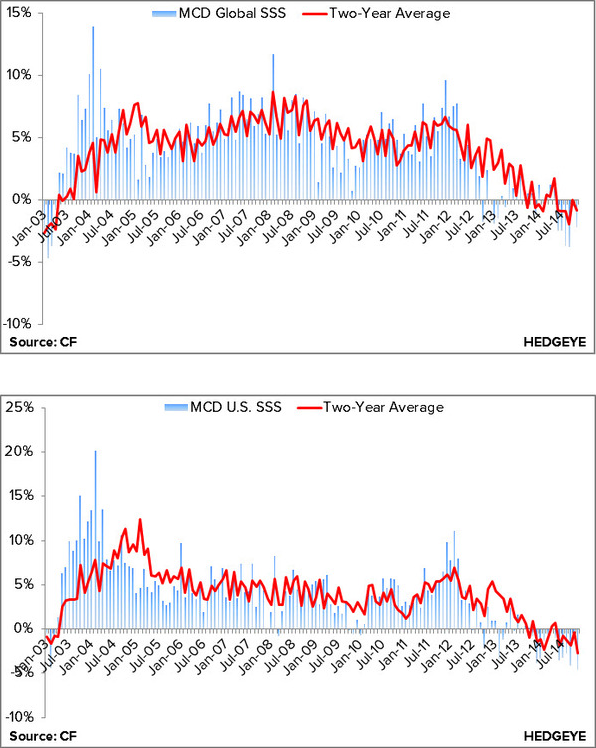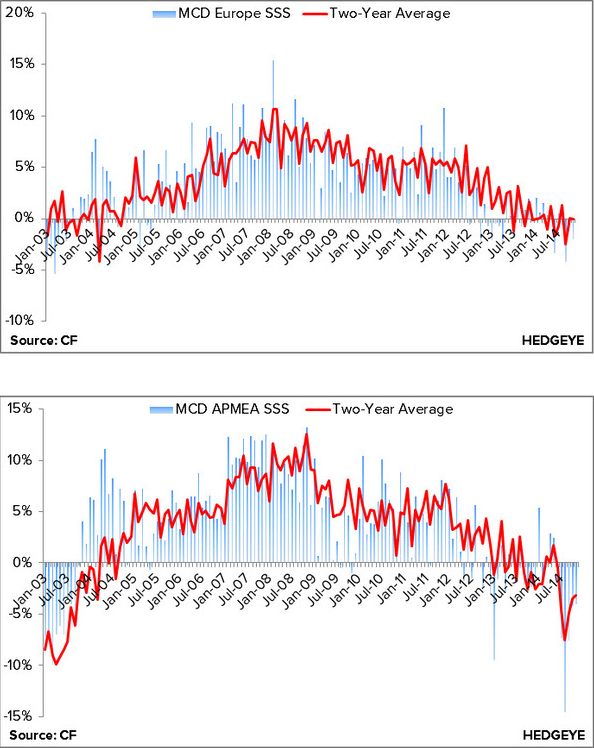 Disclosure: The author has no positions in any stocks mentioned, and no plans to initiate any positions within the next 72 hours.
The author wrote this article themselves, and it expresses their own opinions. The author is not receiving compensation for it (other than from Seeking Alpha). The author has no business relationship with any company whose stock is mentioned in this article.