There are several domestic REIT ETFs competing for investor dollars. Four of these funds have ten-year histories. They are iShares U.S. Real Estate ETF (NYSEARCA:IYR); iShares Cohen & Steers REIT ETF (BATS:ICF); Vanguard REIT ETF (NYSEARCA:VNQ) and SPDR Dow Jones REIT ETF (NYSEARCA:RWR). Three others have shorter histories: First Trust S&P REIT ETF (NYSEARCA:FRI); Schwab U.S. REIT ETF (NYSEARCA:SCHH) and PowerShares KBW Premium Yield Equity REIT ETF (NASDAQ:KBWY).
One of the best funds in the group is Vanguard REIT thanks to a solid track record, lower volatility, higher yield and lower expenses.
Index & Strategy
VNQ tracks the MSCI US REIT Index. The index covers most of the REIT universe except for mortgage REITs and specialized REITs that fall outside of narrow criteria, such as timber REITs. Other criteria such as liquidity and free float remove the smallest of firms, leaving the index with 141 constituents. It covers roughly 99 percent of the market, including mid- and small-cap REITs.
VNQ tracks the index closely, with 138 total holdings. The fund follows the free float-adjusted market capitalization of the index, which results in 38.5 percent of assets in the top ten holdings, led by the 8.6 percent position in Simon Property Group (NYSE:SPG).
The fund has its largest exposure to retail REITs, followed by residential, healthcare and then office REITs.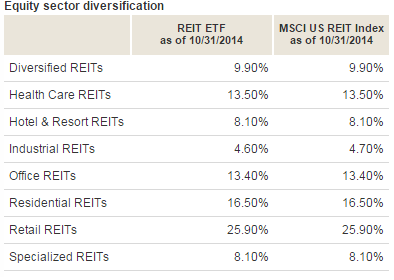 (Source: VNQ homepage)
Performance
This performance chart of the four oldest REIT ETFs - IYR, ICF, RWR and VNQ - shows that VNQ has been the best performer over the past 10 years.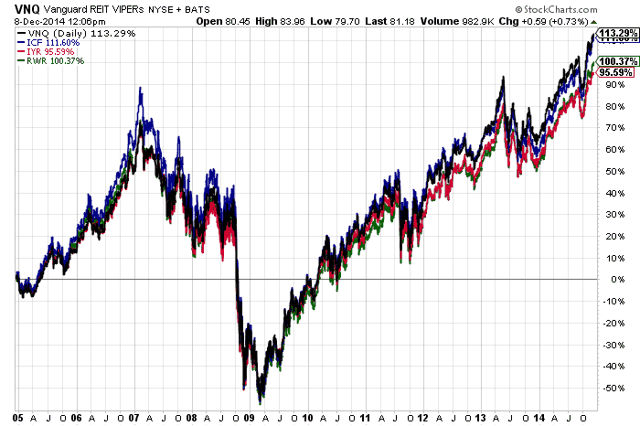 All of the funds have been in a tight range with one another, but VNQ has been moving ahead helped by its low cost. VNQ generated much of its lead during the financial crisis. A fund such as ICF, with only 30 holdings, may have been hurt by larger exposure to individual companies. For example, during the 2008 crisis, General Growth Properties (NYSE:GGP) fell to less than $1 per share on bankruptcy fears.
In the past three years, the difference between VNQ's and ICF's performance has hinged on the trend in interest rates.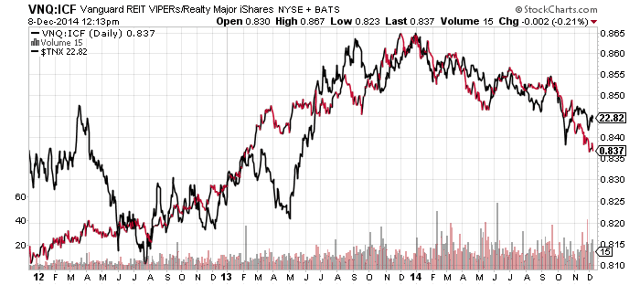 It's impossible to say how long this trend could last. VNQ displays a similar trend with RWR. With IYR, there's a similar trend since summer 2013, but reversed: VNQ outperforms IYR when rates drop.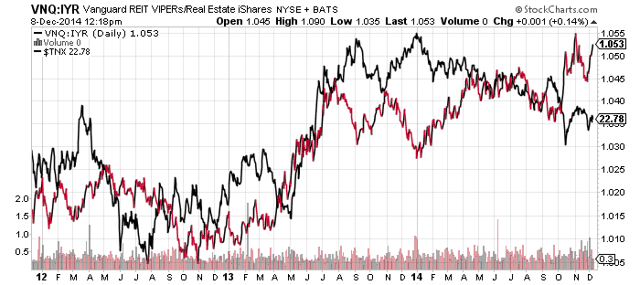 Expenses
VNQ has an expense ratio of 0.10 percent. There is only one other REIT ETF with lower expenses, Schwab U.S. REIT.
Income
VNQ yielded 2.47 percent on October 31, ignoring return of capital or capital gains distributions. Adding them back gives a yield of about 3.57 percent. These numbers are not comparable to the 30-day SEC yield reported by other REIT ETFs.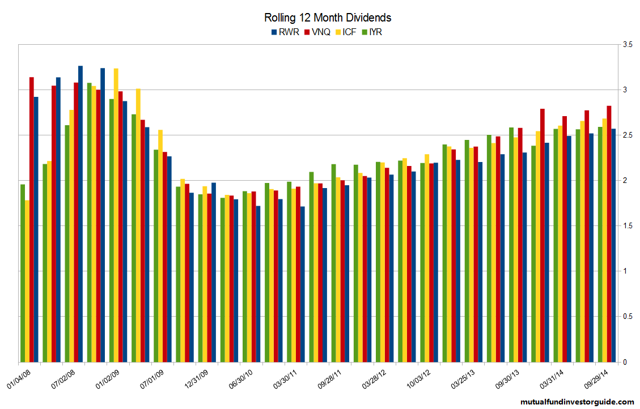 Income growth at VNQ has been in the middle or high end of the group since 2011.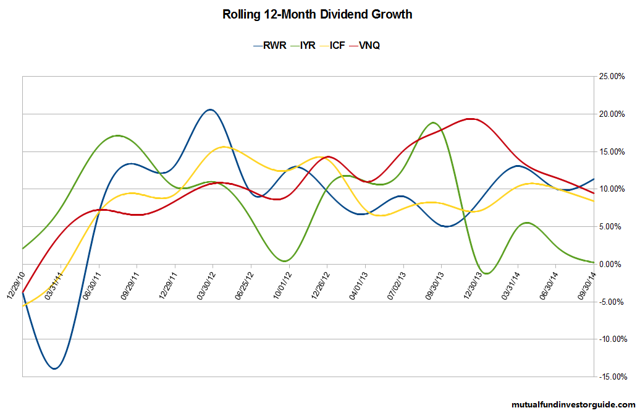 Risk & Reward
Compared to ICF and RWR, which also focus on real estate only REITs, VNQ is the least volatile of the group, but not by a lot. Out at 10-years, the standard deviation for VNQ is 25.62, versus 26.36 for RWR and 27.31 for ICF.
All REITs are sensitive to interest rates because they make use of debt financing. REIT ETFs suffered in 2013 when interest rates spiked in late spring and early summer following when former Fed Chairman Bernanke mentioned the end of quantitative easing (the taper). VNQ has outperformed ICF and RWR slightly when interest rates increased in 2013, then underperformed when rates fell in 2014. VNQ performed the opposite way versus IYR, underperforming in summer 2013 and outperforming in 2014. It is impossible to forecast how long this trend will last, but it appears to still be in effect.
The risk of higher rates looks lower today than it did a couple of months ago. Although U.S. growth remains strong, U.S. interest rates are higher than in Europe and Japan. Both of those nations are pursuing a more accommodative monetary policy, while the Fed has ended its extraordinary intervention.
Even if interest rates go up, if they rise along with a growing economy, it need not be negative for REITs.
Conclusion
Of the four REIT ETFs with histories stretching back a decade, VNQ comes out on top. VNQ has lower expenses and lower volatility, plus a better yield and stronger performance than its competitors with similar longevity. Among these four ETFs, VNQ is the best option for passive, long-term investors and should be the default option for other investors seeking REIT exposure via an ETF.
Disclosure: The author has no positions in any stocks mentioned, and no plans to initiate any positions within the next 72 hours.
The author wrote this article themselves, and it expresses their own opinions. The author is not receiving compensation for it (other than from Seeking Alpha). The author has no business relationship with any company whose stock is mentioned in this article.