The railroad industry has profited from the boom in shale oil production in North America. The oil producers are increasingly using the rails to ship crude to its final destination. With the sudden drop in the price of oil, this symbiotic relationship may change to the detriment of shareholders of the railroads. The article below will offer my thought on this matter and how I plan on playing this story.
Crude Oil
Onshore crude oil production from shale formations has boomed over the past five years as hydraulic fracturing, aka "fracking" technology, has unlocked previously unreachable oil deposits. This technological breakthrough has greatly profited some of the earliest adapters with the railroads a pleasant beneficiary of this trend. The oil being unlocked ultimately needs to reach the refineries for processing into its various byproducts. The most cost effective method of delivering the new found oil is through rail transport, thus offering a strong wind for the rail providers' revenues and ultimate profits. With the sudden prolonged drop in crude oil, this tailwind has now become a headwind which will impede profit growth of some of the biggest beneficiaries of the trend, namely Canadian Pacific (NYSE:CP) and to a lesser extent Union Pacific (NYSE:UNP) and Canadian National (NYSE:CNI).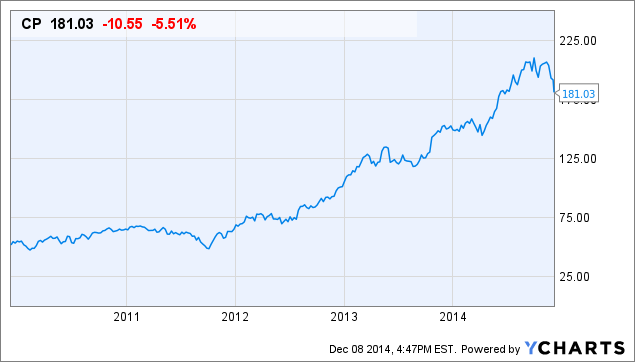 CP data by YCharts
Canadian Pacific
CP in my view is the one of the best run railroads as evidenced by its efficiency ratio of 62.8% in the third quarter. The efficiency ratio measures the operators expenses compared to its total revenue. The lower the number, the more profitable the company is. CP has greatly benefited from the shift toward crude on rails as the number of crude carloads has increased from 90k in 2013 to 145k in 2014 with an expected 200k in 2015. The increase in carloads due to the movement of crude by rail is expected to account for 33% or revenue growth for the company through 2018. Pretty optimistic stuff, as the shares have rallied quite briskly over the past five years. The biggest issue I have is the overinflated multiple that CP currently trades at. CP is expected to post earnings of roughly $7.50 per share for 2014 which equates to a multiple of 24 times this year's earnings. The problem here for current and potential investors is how big of an impact will the falling price of crude on CP's bottom line.
Let's assume crude by rail declines to 90k carloads the same volume as what we saw in 2013. Under this scenario, I would be hard pressed to see how CP will be able to offset this sort of drop in carloads on its revenue base. Let's assume they are able to offset this decrease in carloads somewhat and through efficiency measures eke out the same profit level as 2014 which works out to $7.50 per share. Does anyone really believe investors will pay an above market multiple for a company that is now having revenue and earnings challenges? I doubt it. It is becoming increasingly clear to me the rails will become collateral damage due to the fall in crude oil.
Union Pacific
UNP is one of my favorites in the field with an operating efficiency of 62.3% in the last quarter. Thankfully for shareholders of UNP, the railroad is not nearly as exposed as CP to the failing price of crude oil. I suspect the weakness in crude will affect all the players in the industry with the most leveraged toward crude by rail suffering the most. I am very bullish on UNP in the long run and would look to aggressively buy if prices fall into the $88-$92 range.
Canadian National
CNI is the best run railroad as evidenced by its operating efficiency of 58.8%. CNI has sold off as well in sympathy with the decline in the price of crude oil. CNI is particularly leveraged to forestry products which shouldn't be impacted by the fall in the price of crude oil. CNI is expected to earn roughly $3.75 per share which I view as doable. I'm looking to pay a multiple below its 10-year average which works out to roughly 15 times earnings. I have a buy price for CNI of roughly $56-$58 per share which is roughly 12% lower than where the shares are currently trading. If the sector does indeed fall out of favor, my buy range may come to fruition.
Conclusion
The fall in the price of crude oil may give long-term investors an excellent opportunity to enter into a high quality railroad company at an attractive price. I have written a recent article detailing my thesis on crude oil which can be seen here. I suspect a bit of patience will be well rewarded, as an opportunity will evolve allowing a long-term investor to purchase some high quality assets at a very attractive price.

Disclosure: The author has no positions in any stocks mentioned, and no plans to initiate any positions within the next 72 hours.
The author wrote this article themselves, and it expresses their own opinions. The author is not receiving compensation for it (other than from Seeking Alpha). The author has no business relationship with any company whose stock is mentioned in this article.
Additional disclosure: Thank you for reading the article. Investors are always reminded that before making any investment, you should do your own proper due diligence on any name directly or indirectly mentioned in this article. Investors should also consider seeking advice from a broker or financial adviser before making any investment decisions. Any material in this article should be considered general information, and not relied on as a formal investment recommendation.