Shares of McDonald's (NYSE:MCD), the world's largest fast-food chain, fell nearly 4% on Dec. 8 after the company reported a significant decline in comparable store sales for the month of November. For the month, comparable store sales declined by 2.2% globally, with most of the drop taking place in the U.S., where comparable store sales declined 4.6% year-over-year. In order to correct this decline in the U.S., management intends to increase its marketing efforts, simplify its existing menu and ensure that locations focus on local preferences.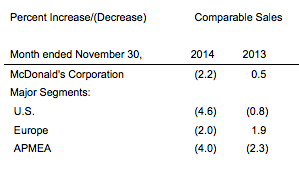 In the company's APMEA segment (which consists of its Asia/Pacific, Middle East and Africa-based regions), the company saw comparable store sales fall 4% for the month. Despite strong performance in Australia, the restaurant chain reported a drop in sales due to a "supplier issue" in both China and Japan. Meanwhile, the company's Europe segment fared the best, with comparable store sales dropping a more modest 2% as Russia, Germany, and France all delivered weak results.
In a previous article, I wrote about how McDonald's, in light of increased competition from fast-casual chains like Chipotle Mexican Grill (NYSE:CMG) and Panera Bread Company (NASDAQ:PNRA), has been facing some setbacks. In it, I stated that the company's results moving forward could continue to face downward pressure due to strong growth from these competitors, though I seem to be wrong in highlighting Europe as the only area of positive growth for the business. Back then, the company's Europe segment was faring quite well, but with Russian-related sanctions hurting the chain and weakness in some other parts of Europe, it seems that all of McDonald's is experiencing issues.
Disclosure: The author has no positions in any stocks mentioned, and no plans to initiate any positions within the next 72 hours.
The author wrote this article themselves, and it expresses their own opinions. The author is not receiving compensation for it (other than from Seeking Alpha). The author has no business relationship with any company whose stock is mentioned in this article.