Today's OPEC meeting was truly historic in nature. For the first time in the life of the OPEC Cartel or "Organization" there is no agreement between OPEC members, as Ali al-Naimi, oil minister for Saudi Arabia, OPEC's biggest producer, stated to Melissa Francis on CNBC's The Call today. Francis exclusively covered the OPEC meeting and interviewed him just after the dysfunctional group broke. If you missed it today watch the video here.
OPEC Meeting Highlights
OPEC talks reeked of rancor today! Saudi Arabia could not persuade the "organization" to increase production, which provided a pop in global oil prices. "We were unable to reach an agreement. This is one of the worst meetings we have ever had," said Ali al-Naimi, oil minister for Saudi Arabia, OPEC's biggest producer in an exclusive interview with Francis.
The International Energy Agency stated, "We have noted with disappointment that OPEC members today were unable to agree on the need to make more oil available to the market." Brent crude ascended beyond $118 a barrel, as US light sweet crude edged over $100 a barrel. An unexpected precipitous drop in US crude inventories positively augmented oil prices. With the extreme middle east unrest over the last quarter and with Iran taking the lead for the OPEC you can be sure it won't work out in the US's favor. See a more detailed assessment on Iran & OPEC situation from Melissa here.
Naimi stated OPEC's four Gulf Arab countries recommended the cantankerous collection of OPEC cranks amplify output by 1.5 million barrels a day to 30.3 million barrels a day, including Iraq, which is not bound by an OPEC quota. Libya, Algeria, Angola, Ecuador, Venezuela, Iraq were disparately aspiring for production to remain unchanged. No agreement was confirmed, which has never occurred in the life of the OPEC Cartel.
So what is the obvious answer? Invest in the boon to most likely occur for US Oil & Gas Firms and Oil & Gas companies with exposure to "other than OPEC" offshore & onshore domestic and non OPEC reserves. This is my play. And it's a simple one. I believe the Oil & Gas industry is at an inflection point driven by geopolitical events, vast new discoveries made available by exponential technological advances regarding unconventional onshore shale plays and offshore shallow & deep-water plays.
Joe Terranova of CNBC's Fast Money is bullish on offshore drilling and recommends Occidental (NYSE:OXY), Exxon (NYSE:XOM), and emphasized Hornbeck Offshore (NYSE:HOS) (read more here). Joe reasons recent events will re-ignite off-shore drilling and he knows the Oil & Gas industry. I like these offshore picks as well as other stocks. Please review brief summaries and the charts with key statistics regarding these oil companies including Joe Terranova's recommendations.
Hornbeck Offshore Services, Inc. - Through its subsidiaries, operates offshore supply vessels (OSVs), multi-purpose support vessels, and a shore-base to provide logistics support and specialty services to the offshore oil and gas exploration and production industry primarily in the United States and Gulf of Mexico.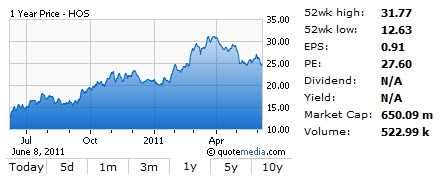 Exxon Mobil Corporation - Engages in the exploration and production of crude oil and natural gas, and manufacture of petroleum products, as well as transportation and sale of crude oil, natural gas and petroleum products.



Occidental Petroleum Corporation, Together with its subsidiaries, operates as an oil and gas exploration and production company primarily in the United States.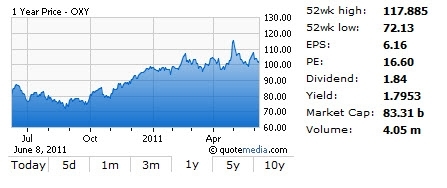 Conoco Phillips (NYSE:COP) - Is an international, integrated energy company.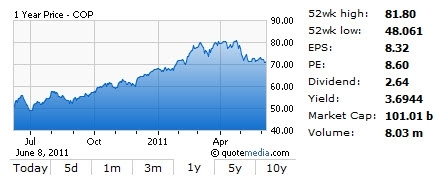 Harvest Natural Resources Inc. (NYSE:HNR) - Is an independent energy company that engages in the acquisition, exploration, development, production, and disposition of oil and natural gas properties.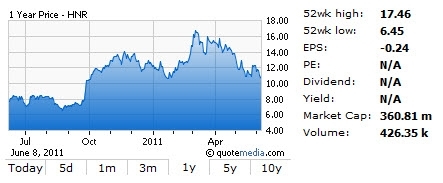 Suncor Energy Inc. (NYSE:SU) - Is an integrated energy company.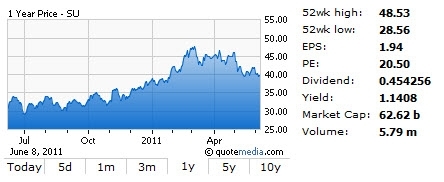 BP p.l.c. (NYSE:BP) - Provides fuel for transportation, energy for heat and light, retail services, and petrochemicals products. Its Exploration and Production segment engages in the oil and natural gas exploration, field development, and production; midstream transportation, and storage and processing; and marketing and trading of natural gas, including liquefied natural gas, and power and natural gas liquids.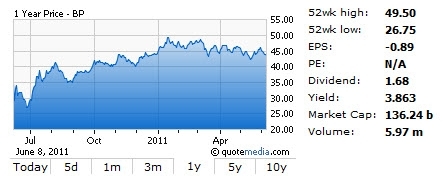 CONSOL Energy Inc. (NYSE:CNX) - Engages in the production of multi-fuel energy and provision of energy services primarily to the electric power generation industry in the United States.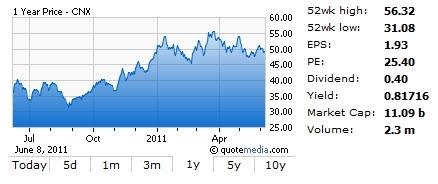 Clayton Williams Energy, Inc. (NASDAQ:CWEI) - An independent oil and gas company, engages in the exploration for and production of oil and natural gas primarily in Texas, Louisiana, and New Mexico, the United States.



Hess Corporation (NYSE:HES) - Together with its subsidiaries, operates as an integrated energy company worldwide.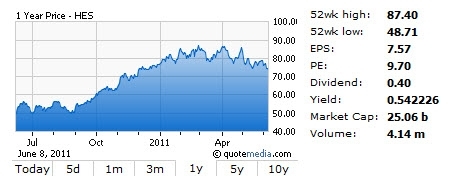 Transocean Ltd. (NYSE:RIG) - Provides offshore contract drilling services for oil and gas wells worldwide.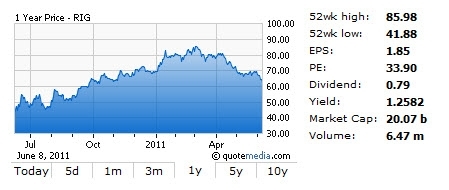 Conclusion
This is only the beginning of the end of cooperation regarding Middle Eastern OPEC countries. If you didn't see it coming you must have been in a coma for the last six months! The Middle Eastern Awakening includes a new modus operandi for the currently defunct OPEC Cartel. It's time to boost exploration and procurement of all non OPEC Oil & Gas reserves and I believe these companies are in a position to gain from these developments. In a previous article I listed an additional group of companies that have exposure as well. You can read it here.
Disclosure: I have no positions in any stocks mentioned, but may initiate a long position in HOS, XOM, OXY, C, HNR, SU, BP, CNX, CWEI, HES, RIG over the next 72 hours.

Disclaimer: Information was gathered from CNBC, Yahoo Finance and respective company websites. Based on the current market conditions I would suggest scaling in to any position to reduce risk. I believe all these stocks may provide significant opportunities for long term investors. Please use this information as a starting point for your own due diligence.