By Stuart McPhee
Australia 200 for Tuesday, December 9, 2014
Over the last month or so the Australia 200 index has returned some of its recent gains falling from above 5550 down to a one month low below 5200 after finding some reasonable support around 5300. Over the last couple of weeks the index has been struggling with resistance at 5400 and this level remains key as the index has since fallen away back below 5200, before reversing and running into the resistance again. It continues to place pressure and test the resistance at 5400. A couple of weeks ago the index was content to consolidate just below the 5400 level. The 5400 level has been a major player all year and the index must get back above this level to encourage more buying and bullish sentiment. It enjoyed a solid resurgence throughout October after getting much needed support from the 5200 level, which has resulted in it moving back above the 5400 and 5500 levels, around a two month high.
Throughout most of September the Australia 200 Index declined strongly from its multi-year high after running into resistance around 5650 back to enter its previously established trading range between 5400 and 5500, before falling further below 5200 and to an eight month low around 5120 a few weeks ago. Several weeks ago it received solid support from the 5100 level which saw it rally well to close out a couple of weeks ago. Back in early September the 5400 level was called upon to offer support as the index desperately tried to stay in touch with its range, however it fell through there before rallying strongly back up to 5400. Up until recently, the 5400 level had done well and propped up price to keep it within the range. In its recent fall at the beginning of August it moved down to a three week low around 5375, however it received solid support at the 5400 level which has allowed to consolidate and rally higher.
The solid move higher throughout July saw it move strongly up through both the 5500 and 5550 levels to reach a then six year high around 5620. In recent weeks it has discovered a new key level to deal with after running into a short term resistance level at 5550, which earlier last week provided some solid support. It reversed strongly several weeks ago bringing it back down to almost touch the 5400 level before rallying back higher again. At the beginning of June the Australian 200 Index fell and broke back down through the key 5500 level towards a four week low around 5400 before consolidating and resting on support there for an extended period. Back at the end of May, it moved back and forth between the two key levels of 5500 and 5550 before the recent fall. Over the last couple of months the Australia 200 Index has formed an amazing attraction to the key 5500 level as it spent a considerable amount of time trading around it. A couple of weeks ago, the index fell away heavily back down to support around 5400 before returning to the key 5500 level just as quickly, as if gravity had pulled it back. The index has done very well over the last couple of years moving from below 4000 to its present trading levels around 5500.
Employer demand for more staff is getting stronger, with the number of Australian job advertisements up for the sixth consecutive month. Job ads on the internet and in newspapers rose 0.7 per cent in November and were up 8.9 per cent for the year, figures from ANZ show. ANZ chief economist Warren Hogan said that employment growth is gradually improving and the unemployment rate is stabilising. "Our broad assessment is that labour market conditions have improved but growth headwinds over the next few years will likely limit the prospects for any material improvement," he said. Mr Hogan expects economic growth to stay moderate in 2015, which will prevent employment growth from gaining momentum. Gross domestic product (NYSEMKT:GDP) figures released last week, showed economic growth in the September quarter was only 0.3 per cent, for an annual rate of 2.7 per cent. "While activity in the non-mining sectors of the Australian economy is slowly improving, growth overall looks set to remain moderate for some time," Mr Hogan said. "Weaker commodity prices are likely to put further pressure on government finances and further constrain the ability for businesses to increase wages; another reason to believe a continuation of soft wages growth ahead seems likely."
(Daily chart below)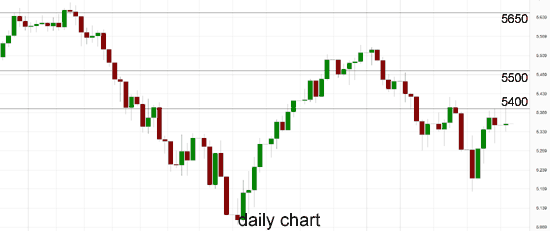 Australia 200 December 8 at 22:30 GMT 5359 H: 5412 L: 5340
Australia 200 Technical
| | | | | | |
| --- | --- | --- | --- | --- | --- |
| S3 | S2 | S1 | R1 | R2 | R3 |
| 5250 | 5100 | - | 5400 | 5650 | - |
During the hours of the Asian trading session on Tuesday, the Australia 200 Index will be trying to continue its momentum and push through the resistance level at 5400. For most of this year the Australia 200 Index has moved well from the lower support level at 5000 up to the multi-year highs above 5600 in September.
Further levels in both directions:
• Below: 5250 and 5100.
• Above: 5400 and 5650.
Economic Releases
23:30 (Mon) AU Westpac Consumer Confidence (Dec)
23:50 (Mon) JP CGPI (Nov)
00:30 AU NAB Business Conditions & Confidence (Nov)
07:00 EU EU Finance Ministers Hold Meeting in Brussels
09:30 UK Industrial & Manufacturing Production (Oct)
15:00 UK NIESR GDP Est. (Nov)
15:00 US IBD Consumer Optimism (Dec)
15:00 US Wholesale Inventories (Oct)
* All release times are GMT