The third-quarter earnings season for companies in the S&P 500 officially comes to an end, with H&R Block reporting after the closing bell. Both Estimize and Wall Street are expecting earnings per share (EPS) to come in at $-0.42, with revenues of $145M. Today, AutoZone (NYSE:AZO) will be the first company from the S&P 500 to report for the fourth quarter. Estimize contributors are expecting the automotive retailer to post EPS of $7.22 vs. the Street's consensus of $7.18, with revenue estimates of $2.2B.
Last week, after the U.S. Nonfarm Payrolls number came in at the highest level since 2012, both the Dow Jones Industrial and S&P 500 closed at record highs of 17,959 and 2,075. The 2015 EPS Estimize expectation for S&P companies is $128.42; with the current P/E ratio at 18.0 and not expected to change much, that puts our 2015 target price at 2,312. We think retail will lead momentum in the fourth quarter and throughout next year, with multiples for the hotels, restaurants & leisure segment continuing to increase. That industry is expected to grow 15.5% in the fourth quarter, driven in particular by higher employment, growing consumer confidence, lower gasoline prices and subdued inflation.
Some of the leisure segments we expect to do well are casual dining and travel. Restaurants such as Chipotle Mexican Grill (NYSE:CMG), Buffalo Wild Wings (BWLD) and The Cheesecake Factory (NASDAQ:CAKE) are anticipating impressive YoY profit growth. The fourth-quarter Estimize consensus for Chipotle currently stands at $3.82, $0.08 above the Wall Street consensus and implying growth 150% over the year-ago quarter. Revenues estimates of $1.08B suggest a YoY increase of 28%. Buffalo Wild Wings is also showing a large delta between the Estimize ($1.15) and Wall Street consensus ($1.06), with earnings growth expected to reach 4.5% in the fourth quarter after six consecutive quarters of double digit increases.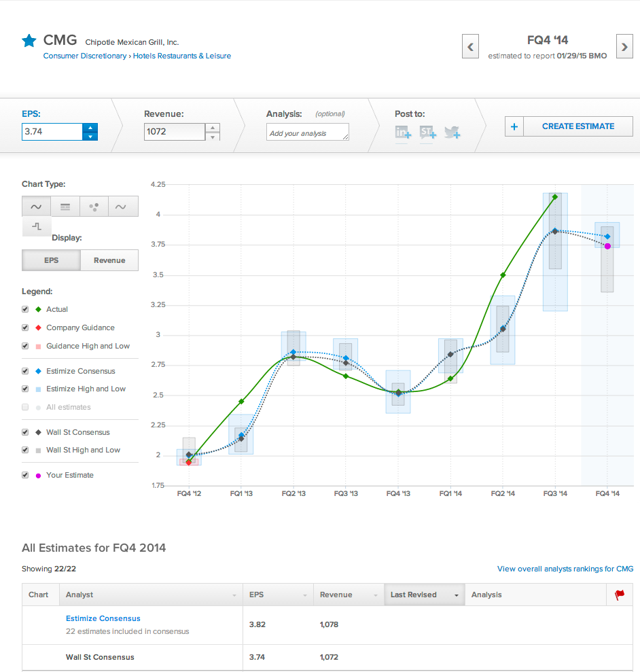 Travel is also estimated to pick up in 2015. The 2015 Global Travel Price Outlook put out by the Global Business Travel Association predicts spending on global travel will increase 8.6% in 2015, on top of an expected uptick of 6.9% in 2014, as economic conditions improve around the world. Carnival Cruises (NYSE:CCL) has already benefitted from an upswing in cruise popularity, with all regions of operation reporting stronger demand and higher onboard spending last quarter, particularly in China and Europe. As such, the company raised full-year 2014 guidance, now expecting non-GAAP EPS in the range of $1.84-$1.88, versus previous guidance of $1.60-$1.75. The Estimize EPS consensus for the fourth quarter currently stands at $0.19, suggesting a YoY increase of 395%. An early look at 2015 shows cumulative advance bookings for the first half of the year are ahead of the prior year and at higher prices.
Another big winner in 2015 will be online travel sites such as Priceline (PCLN) and TripAdvisor (NASDAQ:TRIP), especially as a larger percentage of travel bookings are expected to be made via mobile devices. Priceline is looking for EPS of $10.48 in Q4, versus the much lower Street expectation $10.01. Both of these are well above company issued guidance of $9.75, but Priceline has a history of lowballing guidance and has done so by an average of 10.6% over the last six quarters. The company is expected to benefit more than ever after their OpenTable (NASDAQ:OPEN) acquisition this past summer, with online dining reservations increasing in popularity. TripAdvisor is also exhibiting a large Estimize vs. Wall Street delta, with fourth-quarter EPS estimates of $0.42 and $0.37, respectively. Earnings per share of $0.42 for the quarter would represent profit growth of 100% YoY.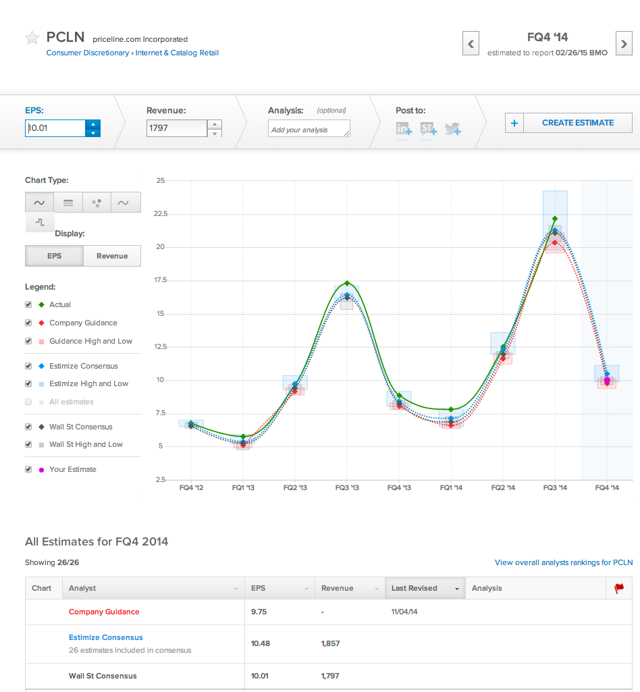 Disclosure: None.