The DailyFx lists the National Australia Bank's (NAB) monthly indices for Business Confidence and Business Conditions as having a low impact on currency markets. As a result, I do not have this report on my radar for analysis or trades. However, "this time was different." The DailyFx listed "expectations" for Business Conditions as 13 and Business Confidence as 5. The actuals came well under at 5 and 1 respectively. I think the higher expectations were extrapolations from a relatively strong and encouraging October report. The response in overnight currency markets was immediate; the selling in the Australian dollar (NYSEARCA:FXA) is on-going at the time of writing.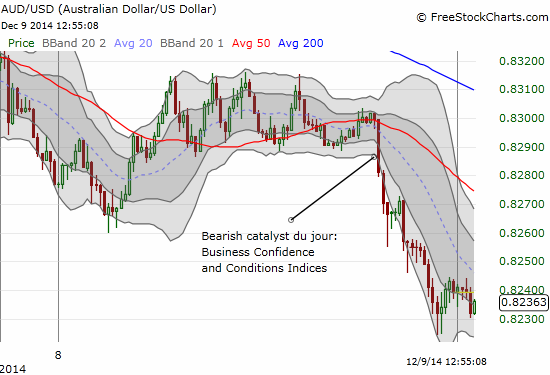 The 15-minute view makes clear the catalyst for the latest breakdown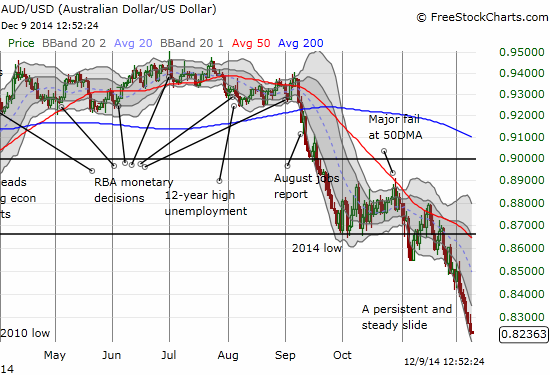 The skids are fully greased for the Australian dollar versus the U.S. dollar
Per the strategy I outlined in early November, I trigger shorts (or increase them) on the Australian dollar on confirmed weakness. So, I just happened to have shorts on both AUD/USD and AUD/JPY trigger on the swoosh downward. The trading action against the Japanese yen (NYSEARCA:FXY) is particularly important because the breakdown in AUD/JPY is confirming a renewed bearish bias in financial markets. As a reminder, I have used AUD/JPY all year as an excellent leading indicator or confirming indicator of market conditions. This indicator has taken on greater significance as the Japanese yen is experiencing a major weakening cycle.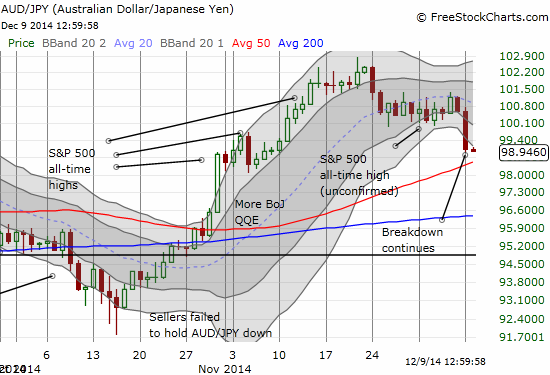 An ominous breakdown from recent highs continues for the Australian dollar versus the Japanese yen
Source of charts: FreeStockCharts.com
I am new to the NAB Monthly Business Survey, so I dove into the details with great interest given the strong impact it seemed to have this time around.
First off, things could be worse (I know, small consolation). The Business Conditions Index is still in a rising trend, and November's fall looks particularly dramatic only when compared to October's big jump. The large volatility makes me a bit wary of the index's reliability. Business Confidence is back to levels last seen before the previous run-up began in mid-2013.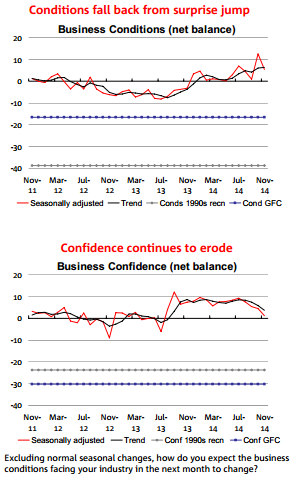 Business Confidence and COnditions in Australian plunge according to a survey from the National Australia Bank
Source: National Australia Bank
The NAB notes that the trend for business conditions are much better than 12 to 18 months ago. The large spike in conditions in October was "broad based" while November's plunge was narrowly "concentrated in retail, manufacturing and service industries." However, there were three items with potentially large implications for the Australian dollar.
"We are yet to see any clear beneficiaries of the AUD depreciation." Implication: The Australian dollar needs to go even lower before business conditions improve notably. So it WILL continue lower from here.
The NAB significantly changed its expectations for rate cuts. In October's report, the NAB projected "no change in cash rate expected until tightening begins near the end of 2015." THIS time around, the NAB projected "two cuts of 25 bp in March and August 2015, then on hold until late 2016." This sharp shift in expectations can be seen in the continued rise in expectations for a rate cut in February:

Expectations for a rate cut in February continue to surge

Source: Australian Stock Exchange: RBA Rate Indicator - February 2015
The NAB slashed its GDP projection and nudged its unemployment projection higher: "GDP forecasts cut reflecting weaker history and terms of trade: 2014/15 2.5% (was 2.9%); 2015/16 3.0% (was 3.2%). Unemployment rate now to peak at around 6¾% (was 6½%)."
The rate-driven catalyst represents a dramatic change from just two weeks ago when it appeared there was no catalyst from rate expectations coming to help grease the skids for the Australian dollar. For a brief moment it seemed China's surprise rate cut might satisfy the market.
No surprise that the confidence numbers are highest in construction and in finance/property given Australia's hot housing markets, especially in Sydney. Ironically, these very same markets are likely making the RBA hesitant to cut rates to new historic lows. All other sectors plunged. Mining was of course the worst performer of all.
Perhaps ironically, forward looking indicators do not (yet?) reflect much of the current doldrums. The forward orders index was unchanged. Capacity utilization increased slightly. Capital expenditures suggest a "moderate expansion" in the non-mining sector. In the end, the positive signs did not dissuade the NAB from its significant downgrades:
Our model of 6-monthly annualised demand growth, using forward orders as a predictor, has been suggesting stronger growth than the national accounts in recent quarters. Nevertheless, applying trend forward orders for November to our model for Q4 (+2) suggests that predicted demand growth will be similar to Q3. Similarly, business conditions over predicted GDP growth in Q3. Based on trend business conditions for November, our model implies even softer predicted GDP growth in Q4. Applying business conditions derived from our 'wholesale leading indicator'…implies much weaker GDP growth over coming quarters.
The bottom-line is that the Australian dollar's weakness has inherited its own momentum now. Traders are now very willing to take the currency lower: no more "stubbornly strong Australian dollar." The RBA need do little to nothing from now until the February monetary policy decision. I expect the Australian dollar to its low point well ahead of that meeting and then churn into it as market participants await confirmation of a freshly dovish RBA…whether in the form of a rate cut or the promise of imminent cuts.
Be careful out there!
Disclosure: The author has no positions in any stocks mentioned, and no plans to initiate any positions within the next 72 hours.
The author wrote this article themselves, and it expresses their own opinions. The author is not receiving compensation for it (other than from Seeking Alpha). The author has no business relationship with any company whose stock is mentioned in this article.
Additional disclosure: In forex, I am net short the Australian dollar.