I have been bearish Penn West (PWE) for quite some time now. The company has been chronically mismanaged, plagued by blunder after blunder, including accounting irregularities and concerns regarding its strategic direction. Penn West attempted to remedy some of these problems last year by bringing in David Roberts, former COO of Marathon Petroleum (NYSE:MRO) as its new CEO, and by announcing a major turnaround plan.
However, Penn West's current share price has little to do with these prior events. Instead, Penn West has fallen along with other E&P names due to much lower oil prices: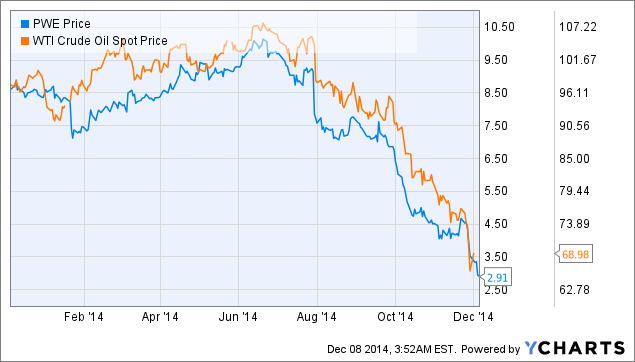 As shown, Penn West has seen its stock fall 70% in recent weeks, now trading at below $3 per share and now sporting a near 17% dividend yield. In my opinion, Penn West needs to take some drastic action or face a prolonged downtrend.
The dividend needs to go
Penn West made a strategic move towards more light oil production in late 2013. In short, Penn West was going to deploy capital almost exclusively in its higher margin Cardium, Slave Point, and Viking fields, and away from more fringe production. As I have noted in several prior articles, this move was necessary as its previous capital spending focus was scattered and resulting in some of the highest operating expenses in the Canadian E&P industry.
However, oil prices have fallen 40% since these plans were made. According to a very insightful article from fellow SA author Michael Blair, Penn West is likely to see its cash flows plummet if current oil prices hold. Furthermore, the article noted that Penn West has little oil price hedges in place. Mr. Blair concluded that Penn West should lower its dividend or eliminate the payout entirely. I highly suggest my readers to check out his piece.
To test this thesis, I did my own analysis.
From industry data, Penn West may be getting $25 to $30 per BBL lower revenues from its light oil production and $12 to $15 per BBL lower for its heavy oil. As the company has little to no risk management hedges on its book, Penn West is set to feel the full brunt of lower oil prices.
According to my own estimates, assuming flat production and current natural gas prices, Penn West could see its oil related revenues fall as much as $500M per year (around $420M for light oil and $80M for heavy oil). Per quarter, revenues could drop $125M. For comparison purposes, Penn West only generated $584M in revenues for Q3 2014. In terms of revenues per BOE, Penn West could see its average sales price fall to $50 per BOE, down 20% from $62.84 per BOE in Q3 2014.
In terms of profitability, Penn West could be impacted even more. Assuming combined operating costs remain flat at $20.74 per BOE, transportation costs at $0.60 per BOE, and royalties at 14% of prices ($7.00 per BOE), Penn West could see its operating netbacks fall to around $21.66 per BOE, down 34% from $32.51 per BOE for Q3 2014 and 40% from $35.85 per BOE YTD.
In terms of funds flow, or FFO, this key metric could fall hard. I estimate Penn West would generate only $600M of FFO for 2015 at current oil prices. This number is the midpoint of my projections. For comparison purposes, Penn West's earlier 2015 guidance called for FFO of between $875M to $925M.
Penn West has budgeted $840M for capital expenditures in 2015. Furthermore, at the current rate of $0.56 per share, the company pays out around $279M per year in dividends. In total, Penn West has net cash outflows of $1.12B.
Considering that FFO would only be $600M, there is a $520M gap needing to be filled. As a result, I see little room to pay out any dividends without adding more much debt or cutting capex. However, Penn West is already highly indebted at with an estimated $1.8B in net debt (adjusted for the recent $335M asset sale), compared to its $1.45B market cap.
In my opinion, Mr. Blair is 100% right. Penn West has no reason to be paying a dividend with WTI crude oil prices where they are. My own analysis backs up this view. In other words, I also expect a dividend cut from Penn West.
Conclusion
If I were Penn West, I would start looking at accelerating asset sales, buying back stock, or forming joint ventures, in order to unlock the value of its asset base. The value of the 2P reserves (625M BOE as of year end 2013) could be as high $7.1B, or $11.36 per BOE***. This results in a "book value" as high as $4.6B, or $9.25 per share, after debt of $2.5B is backed out. A high-risk, high-reward scenario indeed.
***The $11.36 per BOE number for the reserves is based on Penn West's recent $355M asset sale. In that transaction, the company sold "less than 5%" of its 2P reserves and 7,500 BOE/D of mostly natural gas production at 80%. This implies around 31.25M BOE of reserves and an $11.36 per BOE sale price.
Disclaimer: The opinions in this article are for informational purposes only and should not be construed as a recommendation to buy or sell the stocks mentioned. Please do your own due diligence before making any investment decision.
Disclosure: The author has no positions in any stocks mentioned, and no plans to initiate any positions within the next 72 hours.
The author wrote this article themselves, and it expresses their own opinions. The author is not receiving compensation for it (other than from Seeking Alpha). The author has no business relationship with any company whose stock is mentioned in this article.