Medley Capital (NYSE:MCC) reported results after the close yesterday with quarterly net investment income ("NII") of $0.37 and covering dividends but $0.01 below consensus estimates and $0.01 above mine (that are intentionally conservative). The portfolio yield declined from 13.4% to 12.6% and was the largest decline compared to the other BDCs. Fee income remained elevated at 22% of total income and similar to last quarter at 23%. I believe the big news this morning will be discussions about additional non-accruals. In an article "MCC: BDC Risk Profiles" earlier this year, I mentioned:
"Investors should be watching for future write-downs/non-accruals of portfolio investments."
Last quarter MCC had non-accruals that accounted for less than 1% of the portfolio. However, MCC has put three additional investments on non-accrual status, for a total of around $40 million in fair value or 3.2% of the portfolio. Two of them had writedowns in the previous quarter (Water Capital and Exide Technologies) and the other new non-accrual is Calloway Laboratories that was restructured with elevated PIK rates last quarter. I will have a full report after the earnings call but at this point I still have the same issues as discussed in my other "Medley Capital Articles" including:
Reliance on fee income
Declining portfolio yield
Increasing non-accruals and PIK income
In an article "BDC Market Update Q4 2014: Yield Compression", I discussed changes in BDC portfolio yields. Comparing BDCs can be complicated due to the lack of consistent reporting. This includes the amount of information and the general terminology. Portfolio yield is a term that can be measured a few different ways but most BDCs have an overall portfolio yield reported that includes only recurring income and shown in the following table sorted by the amount of change from the previous quarter.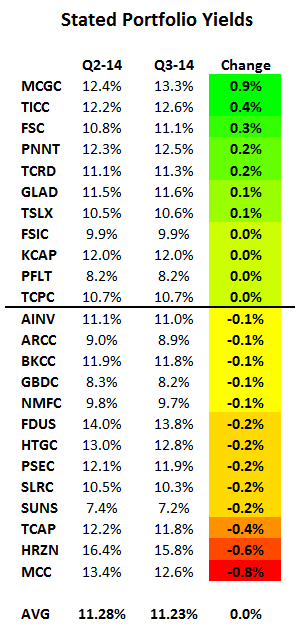 The average portfolio yield is around the same as calendar Q2 2014. I believe this is a good sign and each BDC has different objectives based on achieving proper risk adjusted returns and dividend coverage. BDCs that are adequately covering dividends have less need to reach for yield and are hopefully improving credit quality that might lead to declining portfolio yields. I have used the results from the previous table and categorized each BDC by dividend coverage (with NII) in the following tables.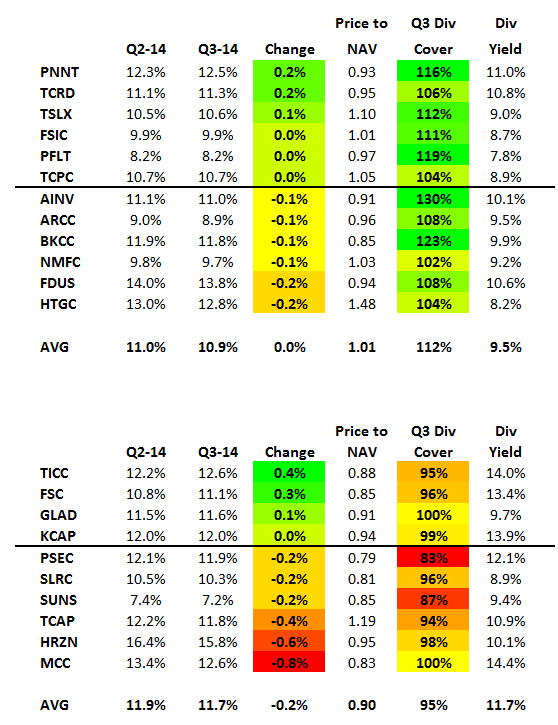 The top group I am less concerned about due to higher dividend coverage. In the lower coverage group, TICC Capital (TICC), Fifth Street Finance (FSC), Gladstone Capital (NASDAQ:GLAD) and KCAP Financial (NASDAQ:KCAP) either maintained or increased their portfolio yield. Prospect Capital (NASDAQ:PSEC) finally cut its dividend so coverage should improve over the coming quarters. In calendar Q2 2014, BlackRock Kelso Capital (NASDAQ:BKCC) cut its dividend and improved its coverage that will hopefully lead to a higher NAV multiple. Solar Capital (NASDAQ:SLRC) and Solar Senior Capital (NASDAQ:SUNS) are under leveraged with the lowest debt-to-equity ratios in the industry and could probably cover dividends if properly capitalized. Triangle Capital (NYSE:TCAP) is an internally managed BDC that is also having non-accrual issues as well as declining portfolio yields resulting in a lower stock price and new 52-week lows yesterday.
Beyond the non-accruals and PIK related income, MCC could have dividend coverage issues if its portfolio yield continues to decline and/or reduced amounts of fee income. Investors should be looking for information related to these issues on the call this morning. For more information about yield compression and dividend coverage please see my "BDC Research Page" and for information on specific BDCs please visit my "Index to BDC Articles".
Personal note: I have updated my positions to reflect changes in my holdings, but please keep in mind that some of the positions are very small and mostly for research purposes.
Disclosure: The author is long AINV, ARCC, BKCC, FDUS, FSC, FSIC, GBDC, GLAD, HTGC, MAIN, MCC, NMFC, PFLT, PNNT, PSEC, TCAP, TCPC, TICC, TSLX.
The author wrote this article themselves, and it expresses their own opinions. The author is not receiving compensation for it (other than from Seeking Alpha). The author has no business relationship with any company whose stock is mentioned in this article.